May 14, 2023
CMU Celebrates 125th Commencement
Media Inquiries

Name

Peter Kerwin

Title

University Communications & Marketing

Name

Cassia Crogan

Title

University Communications & Marketing
On Sunday, May 14, Carnegie Mellon University held its 125th Commencement ceremony in Gesling Stadium on the Pittsburgh campus. A total of 6,933 degrees were conferred, including 378 doctoral, 4,809 master's and 1,746 bachelor's. 
After the formal procession, Rev. Mike Holohan, chair of the Council of Religious Advisors and pastor for The Commonwealth of Oakland, gave the invocation, followed by an address from CMU Board of Trustees(opens in new window) Chair David Coulter(opens in new window).
"Because you are Tartans, I believe that you have the foundation to make a positive impact in our society and in our world," Coulter said. "Your CMU experiences have allowed you to gain so much: deep knowledge in your fields of study; the skills to build relationships and collaborations with people whose backgrounds are perhaps different than your own; and an expanded worldview that has opened your eyes and hearts to new perspectives — both of others, and of yourself."
Carnegie Mellon President Farnam Jahanian(opens in new window) next took the podium to congratulate the graduates, welcome the audience and recognize the CMU faculty who have accepted emeritus status. Jahanian then introduced CMU faculty who were named as University Professors. University Professors are distinguished by international recognition and for their contributions to education, artistic creativity and/or research. These individuals exemplify this high level of achievement and commitment to the university and the broader academic communities.

Watch Carnegie Mellon's Commencement 2023.
Honorary Degree Recipients
Fred Eversley (E 1964), artist — Doctor of Fine Arts

Patrick Gelsinger, CEO, Intel Corporation — Doctor of Science and Technology

Lt. Gen. Gina Grosso (TPR 1986), assistant secretary for human resources and administration/operations, security and preparedness, United States Department of Veterans Affairs — Doctor of Public Service

Judith Light (A 1970), actor/producer — Doctor of Fine Arts

David Shapira, director, Board of Directors, Giant Eagle, Inc.; chairman, David S. Shapira Foundation — Doctor of Business Administration
Jahanian introduced the day's keynote speaker, Honorary Degree recipient and Intel CEO Patrick Gelsinger, highlighting Gelsinger's Pennsylvania roots and decades-long career in technology. Gelsinger imparted his advice to the graduates: find mentors and listen to them; write a mission statement and live it; and find something you are good at, that you love doing, and do it with people you enjoy.
Gelsinger shared his path to becoming the CEO of Intel, how he never lost his vision and drive, how technology has infiltrated nearly all aspects of everyday life, and how this class of CMU graduates can help ensure that technology is used to benefit humanity.
"As we embark on the next phase of this wonderful journey of life, you are the superheroes who will embrace these superpowers as the basis for innovations we cannot even begin to imagine yet. Join me in shaping them as a force for good, improving the lives of every single human on the planet through the magic of silicon and digitization," he said. "When technology is a force for good, it truly is magic."
Jahanian then delivered his own charge to the graduates. He told them to:
Be relentless in the pursuit of knowledge.

Seek out perspectives other than their own.

Have faith in our shared humanity. 
"I want to remind you that our future is still being written." Jahanian said. "There is extraordinary potential out there that has yet to be harnessed — so much good that can be done, so many powerful stories to be told, and so many solutions we can engender together."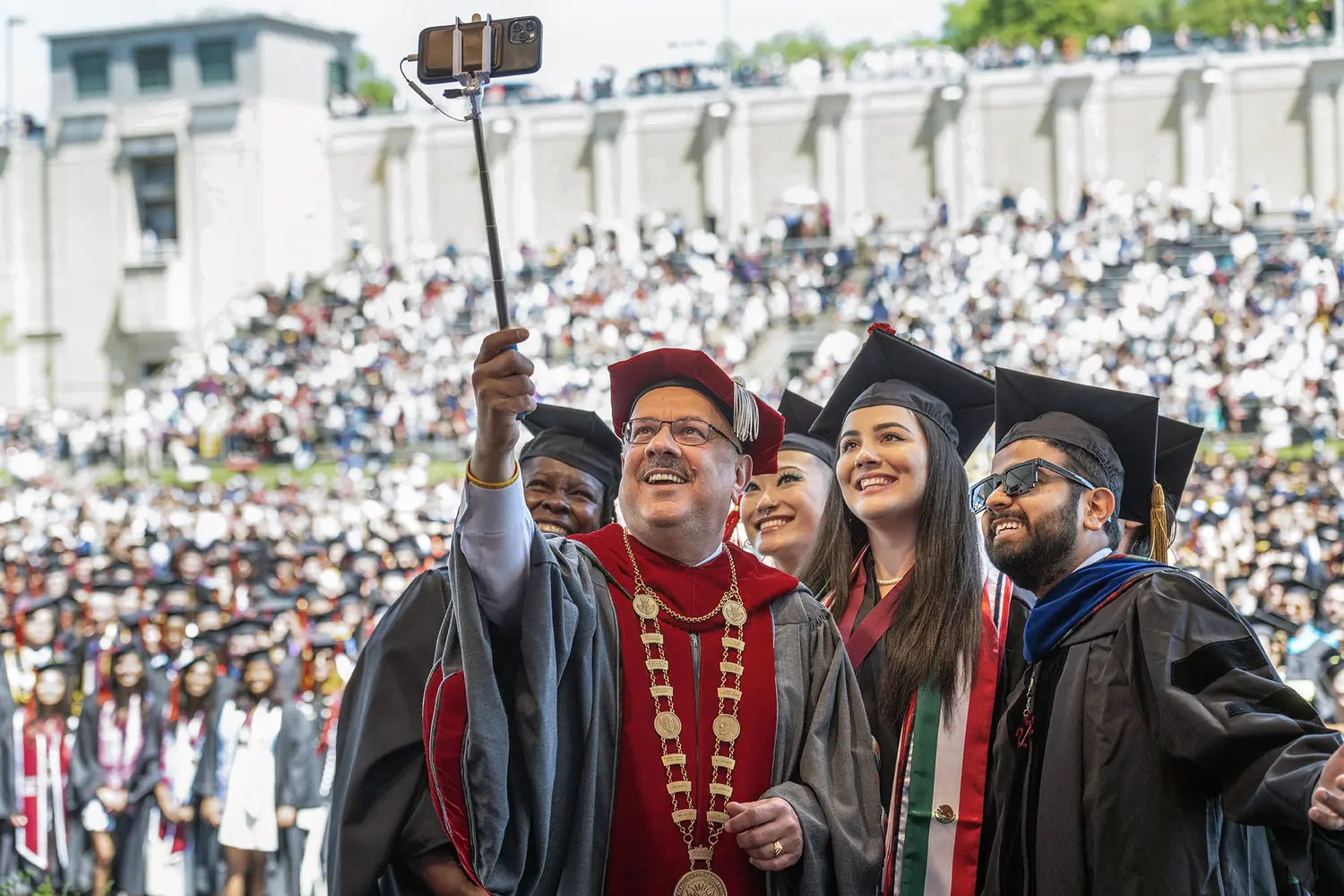 Farnam Jahanian takes a selfie at Commencement.
The ceremony concluded with the official conferral of all doctoral, master's and bachelor's degrees from the seven schools and colleges; university-wide, inter-college, and joint-degree programs; and Carnegie Mellon University in Qatar(opens in new window), which held its commencement ceremony on May 8.
Jahanian then put his cell phone on a selfie stick to take a photo of himself with a stadium full of new CMU graduates.
"Once again, on behalf of the entire CMU community, congratulations on your outstanding accomplishments! Let's hear it one more time for our Tartan graduates!" he said.