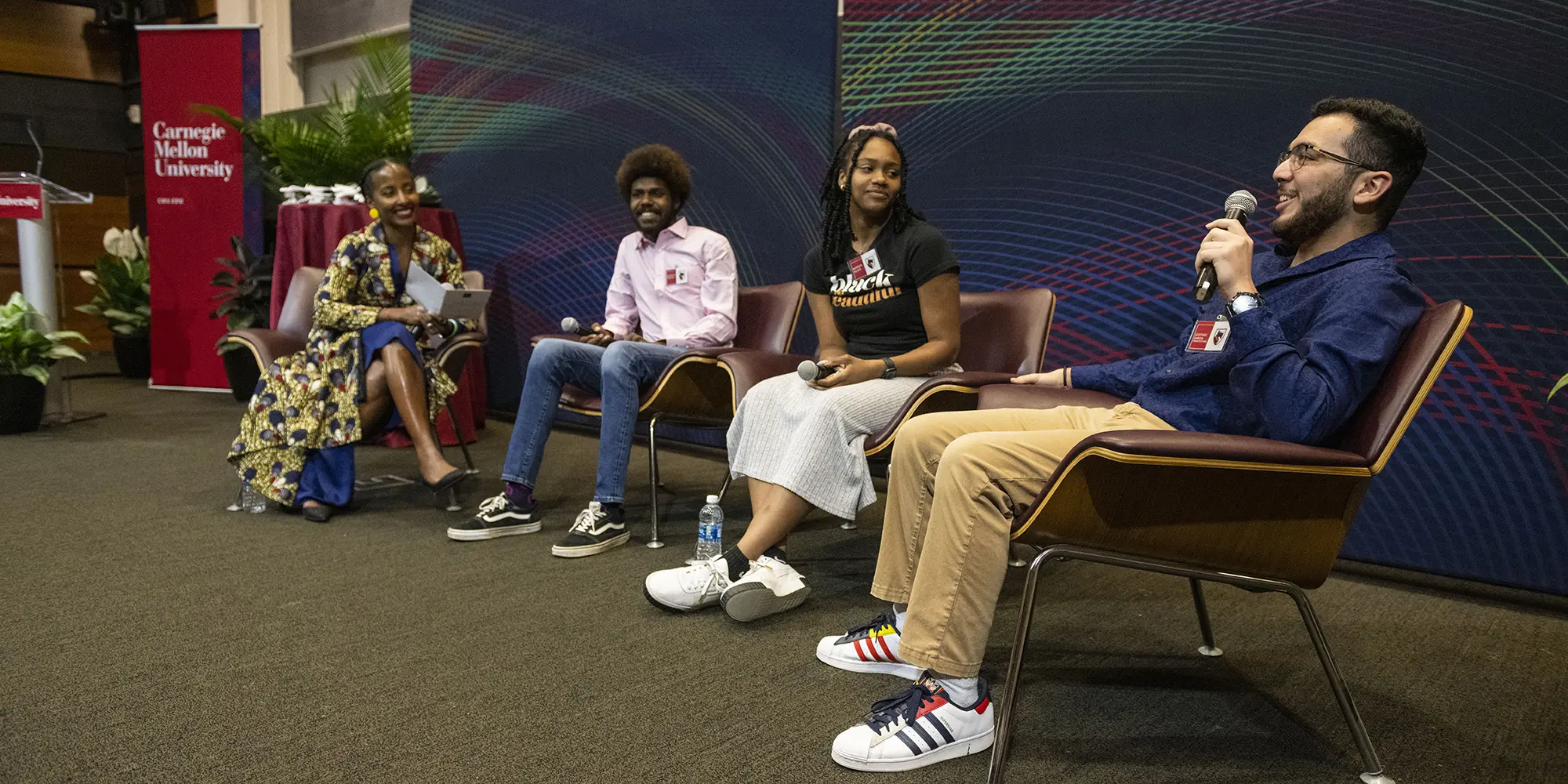 May 10, 2023
Tartan Scholars Program Graduates Its First Cohort
Media Inquiries

Name

Peter Kerwin

Title

University Communications & Marketing
In 2019, the Tartan Scholars(opens in new window) program opened its doors to help high-achieving students from limited-resource backgrounds thrive during college and to give those students a place to turn for help when they need it. 
On Saturday, April 29, Carnegie Mellon University held its annual end-of-year Tartan Scholars event that included a celebration of the individual and collective success of the program's first class of graduates — 56 students who pursued different majors and interests. Each had a unique journey that was made richer by sharing their Tartan Scholars experience together.
The event was held in Rashid Auditorium and followed by a reception. Patience Whitworth(opens in new window), associate vice provost for student success and strategic initiatives, and Jim Garrett(opens in new window), provost and chief academic officer, presented congratulatory remarks. 
Ayana Ledford(opens in new window), associate dean of diversity, equity and Inclusion in the Dietrich College of Humanities and Social Sciences Dean's Office, facilitated a panel discussion in which three Tartan Scholars — Nicholas Murphy, MarQia Allen and Gustavo Garcia-Franceschini — reflected on their experience.
"I didn't know what would come out of Tartan Scholars. I took a leap of faith," said Allen, who studied biological sciences and psychology to work in medicine. "I didn't know I was going to gain a family."
"Tartan Scholars are leaders in our community, and we are a better university for having them here." — Provost Jim Garrett
Murphy said he felt "more than blessed" to have the support.
"I came from excessive poverty and violence in St. Louis, Missouri. A lot of times I felt the only reason I'm here is because of the people who had been able to prop me up and help me reach as high as I am now. Tartan Scholars amplified that," Murphy said.
Garcia-Franceschini had done so much leadership work at CMU, particularly for underrepresented groups, he said "it has to be part of my life moving forward," while Allen's main takeaway from the program was "to be bold and to learn how to normalize asking for help," the latter which led her to accepting a full-time position in research at UPMC Western Psychiatric Hospital.
Gina Casalegno(opens in new window), vice president for Student Affairs and dean of students, and Branden Ballard, former Tartan Scholars program manager, presented graduating seniors with stoles to wear during Commencement denoting their participation in the program.
"We've been inspired by your achievements for four years, and we are so proud of you," Casalegno said, noting each student made an indelible mark on the institution. "We hope the stoles will be a reminder forever of the mark you made during your tenure as a student and serve as a continuous inspiration for the ways you will continue to make a mark for decades to come as you proudly own your status as an alumnus of Carnegie Mellon University."
Graduating senior Arianna Garcia Guerrero(opens in new window) studied international relations and politics with minors in cybersecurity and business administration. Among her many activities as an undergraduate, she served as president of CMU's FIRST Together(opens in new window) program, through which she was able to support other first-generation students like herself.
Looking back, Guerrero said she doesn't know what she would have done if she hadn't had the support of the Tartan Scholars community.
"From that very first week, going into Orientation, the Tartan Scholars program had already connected me with a group of students who came from similar backgrounds to my own, students I could relate to," said Guerrero, who grew up in a multicultural neighborhood in New York City and is fluent in eight languages. "Having that special tie to people so early on was so useful. I didn't feel alone." 
Guerrero said having her Tartan Scholars "family" as a foundation helped her to build resources and discover opportunities. 
"Tartan Scholars works just like a network, and I think that's really beautiful," she said. "I hope that will continue on into the future."
Angelica Bonilla Fominaya was randomly applying to colleges when she heard about CMU through a friend who was studying computer science. When Fominaya ultimately fell in love with the university, she was prepared for the possibility that she wouldn't be able to attend for financial reasons. 
"When it actually became a possibility that I could come here, it was a dream come true and I am so thankful," said Fominaya, who studied computer science and art. While interning with NASA, she led a team of students who created MoonBuddy(opens in new window), an augmented reality interface that will help astronauts navigate the lunar surface by plotting routes and avoiding obstacles, assist with scientific experiments and provide critical support during emergencies.
Fominaya said through the Tartan Scholars, she was supported by a community of students who came from a similar socioeconomic or cultural background as she did and understood the challenges she faced, particularly academic challenges.
"The biggest shock coming to CMU was how little math background I had compared to everyone else," said Fominaya, who came from an arts high school in Miami, where she says she had little access to STEM (science, technology, engineering and mathematics). 
Tartan Scholars was an important network that supported her in multiple ways, Fominaya said, from helping her to find summer computer science classes to providing reassurance she could succeed on her chosen path. 
"Tartan Scholars was a great opportunity to find students to bond with, and I wasn't going to say no to a program that seemed to have my best interests at heart," she said. 
"Now, that I'm more independent," said the graduating senior, "I feel so much more confident in who I am and what I'm able to do."
Made possible by support from a five-year gift(opens in new window) from the Posner Foundation of Pittsburgh, the Tartan Scholars program focuses on connection, communication and coaching and strives to close the opportunity gap by providing a rich network of academic, social and financial support.
"Tartan Scholars are leaders in our community, and we are a better university for having them here," Garrett said.