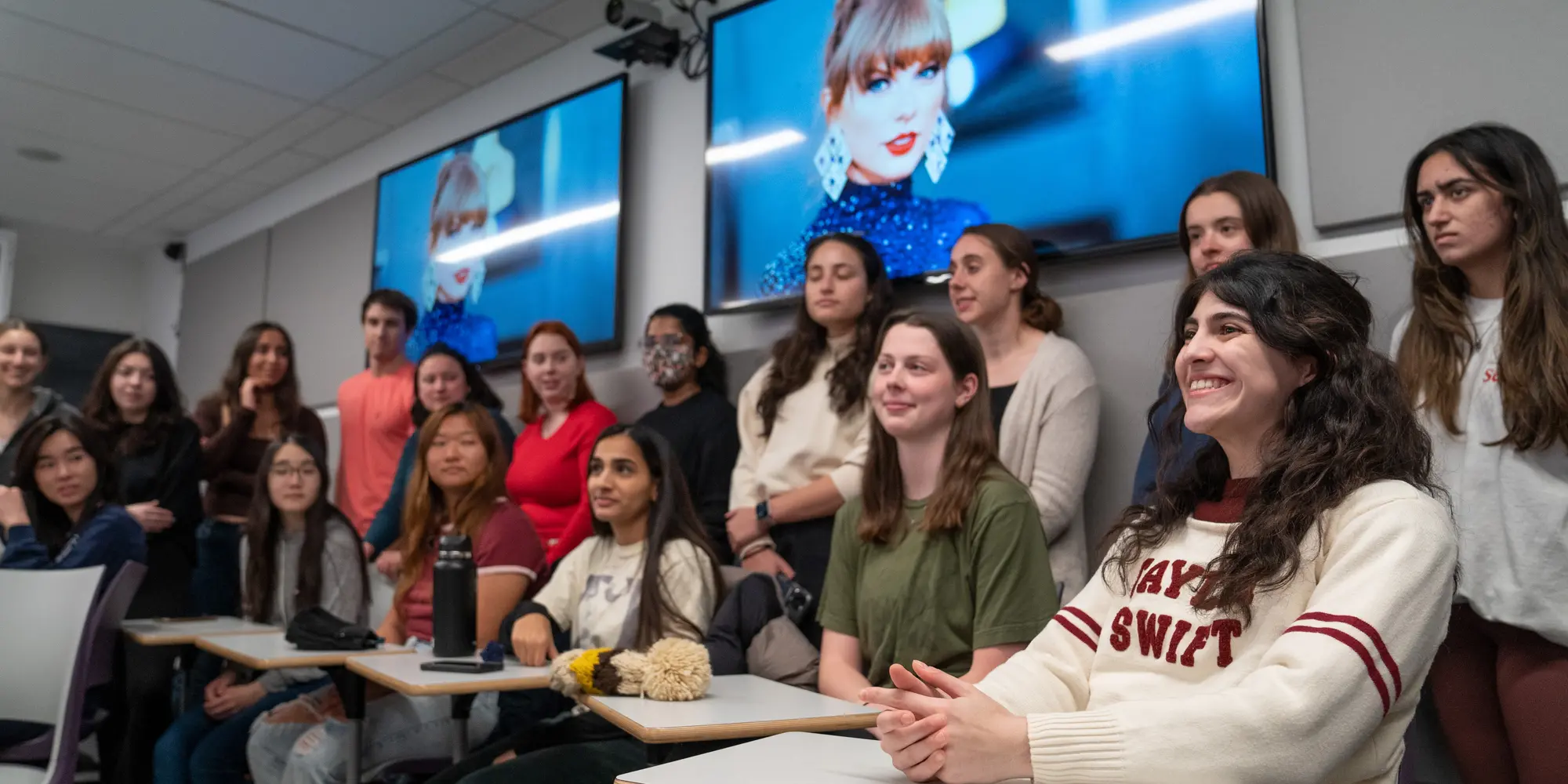 May 16, 2023
Carnegie Mellon is in its Taylor Swift Era
Media Inquiries

Name

Cassia Crogan

Title

University Communications & Marketing
Brenna Slomsky tried to contain her surprise as one brave antihero said "Speak Now" was their least favorite Taylor Swift album.
"Now that's a hot take," she said.
Slomsky, a junior studying mechanical engineering(opens in new window), is the instructor of Taylor Swift Through the Eras, a student taught course(opens in new window) (StuCo) that explores the singer's music and career. Each week, students examine a period in the Taylor Swift universe, an Easter egg-packed, 10 album (and counting) journey that starts with country and ends at midnight. 
The 25-person class had a lot more to discuss than their opinion on "Speak Now" (most of them love the album). Syllabus topics include Swift's lyrical techniques, advocacy work, song publishing rights and the ripple in the ticketing industry caused by fan outcry over the Eras tour ticket sale mishandling. 
Regina Gamboa, a first-year student studying business administration at the Tepper School of Business(opens in new window), considers herself a Swift superfan. But that's not a prerequisite. 
"It's a nice place to have a conversation with people who don't know Taylor Swift's music as well, I've heard a lot of interesting perspectives," she said.
Slomsky said that's her end game. 
"The point is to gain perspective from other students, and the discussions are where you're going to gain the most knowledge. Whether we are talking about literary devices or the media's effect on Taylor Swift's career, or how she puts herself into her songs, you're learning something new and it's supposed to be fun," she said. 
She began to think about teaching the class after taking another StuCo on the design and history of roller coasters(opens in new window). 
"StuCo makes it easy for people to take courses in niche topics without taking up too much time, since it is only one day a week," she said. "I took the roller coaster one because I'm interested in theme park engineering and it helped me gain a lot of knowledge on the topic." 
For their final project, students presented on three Easter eggs (hidden clues or surprises) found in Swift's music, fashion, stage design or elsewhere. This was easy for Gamboa, who already saw the Eras tour in Dallas. 
"The visuals from the tour are a pretty good indication of what might be coming," Gamboa said. "She has been wearing different shirts with certain words highlighted in red, and it's looking like it may be an anagram for her next album."
Swifties who let the chance to take the class slip away into a moment of time, take heart. Slomsky is teaching it again in August.
Regina Gamboa poses at the merchandise area at the Eras tour in concert in Dallas.