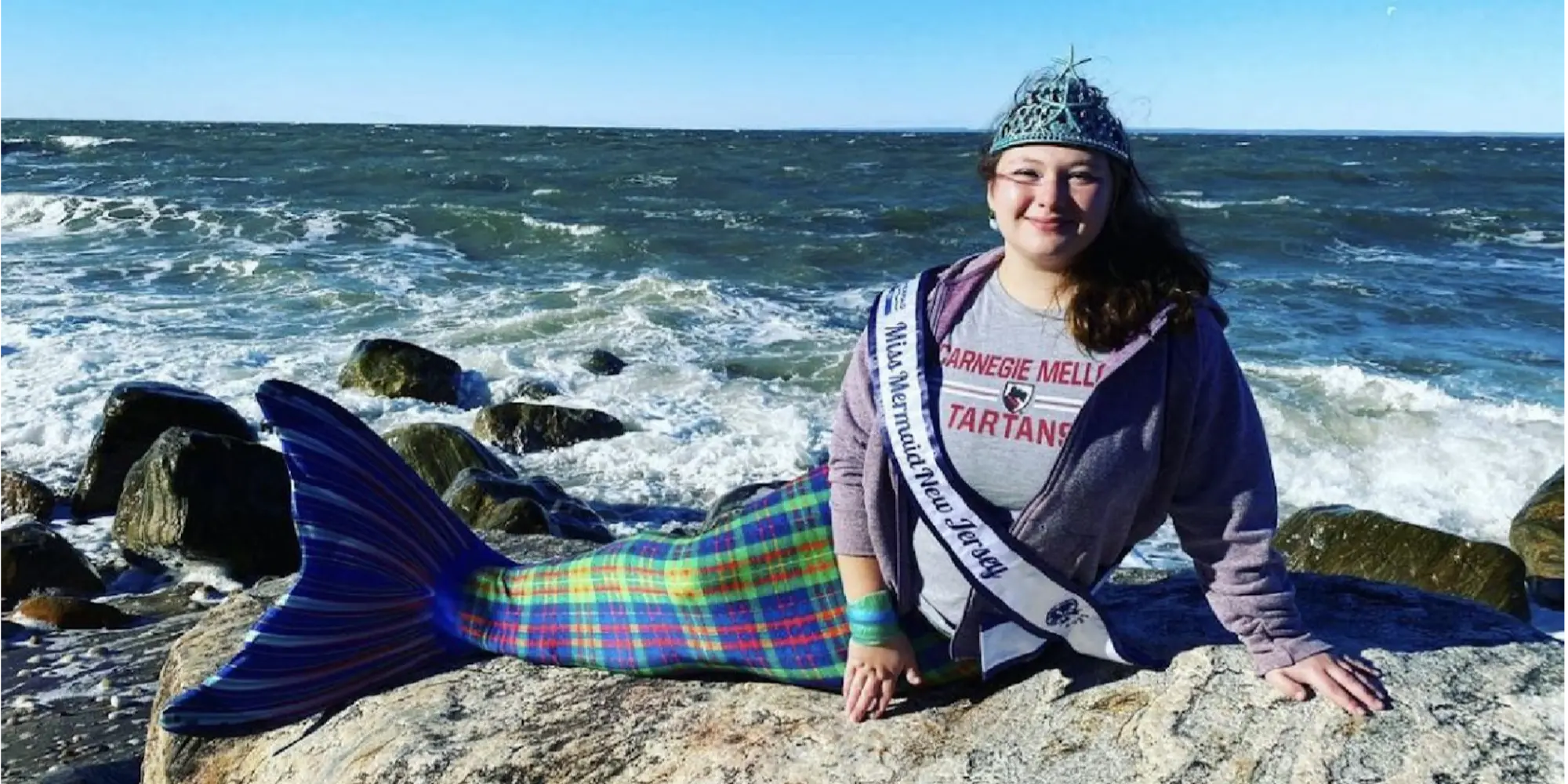 April 18, 2023
A Tartan Tail
As the Tartan Mermaid, junior Sonja Michaluk champions environmental advocacy and conservation
Media Inquiries

Name

Peter Kerwin

Title

University Communications & Marketing
At home under the sea and exploring the stars, Carnegie Mellon University's Tartan Mermaid has a plaid tail — and a tale to tell. 
Miss Mermaid New Jersey 2021 Sonja Michaluk(opens in new window), a junior studying statistics and machine learning(opens in new window) and biology(opens in new window), dons a mermaid persona to raise awareness and funds for wetland conservation projects near to her heart. To show her CMU pride, Michaluk created a custom plaid fin — one of 45 she owns — and the Tartan Mermaid was born. 
Michaluk's interest in water issues sparked at a young age. She grew up in New Jersey, near the Delaware River, and was raised in her family's tradition of sailing. 
"My grandparents lived near the shore on Long Island. Going out and seeing these beautiful aquatic creatures — seals, dolphins and, my favorite, giant sea turtles — had a big influence on me," she said. 
In elementary school, Michaluk began to volunteer at The Watershed Institute(opens in new window), which aims to protect and revive the environment in central New Jersey. At age 6, she was collecting biological samples from local streams. By 8, she was teaching workshops on how to monitor the health of waterways. By 16, she had established a Genetics Entomological Monitoring Station. 
In high school, a love of biology, and the fact that her parents were alumni, led her to consider attending Carnegie Mellon.
"It's beautiful here, the intersection of technology and the arts. I really liked the culture and was excited when I got in," said Michaluk, who has added a second major in statistics. "I saw how important it was to have data and statistical representations of the health of ecosystems that can be used to inform decision makers, and to make sure we're protecting our natural resources."
At CMU, Michaluk has immersed herself in various projects, including spending three semesters working with Terry Collins(opens in new window) at CMU's Institute for Green Science(opens in new window). There, Michaluk helps design chemical catalysts to remove harmful chemicals from water. Collins, the Teresa Heinz Professor of Green Chemistry, said she approaches the work with tremendous enthusiasm.
"Sonja is very keen on being an environmental scientist and is building up her research acumen," Collins said. "She's getting a different skill set to approach something she was passionate about before she got here. She's been absolutely wonderful!"
"Most kids at some point in their lives want to play mermaid. You feel magical." — Sonja Michaluk
The drive to pursue her passions has guided Michaluk her entire life, both as a scientist and as a mermaid.
"Most kids at some point in their lives want to play mermaid. You feel magical," she said. "I love merging my love for water and mythological lore."
Michaluk began creating her own mermaid costumes at age 11. She incorporated the mermaid persona into her conservation work, teaching lessons to children with sometimes surprising results.
"You get mixed reactions from children," she said. "I've been bitten a few times!"
That never deterred the Tartan Mermaid. As her own personal research(opens in new window) led to her selection as the 2019 U.S. Stockholm Junior Water Prize — and a dinner with the king and queen of Sweden — Michaluk's journey as a mermaid evolved as well. 
In 2020, Michaluk became interested in participating in the Miss Mermaid USA pageant. The pageant is organized around the goal of saving the oceans.
"There are lots of people participating just for the fun of it, and then there are people in it who are professional performers who perform underwater shows in aquariums with sea life. There were people into music theater — one who had been on Broadway! And there were mermaids with separate, regular careers, like a pharmacist and a teacher," she said. 
She also compiled market research as an intern with a company that creates custom mermaid tails. That position led to a role as an online ambassador via Instagram, a platform Michaluk has used to help raise over $15,000 to donate to environmental organizations and help preserve over 250 acres of wetland and wildlife corridors.
Michaluk isn't only interested in making waves underwater. This summer, she has her eyes on the sky as a member of the Iris lunar rover team.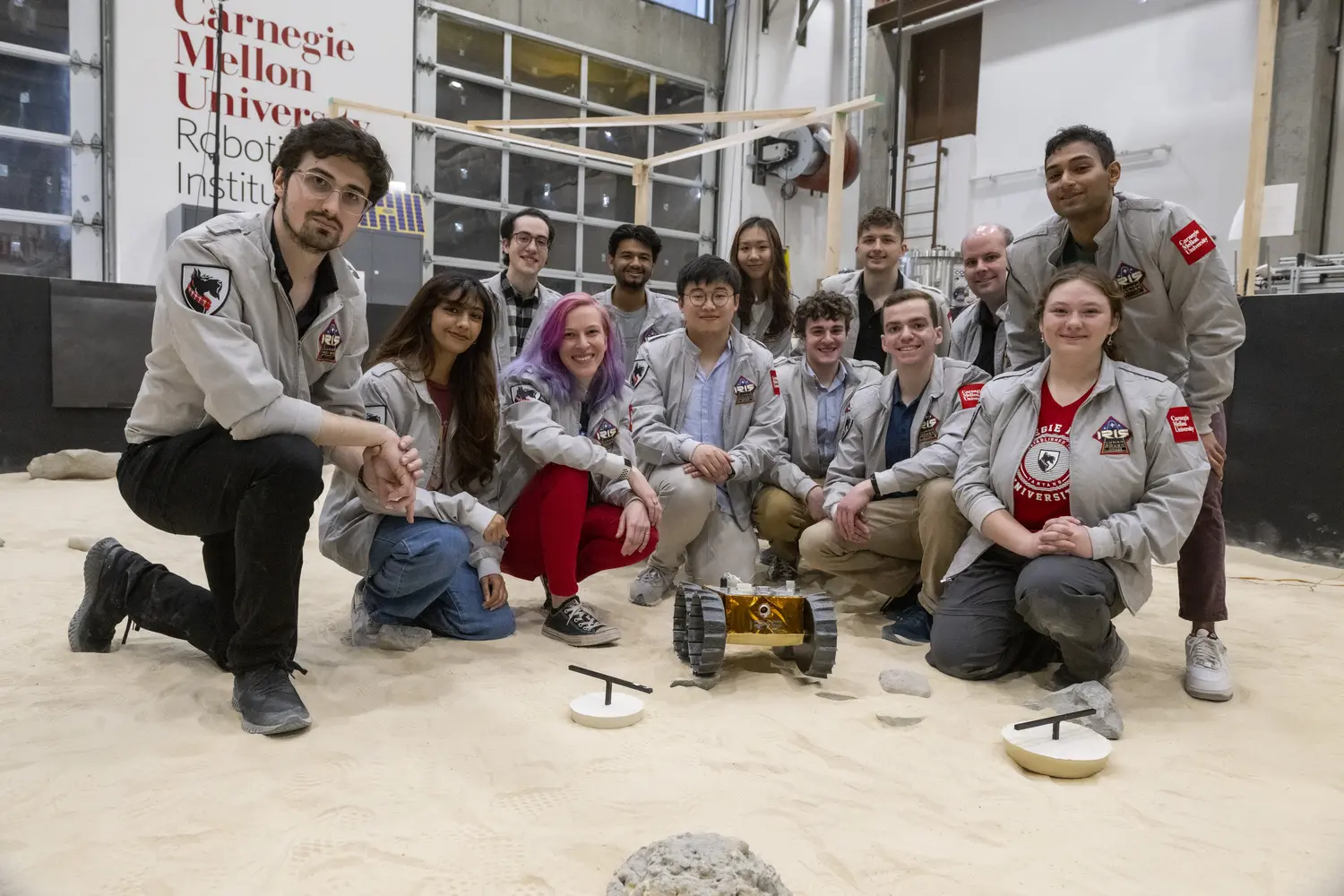 Iris(opens in new window) is an interdisciplinary student-led effort to put a rover on the moon. If successful, it will mark a series of firsts: It's the first American lunar rover and first student-developed rover, and the smallest rover ever to traverse the moon. 
The effort, set to launch with Astrobotic's Peregrine Lunar Lander, has pulled students from each school and college at CMU. When Michaluk received a recruiting email asking students to join the team, she jumped at the chance. As a member of the Mission Control Operations, she's participated in simulations in advance of the launch date. Yet this isn't the mermaid's first foray into the vast ocean … of space.
32634 Sonjamichaluk(opens in new window) is an asteroid floating in the cosmos. Michaluk was one of multiple finalists in a 2016 Broadcom MASTERS math and science competition for middle school students that were given named asteroids. 
Which is probably a good story to tell when entertaining Swedish royalty.
Speaking of stories: How does a mermaid story end?
Fin.