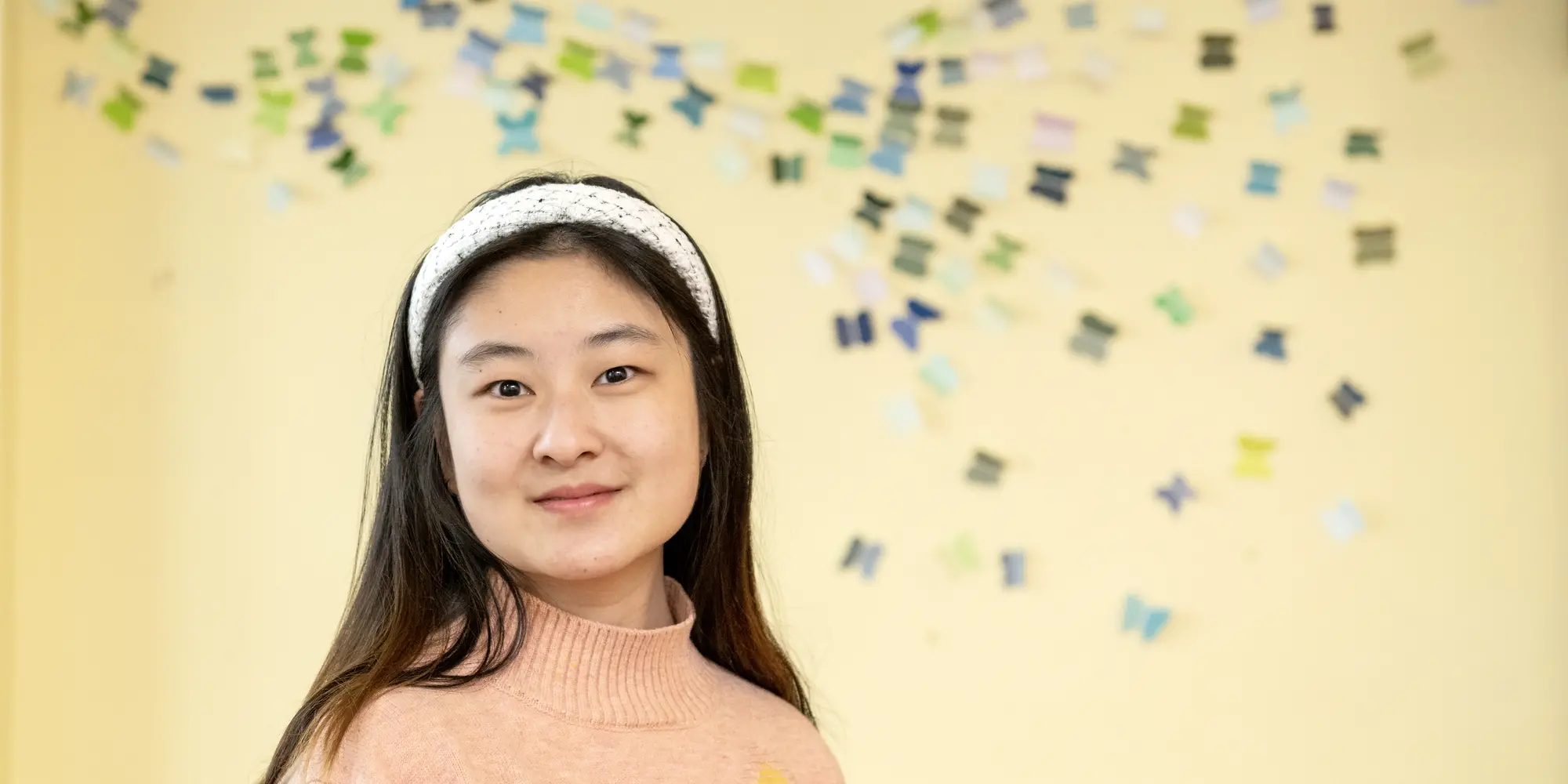 April 5, 2023
CMU Neuroscience Major Researches Mindfulness Meditation
Media Inquiries

Name

Peter Kerwin

Title

University Communications & Marketing
Aiwen Chen remembers the stress of studying for the college entrance exam as a high school student in China, and the impact it had on her and her friends.
"That's why I'm very interested in stress management, because a lot of my friends were in this same, extremely stressful situation, and a lot of them were having mental health issues," Chen said. "It becomes such a heavy burden."
Chen, a Carnegie Mellon University junior with a major in neuroscience(opens in new window) and an additional major in philosophy(opens in new window) in the Dietrich College of Humanities and Social Sciences(opens in new window), was the recipient of a Summer Undergraduate Research Fellowship(opens in new window) (SURF) award that allowed her to conduct research on the effects of mindfulness meditation on stress levels. She was part of a team working to determine the correct dosage of meditation a person needs for optimal results. 
Her research was based on the "Monitor and Acceptance" theory of mindfulness training, which posits that people can be trained to achieve a state of mindfulness in meditation by learning how to experience and better monitor the present moment, with an attitude of acceptance. Participants in the research took 20-minute lessons daily for 14 days. 
Her somewhat unusual combination of majors was possible because CMU encourages interdisciplinary learning. "It's like multiple programs or multiple displays intertwine with each other," Chen said. It was this encouragement to study across fields that helped Chen decide on philosophy as her additional major because she said it complements the work she does in her neuroscience major.
"I'm super interested in the brain, how it works and how the physiology of the brain impacts psychological effects in humans," she said. "I'm very interested in the problems of mind and body and how philosophers approach those questions."
Chen said the SURF award allowed her to get hands-on experience, the kind she was hoping for when she decided to attend CMU. "I really wanted to know how research is conducted, the whole process of doing research from scratch," she said. 
Her graduate student mentor, Asal Yunusova, helped her learn how to tackle problems and improve her study management and communication skills. Yunusova said that Chen showed great initiative and thought like a research scientist.
J. David Creswell,(opens in new window) the William S. Dietrich II Professor in Psychology, worked with Chen to come up with her core project design of assigning study participants to either zero, seven or 14-day programs, to examine the stress tolerance outcomes. 
"Aiwen has been building some really innovative research focused on answering just how much meditation training dose is needed for benefits, which is a largely unanswered question in the field. It has been a lot of fun for me to collaborate with her on this work," Creswell said. 
"Aiwen was very detail-oriented and thoughtful when conducting her research project," Yusunova said. "And she worked very diligently putting together on the various experiment scripts and survey measures that we would be administering, and was very diligent with recruiting and running in-person sessions."
Aiwen said she's still trying to decide what she wants to do after she completes her undergraduate study. She is considering possibly going to medical school to be a psychiatrist, or enter a graduate program for clinical psychology to be a therapist. 
"I want to work in mental health," she said, "to best help people relieve the pain of their mental health issues."