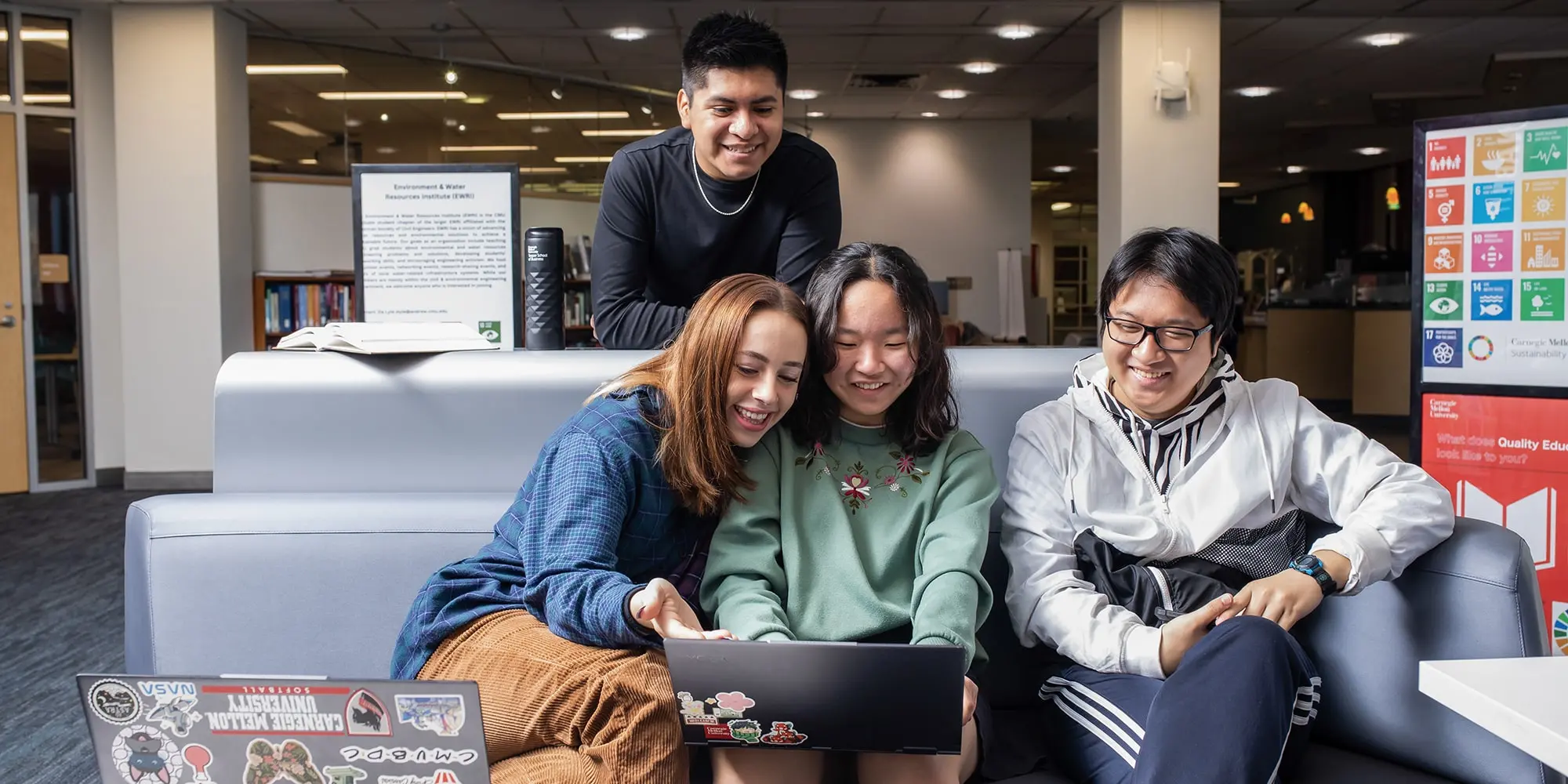 January 26, 2023
CMU Sustainability Initiative Finds a Permanent Home
Media Inquiries

Name

Shannon Riffe

Title

University Libraries

Name

Peter Kerwin

Title

University Communications & Marketing
The next phase in the evolution of Carnegie Mellon's Sustainability Initiative(opens in new window) is captured in its third annual Voluntary University Review(opens in new window) (VUR), released today. The Initiative, which has been a provost priority since its inception in September 2019, has found a permanent home in the University Libraries(opens in new window), including a dedicated physical space.
In October 2022, CMU opened the Sustainability Studio at Hunt Library with a ribbon cutting and open house event. The colorful and welcoming space will host office hours with university sustainability experts, monthly Open Studios focusing on subsets of the Global Goals, and programming to bring students, faculty and staff together to talk about their work and how it is relevant to sustainability.
Alexandra Hiniker(opens in new window), the director of the Sustainability Initiative who has led these efforts since January 2020, will continue to direct this work as a member of the University Libraries' leadership team.
All countries at the United Nations have committed to achieving the Sustainable Development Goals, also known as the Global Goals, by 2030. The 17 Goals encompass environmental protection, social equity and economic justice. Provost James H. Garrett Jr.(opens in new window) has committed to incorporating the goals into Carnegie Mellon's education, research and practices, sending a strong signal that universities are a critical partner in achieving these ambitious objectives.
"We are at the halfway point of achieving this bold agenda agreed to by world leaders in 2015, so time is running out," said Hiniker. "I'm thrilled to have a place where everyone is welcome to join conversations about how each of us is contributing to sustainability, and to find partners to help us achieve all 17 Sustainable Development Goals by 2030."
Centrally located in Hunt Library, the Sustainability Studio is a first-of-its-kind space that unites the university to further our commitment to sustainability.

University leaders cut the ribbon to celebrate the grand opening of de Fer Coffee & Tea at Maggie Murph Cafe and the Sustainability Studio in Hunt Library. From left, Director of the Sustainability Initiative Alex Hiniker; Atelier de Fer Co-Owner Matt Marietti; Helen and Henry Posner, Jr. Dean of the University Libraries Keith Webster; Provost and Chief Academic Officer James H. Garrett Jr.; and Vice President for Student Affairs and Dean of Students Gina Casalegno.
As a neutral destination, unaffiliated with any specific school, college or discipline, the Libraries is a fitting home for the Sustainability Initiative. Encompassing Hunt, Sorrells, and Mellon libraries, the Posner Center and an offsite warehouse on Penn Avenue, the Libraries' more than 60,000 square feet of public space on the Pittsburgh campus is visited by numerous students, staff, faculty and guests every day. Hunt Library also provides the physical home for the workshops, classrooms and offices of the interdisciplinary Integrative Design, Arts, and Technology (IDeATe)(opens in new window) minors program.
Under the leadership of Helen and Henry Posner, Jr. Dean of the University Libraries Keith Webster(opens in new window), the Libraries has evolved its offerings and spaces in response to the needs of its users.
"Our 21st century library must reflect the needs of 21st century learners so that we can continue to enrich the Carnegie Mellon experience." said Webster. "The community made it clear through their feedback that they desired a physical location to connect across the Global Goals. In this first-of-its-kind space for CMU, we have designed an environment for our best and brightest minds to come together to find solutions to the world's biggest problems."
In 2020, CMU became the first university in the world to publish a VUR(opens in new window). It is now produced every year in an interactive format and CMU published open-source tools to encourage collaboration with other institutions who are exploring their own VUR process.
Other activities highlighted in the VUR include the creation of three new working groups to address climate action, measure engagement with sustainability and develop thematic programming.
Working in partnership with the Libraries(opens in new window), Hiniker developed an automated Tableau dashboard, populated by the Elements research information management system, to centralize information about CMU faculty working on sustainability efforts. The dashboard will make it easier for students to find research opportunities with professors outside of their college, for faculty to identify complementary research partners, and for external partners, including funders, to connect with potential collaborators.
"From the outset of the Sustainability Initiative, I've worked with Libraries colleagues on so many aspects of our sustainability work, so it makes perfect sense for this to be the home," Hiniker said. "I'm particularly excited about working with our liaison librarians(opens in new window) and archivists(opens in new window) to link CMU's extensive collections to the Sustainable Development Goals and make them more accessible to our community."
Upcoming Opportunities
In partnership with the School of Architecture(opens in new window), the Sustainability Initiative is organizing a sustainability scavenger hunt for participants to identify how lectures throughout the School of Architecture's spring 2023 Public Programs series' "Extractivism"(opens in new window) contribute to all 17 Sustainable Development Goals.
On Jan. 31, Hiniker will appear alongside a panel of experts from around the university for a virtual discussion "Citizen Science and Community Data: Inspiring Engagement between CMU and Local Communities(opens in new window)." Hosted by the University Libraries, the event will celebrate the impact of citizen science and community data in Pittsburgh and beyond.
Students, staff, faculty and alumni are welcome to the three-part workshop(opens in new window) to be held on Feb. 7, Feb. 22, and March 21 to learn about the Sustainable Development Goals, identify how they are working toward this ambitious global agenda, and find ways to connect with partners with shared interests locally and globally.
On Feb. 9 from 4-6 p.m. in Simmons Auditorium A, show support for CMU's climate action planning by attending the Listen and Learn event. You can hear about CMU's current efforts as well as those of the surrounding community, and also provide feedback and ideas.
The Provost will host his office hours(opens in new window) in the Sustainability Studio The Sustainability Studio on March 27, an opportunity for students, faculty and staff to share their experiences, ideas and aspirations for Carnegie Mellon.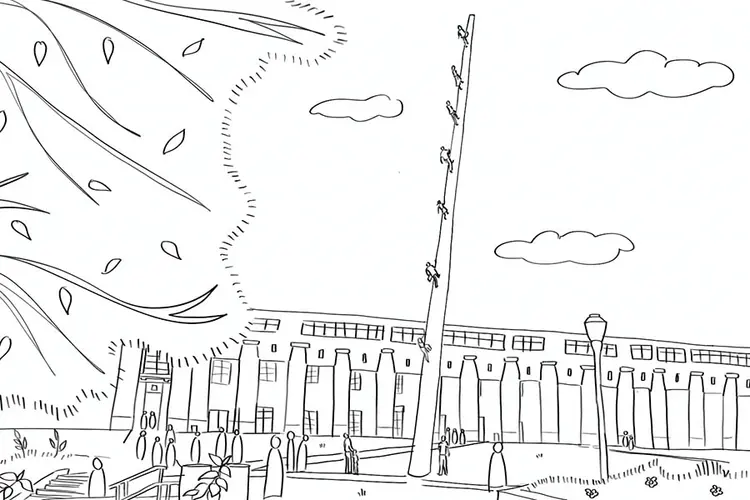 A Partnership for the Goals