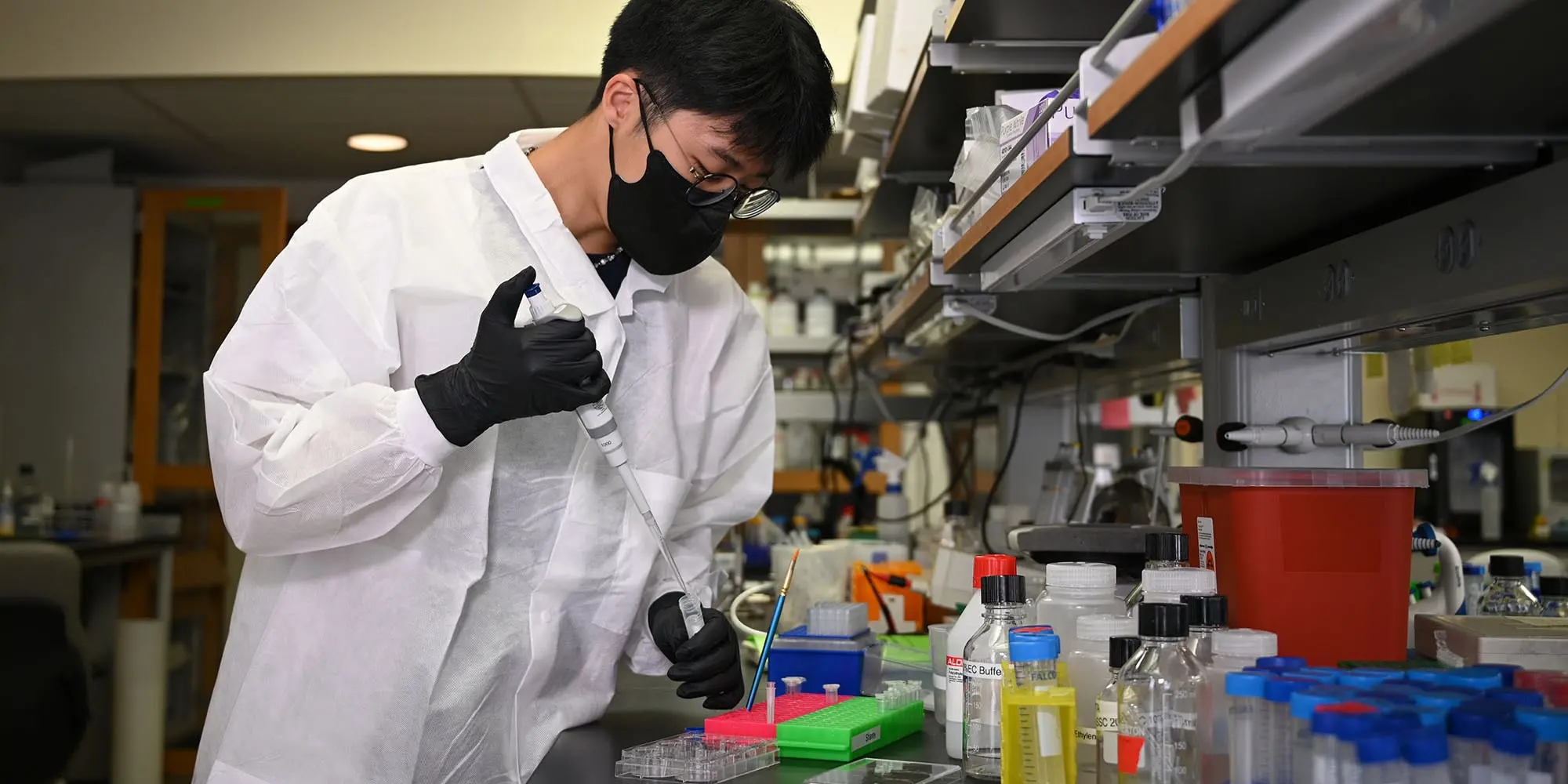 September 13, 2022
Sophomore Eyes Big Ways To Make Microscopic Discoveries Easier
Media Inquiries

Name

Jocelyn Duffy

Title

Mellon College of Science
Small details can yield big results.
That is why sophomore Aramchan "Chamy" Lee and other researchers in Carnegie Mellon University's Zhao Biophotonics Lab(opens in new window) are developing a set of protocols to enable the nanoscale visualization of the Candida albicans, a common human fungal pathogen, in fixed clinical tissues.
The principle of physically expanding biological study samples is known as expansion microscopy. Led by Eberly Family Career Development Associate Professor of Biological Sciences(opens in new window) Leon Zhao(opens in new window), the Zhao Lab is a leader in advancing expansion microscopy in human tissues.
"Expansion microscopy successfully tackles the limits of microscopes," said Lee. "When two objects in a small sample are too close, a microscope will fail to resolve these objects accurately. What expansion microscopy does is expand the sample itself to increase the distance between the objects, rather than increasing the magnifying power of the microscope."
Lee worked with Sharey Cheng, a Ph.D candidate in biological sciences, to optimize what conditions are needed to homogenously expand C. albicans without causing cracks or breaks in cell walls.
"Existing protocols for expansion microscopy focus on mammalian tissues, which are very different from fungal cells. For example, cell walls in fungi are more rigid and require altered techniques," said Lee, whose work was supported by a Summer Undergraduate Research Fellowship(opens in new window).
Lee embedded the samples in a superabsorbent gel network and experimented with different times and temperatures for homogenization to allow the samples to expand. The work required keeping detailed records.
"Aramchan has an excellent habit for notetaking," said Cheng, whose doctoral thesis relates to developing novel expansion microscopy methods for microbial cells and applying them to the study of pathogen and pathogen-infected human tissues. "He contributes greatly with his efforts and passion for his project."
Lee said he found the research rewarding and plans to continue to refine his work and assist with other projects.
"Science is not easy. You can try something 10 or 20 times, and it might work once," Lee said. "But that's also what differentiates amazing scientists from good ones. You have to take the time to optimize your procedures or tweak your hypotheses because without doing that, you may be unable to produce something worthwhile."
Zhao said Lee will be able to see his work's impact in the coming years. Zhao's team, which works with hospitals and medical personnel, develops new techniques to study cells and tissues to foster and create new diagnostic and therapeutic approaches for complex diseases.
"Chamy and Sharey are working on some exciting projects that can potentially make a real impact on health care," Zhao said.
In the spring, Lee joined Zhao's lab when he first shadowed students, including Cheng. He said he appreciated how helpful the professor and Ph.D. students in the lab were.
"I didn't know much about this particular topic, but they were understanding and took the time to accommodate me to the various protocols and tasks in the lab," he said.
It was for those types of experiences that Lee chose CMU for his undergraduate education.
"Knowing that Carnegie Mellon is a top research institution was one of the main reasons I applied. And not just for the well-known professors who could be great mentors, but also for the fellow students," Lee said. "Interacting with people who are also interested in learning and stimulating their sense of curiosity was going to further my pursuit of education."