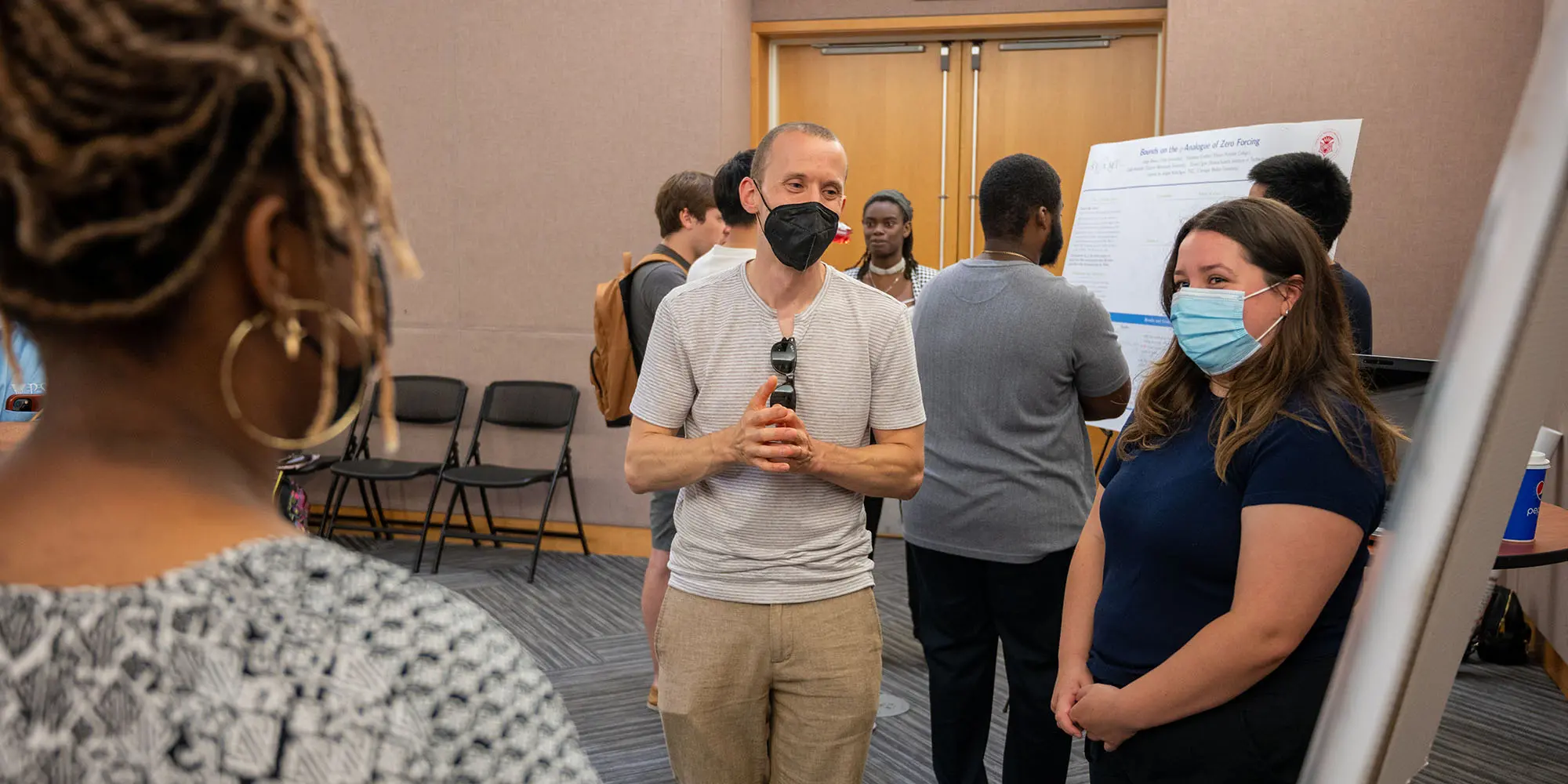 August 9, 2022
Summer Researchers Offer Emerald Cloud Lab Optimization Ideas
Media Inquiries

Name

Jocelyn Duffy

Title

Mellon College of Science
As the oldest child in her family, Janiece Jackson helped cook meals.
"I had to think of ways to increase efficiency, especially in the kitchen," said the recent graduate from Clemson University with a major in applied and computational math. "I was always thinking of ways to make sure food was done on time when tasked with making meals for my family."
In college, she used that skill not only to improve her own time management but also to provide Carnegie Mellon University alumni-founded Emerald Cloud Lab(opens in new window) (ECL) with ideas to enhance efficiency in its facilities.
Biological Sciences(opens in new window) alumni Brian Frezza and D.J. Kleinbaum founded and lead ECL, which is based in South San Francisco. Life sciences and chemistry researchers from around the world program experiments that are run in ECL's state-of-the-art highly automated laboratory, which has more than 200 different types of instruments controlled by a single software interface. The lab can handle all aspects of daily lab work, from experiment design to data acquisition and analysis; and a combination of instrumentation and trained staff perform the experiments as prescribed by the researchers. Data is then sent to cloud-based servers for scientists to access and analyze.
ECL offered students participating in the Summer Undergraduate Applied Mathematics Institute(opens in new window) (SUAMI) offered by CMU's Mellon College of Science(opens in new window) the opportunity to optimize the cloud lab's operations by creating a model of the resources needed for staff and instrumentation for different experimental volumes and throughputs. This was the first time that ECL has partnered with CMU on undergraduate student research. ECL team members met with students on a weekly basis and exchanged emails regularly.
"We hope to continue with other projects for years to come," said Kleinbaum. ECL is working with CMU to create the first academic cloud lab(opens in new window), and construction is expected to be completed in 2023.
"I'm really happy with the progress they've made," said Kleinbaum, who graduated from Carnegie Mellon with a bachelor's degree in biological sciences and a minor in chemistry(opens in new window) in 2005. "They've laid a great foundation and now we need to build on the work that they've done."
With the parameters provided, Jackson and Layla Montemayor, a rising junior in mathematics at the University of Nebraska Lincoln, worked on the problem under the direction of Kleinbaum, Frezza and Kathryn Johnson from ECL; and David Offner(opens in new window), an associate professor of mathematical sciences, and Ali Mohammad Nezhad, a postdoctoral research associate, both at CMU.
"The partnership with ECL provided the students access to interesting data, insight into using mathematics in an industrial setting and valuable mentorship," Offner said. "The students took full advantage of this opportunity and produced a novel model of the operations of the lab."
Jackson said the experience has sparked an interest in pursuing more operations research while Montemayor said the summer has confirmed her interest in data science. Both recommend SUAMI, which invites up to 12 U.S. students with strong academic records to a Pittsburgh-based program to work on projects related to applied mathematics under the direction of research faculty.
Montemayor said that as a first-generation college student, the summer experience provided her an opportunity to learn more about graduate school and research.
"The main thing I took away from working on this project was what operations research entailed," Montemayor said. "Before this project, I had only really seen pure math projects. If you're unsure about graduate school either attending or what it entails, it was extremely informative," Montemayor said. "It's helped inform my decisions for the future and what I want to pursue."
Emerald Cloud Labs co-founder D.J. Kleinbaum talks with Janiece Jackson and Layla Montemayor at a poster session.