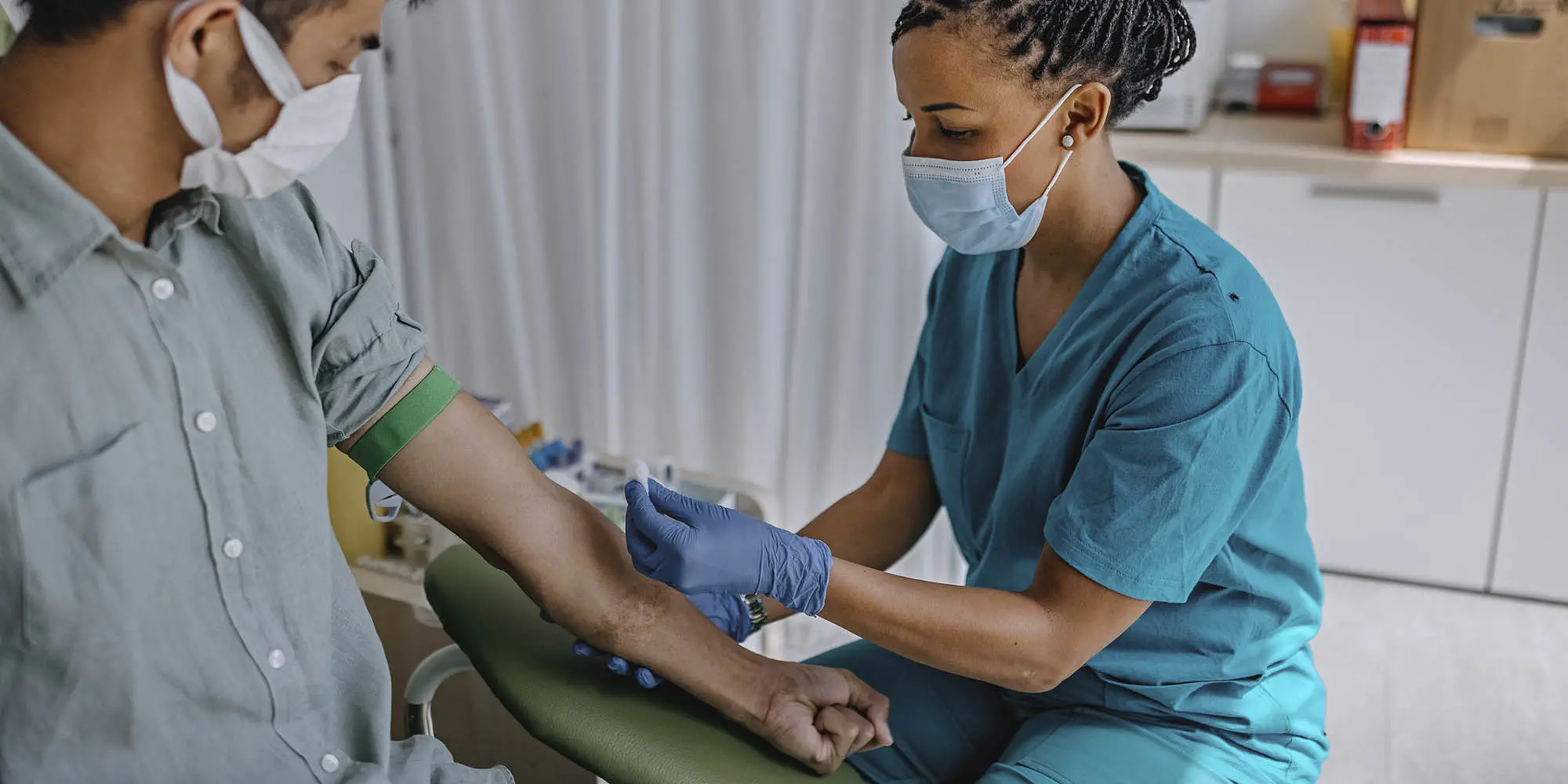 October 10, 2022
Tepper Students Aim To Help Increase Blood Donors
Media Inquiries

Name

Cassia Crogan

Title

Tepper School of Business

Name

Peter Kerwin

Title

University Communications & Marketing
A team of three Master of Science in Business Analytics(opens in new window) (MSBA) students at Carnegie Mellon University engaged with Vitalant(opens in new window), the nation's largest independent, nonprofit organization focused exclusively on providing lifesaving blood services, through the MSBA capstone course.
With the guidance of Tong (Joy) Lu(opens in new window), assistant professor of marketing, and Alan Scheller-Wolf(opens in new window), Richard M. Cyert Professor of Operations Management, students Matthew Greenfield, Samuel Hartman, and Joshua Kennedy analyzed anonymized data to derive managerial insights(opens in new window). One of the key aspects they explored was how individual characteristics may impact blood donations in Pittsburgh.
"Vitalant was a great organization to partner with because this was an interesting setting that diverged from typical profit-maximizing companies that sell a product or service to their customers; instead, the 'customers' are actually people engaging in altruistic donation behavior," said Lu. "However, the students could still apply what they had learned about customer journeys and customer relationship management.
"Additionally, working on this project was especially important and topical since Vitalant had seen major blood supply shortages during the COVID-19 pandemic and was looking for ways that they could tackle this shortage in the future from a marketing perspective. To illustrate the magnitude of the problem: Pittsburgh needs about 600 donations per day, and over the past ten years, Vitalant receives between 4,000 and 10,000 blood donations per month."
Using Data Analytics to Examine the Relationship Between Donor Characteristics and Motivation
The team utilized data analysis skills to examine the relationship between donor characteristics and donor "lifetime value." They worked together to parse out the different analyses that contributed to the final project and presented their findings weekly to the sponsors. They strived to connect the results of their analyses to managerially actionable insights. A key strength was the team's communication with the sponsors and the receptiveness to their ideas and feedback.
At the conclusion of the course, the students presented insights to Vitalant regarding:
Donor lifecycle analysis
Donation deferral impact
Donation habits
Pittsburgh donor population
Donor lifetime value
They also examined the effects of the pandemic on donation behaviors, differences in donations between mobile and brick-and-mortar centers, distinguishing between donation trends based on age versus history as a donor, and first-time vs repeat donors.
An Exercise in Tackling an Ambiguous Challenge
"It was a fantastic experience to learn how to tackle a big, ambiguous problem such as 'increase blood donations,'" said Kennedy. "We had to prioritize all of the potential paths we could take, create a project plan, perform the work and then communicate the findings effectively to a nontechnical audience."
The exercise was mutually beneficial to the students' experience and to Vitalant.
"The Tepper students were engaged, responsive and thoughtful. They actively listened to us, and used the facts and challenges we provided to shape their analysis," said Kristen Lane, a communications manager at Vitalant. "They provided us with factors that potentially made a donor churn as well as what encouraged them to donate again. This was valuable to us because it provided insight into what populations should be targeted to try and retain as blood donors."

"Every company has data that is insightful and impactful to their business, it just takes the right knowledge to know how to unlock the insights from that data," said Greenfield. "Vitalant had great data points but didn't have the full expertise to get everything they absolutely could out of it."
Data and Analytics with a Human Perspective
Experiences like this capstone project are the building blocks to The Intelligent Future(opens in new window) that the Tepper School of Business(opens in new window) is striving toward — using data and analytics with a human perspective to address a timely business challenge with a desire to create a better future at the core of the work.
"There is a hope that this could initiate a longer-term relationship between Vitalant and the Tepper School," said Scheller-Wolf. "There is plenty of work to be done to try to figure out what it is that motivates people to give, and then be able to encourage more to do so. Even a small increase in blood donations could potentially have a large impact on many patients' lives."
Moderna Launches AI Academy in Partnership with CMU