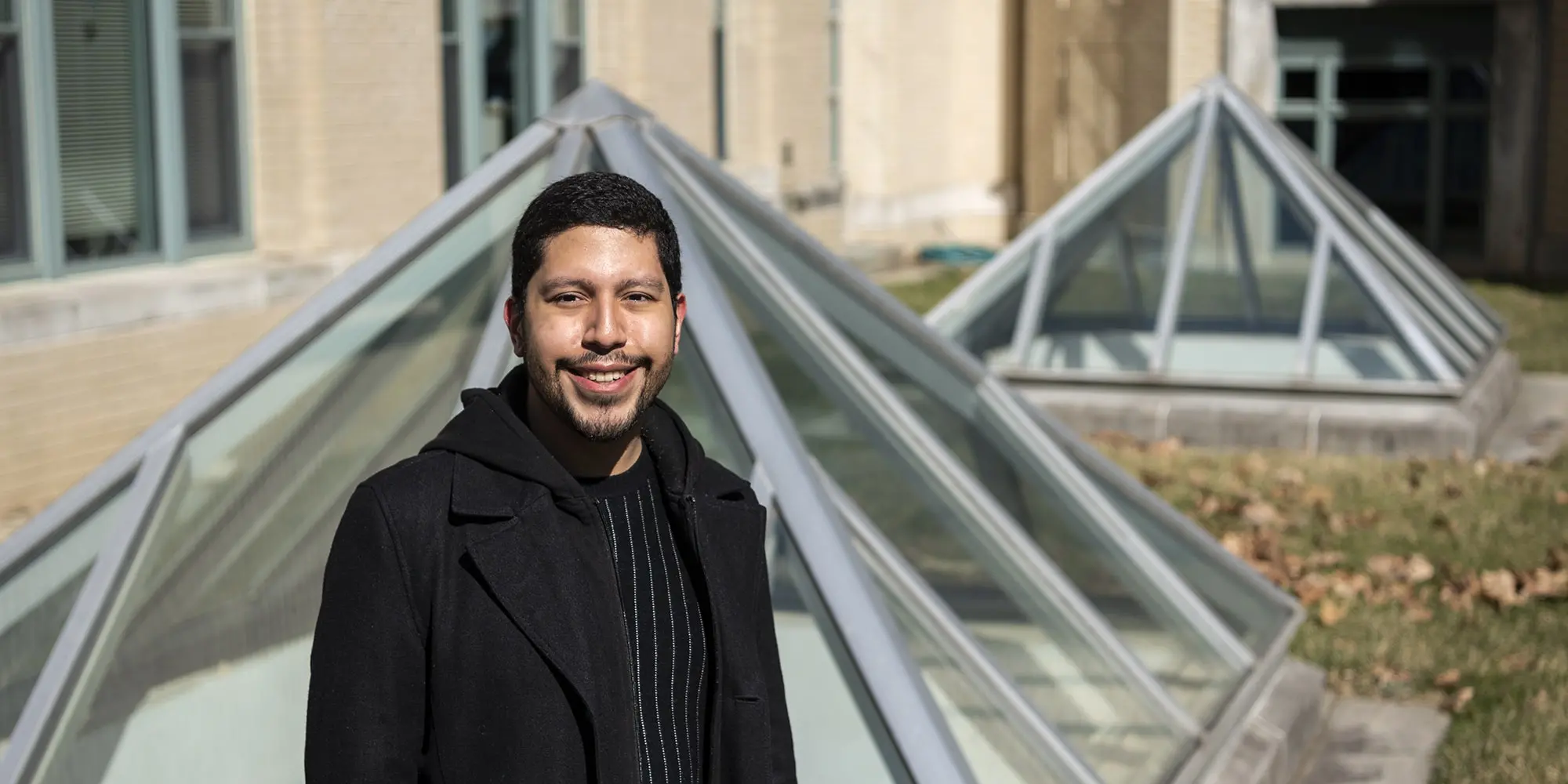 March 7, 2022
Show and Tell
Media Inquiries

Name

Ryan Scarpino

Title

University Communications & Marketing
Jimmy Lizama wants to get the word out.
As a student in Carnegie Mellon University's Ph.D. in Rhetoric Program(opens in new window), Lizama appreciates the power of language, and he's interested by any opportunity to share his findings. He studies political arguments, and aspects of his identity are central to his work.
"I am of Central American heritage, and a first-generation college student. You could say that I'm marginalized by systems and ideology, and that's the reason I started researching."
Lizama recently presented his ongoing work at a Graduate Students of Color Research Show and Tell(opens in new window) jointly hosted by CMU's Center for Student Diversity and Inclusion(opens in new window) and the University of Pittsburgh. The inter-university series provides students a chance to connect, discuss their experiences and share current projects while building support networks.
"Sometimes people don't even know what rhetoric is. There's a popular misconception that rhetoric is inherently bad, and used to hide someone's true agenda," Lizama said. "But it's also in our everyday lives — the persuasive element of conversation."
Jimmy Lizama is a student in Carnegie Mellon University's Ph.D. in Rhetoric program.
"I'm marginalized by systems and ideology, and that's the reason I started researching." — Jimmy Lizama
For those gathered in the virtual session, Lizama discussed his recent research examining securitization.
"Securitization is basically a rhetorical trope, and it happens when a speaker characterizes a political issue as an existential threat to a given person, place or thing," Lizama said. "We see it all the time in politics, but it's not restricted to politics."
Lizama is examining the long-held notion by political scientists that the use of securitization is decidedly negative. While he can point to examples of politicians using the tactic to justify extralegal or unconstitutional actions, he said that in matters such as climate change, the technique may in fact be used for positive outcomes.
In another study, Lizama scrutinizes the way the Trump administration used the MS-13 gang in El Salvador to frame the conversation about immigration policies toward Central America.
"In many sectors of society, if you are successfully accused of racism, that will hurt your platform. The Trump administration framed the conversation so that we weren't talking about race but rather national security. In discussing MS-13, what they're really doing is looking at immigrants through the proxy of criminality, while accomplishing their goal of advocating for stricter border regulation."
After his presentation, students, faculty and staff from both universities were invited to ask Lizama questions and give feedback.
Hannah Kim studies in CMU's Master of Design Program.
Hannah Kim, a student in CMU's Master of Design Program(opens in new window) who previously received her bachelor's degree in architecture in 2015, also presented recent work during the Show and Tell.
"I didn't know events like this existed, so I was super thankful to the Center for Student Diversity and Inclusion for the chance to present my project," Kim said.
Kim's research project was born at Carnegie Mellon, delving into how fostering stronger relationships among students can help redefine spaces on campus. The idea was born in pandemic times, as Kim reflected on the radical shift of life moving to a remote stance. She said she wanted to be cognizant of the shift back to in-person experiences, and have students take a participatory role in the spaces they inhabit at CMU.
She began by seeking feedback. With permission, Kim placed cultural probes — posters with paper tags for responses to be placed in envelopes — at various spots throughout campus that asked undergraduate students to submit cards answering two prompts: "Where do you spend most of your time?" and "Describe a space on campus that you feel most connected to."
"I'm not designing for, I want to design with." — Hannah Kim
Armed with more than 100 responses, Kim's next step was to conduct 11 in-person interviews with students who submitted cards. While not a representative sample, she said the conversations were enlightening.
"It was really interesting to see the ways that both upperclassmen and underclassmen think about community," Kim said. "Newcomers to campus really want to take in everything CMU has to offer, and envision their future selves as being able to give back to this community. When I talked to upperclassmen, they already have this sense of ownership when it comes to shaping the culture and community within CMU."
Kim's next step is to create participatory design workshops with groups of students.
"I'm not designing for, I want to design with," she said. "I want students to come out of this with the realization that collectively, they are the drivers of creating this sense of belonging to place, and they can develop a sense of community within each other.
"I think we have to work toward ways of having everyone's voices heard," Kim said. "As a designer, it's important to learn from the lived experiences of the people who I am designing with. Through design, we understand the value of holding space for one another, and coming together to build relationships in order to foster change."
Guerrero Adds to Family Legacy for First Generation Students