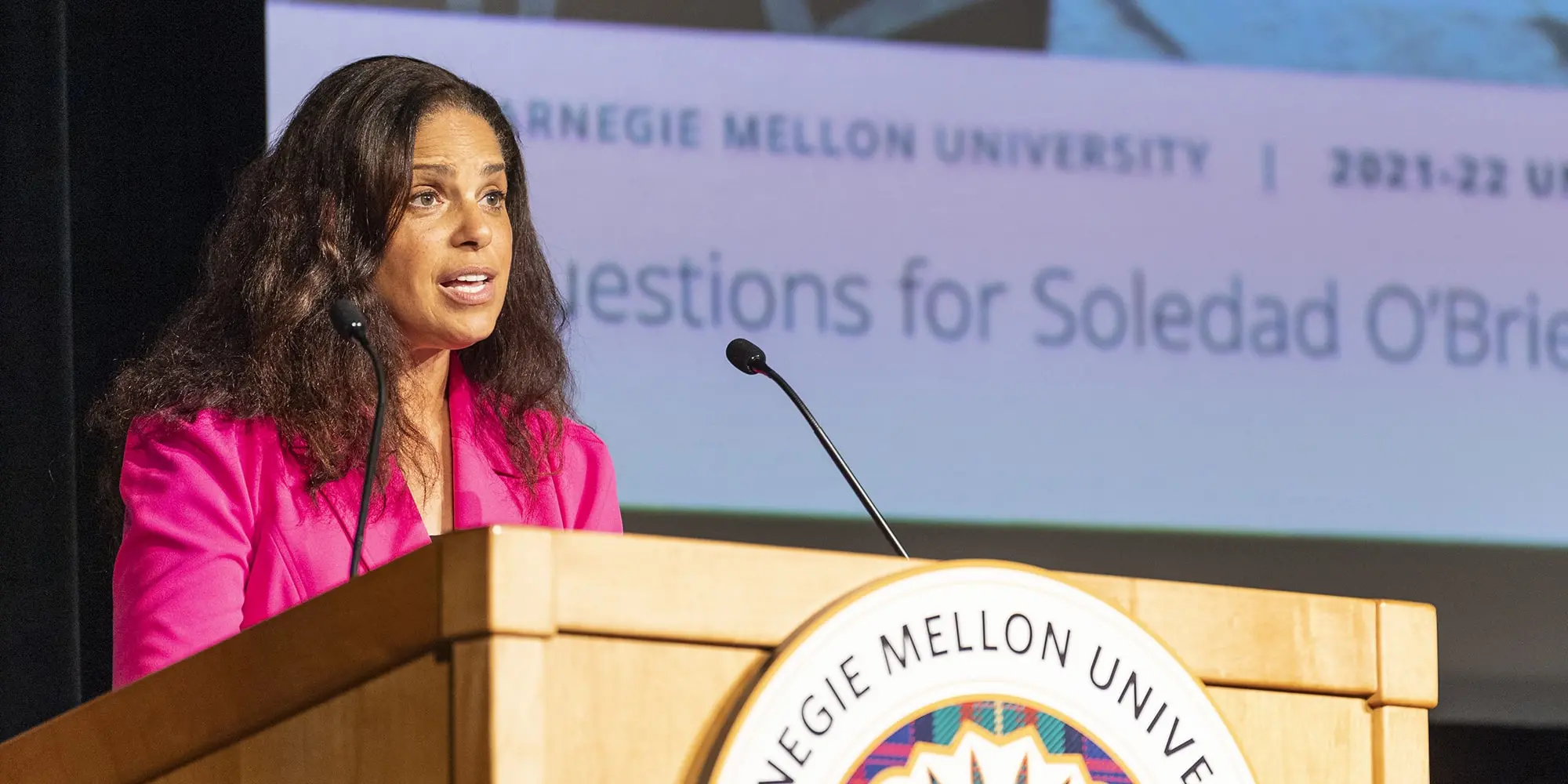 February 9, 2022
Soledad O'Brien Pays Homage to MLK During University Lecture Series Event
Media Inquiries

Name

Ryan Scarpino

Title

University Communications & Marketing
As part of its annual celebration(opens in new window) of the life and legacy of Martin Luther King Jr., Carnegie Mellon University welcomed acclaimed broadcast journalist Soledad O'Brien to give a keynote lecture on Feb. 8. Speaking before a gathering inside the Cohon University Center's Rangos Ballroom, and to those who tuned in via the online broadcast, O'Brien delivered a captivating exchange about combatting systemic racism and how to help in dismantling racial injustice.
"We've taken a step back in recent years when talking about race and equality. How do you move forward in a positive way that doesn't devolve into yelling and nastiness?" asked O'Brien. "It's a big challenge but you can do it if you have leadership that cares. We can't even have these conversations if there isn't real leadership. It has to come from the top."
Throughout the evening, part of CMU's University Lecture Series(opens in new window), O'Brien paid homage to King and shared excerpts of his writings with the audience, mostly CMU students. As a regular speaker on college campuses, O'Brien recognized the important role that students and young people can play in advancing equity and justice.
Soledad O'Brien gives Carnegie Mellon President Farnam Jahanian an elbow bump as she is introduced.
"We've seen in modern days young people being aggressive and strong to voice their opinions on things they disagree with," said O'Brien. "I strongly encourage you to read deeply into MLK's writings to articulate what he believed and how we can get there."
Wanda Heading-Grant(opens in new window), CMU's vice provost for Diversity, Equity and Inclusion and chief diversity officer, agreed about the degree that young people are making their voices heard. "They aren't asking for permission; they're asking us to come along on the journey with them," said Heading-Grant.
In 2020, as part of its commitment to confront racism and promote equity and inclusion(opens in new window), CMU pledged to diversify its speakers in order to challenge, engage and educate the campus community on these topics.
"The work we do is complex and is often filled with emotions," said Heading-Grant. "I'm grateful to CMU leadership for its commitment to diversity, equity and inclusion."
Wanda Heading-Grant and Soledad O'Brien have a discussion on stage during the event.
The event included a discussion of voter suppression, the school-to-prison pipeline and institutional and organizational accountability in combating racism. O'Brien emphasized that many of the challenges facing equality and justice are not new and that examining the historical context is an important part of understanding today's disparities.
"I hope you'll have the courage to fight for the truth, accuracy and justice for all people, which I truly think is the legacy of MLK," O'Brien said.
O'Brien is an award-winning journalist, philanthropist and CEO of Soledad O'Brien Productions, a multi-platform media agency. Through these channels, she tells stories on a range of social issues by sharing views and perspectives that often go unheard. A three-time Emmy award winner and host of the nationally syndicated television talk show "Matter of Fact with Soledad O'Brien," she has anchored news programs on CNN, MSNBC and NBC, and was a special correspondent on Al Jazeera's "America Tonight," for which she produced several documentaries on social issues. O'Brien is the author of two books, "Latino in America" and "The Next Big Story: My Journey Through the Land of Possibilities."
Heading-Grant Delivers CMU's First Community Day Keynote