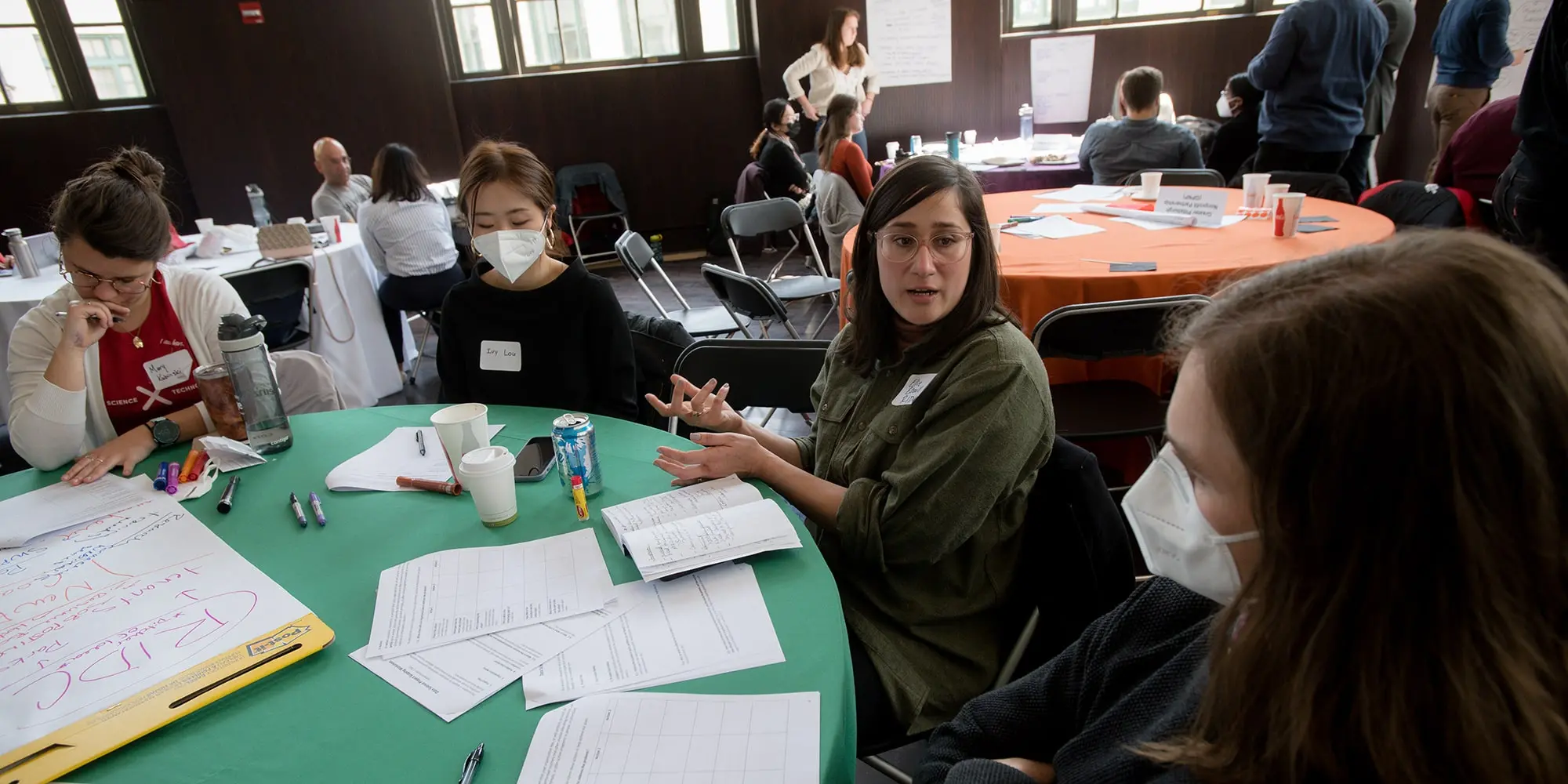 April 6, 2022
CMU Scopeathon Ties Data Science to Better Communities
Local organizations and students analyze problems and solutions to make a positive impact
Media Inquiries

Name

Ryan Scarpino

Title

University Communications & Marketing
412 Food Rescue(opens in new window) knows about numbers. With more than 7,000 volunteers, the Pittsburgh nonprofit has redistributed more than 21 million pounds of food in the region that would have otherwise been sent to landfills.
Ameesh Kapoor, head of engineering for 412 Food Rescue, said they hope to be able to accomplish more by learning how to scope projects better.
"A few times, we have started a project only to realize later that the requirements are different from what we thought," he said.
With the idea of understanding how to better solve social impact problems through data, Kapoor was one of the community participants in Carnegie Mellon University's first Scopeathon for Social Good(opens in new window).
"After years of working on these types of projects, we know that while projects that government and community organizations do are well-intentioned, many don't result in the desired impact and the largest gap is often the lack of a well-designed and well-executed scoping process up front," said Rayid Ghani(opens in new window), distinguished career professor in the School of Computer Science(opens in new window)'s Department of Machine Learning(opens in new window) and the Heinz College of Information Systems and Public Policy(opens in new window) and the founding director of CMU's Data Science and Public Policy Lab(opens in new window), which hosted the event.
Scopeathon, which took place April 1-2 at Hamburg Hall, brought together some of Pittsburgh's nonprofit leaders, data scientists and university students for the benefit of local communities.
Participants learned how to use data science to understand a problem, determine goals and tradeoffs, identify actions that can be taken, review available data and plan an analysis while keeping ethical issues in mind.
"CMU is not only a well-recognized leader in the space of artificial intelligence, machine learning and data science but also is applying these technologies toward social impact," said Ghani, whose work is at the forefront of data science for social good.
Katie Ciez, program associate for the Block Center for Technology and Society(opens in new window), which co-sponsored the event and where Ghani is an affiliate faculty member, said that the Scopeathon was an opportunity for students to work on impactful projects at the intersection of technology and social science.
Additional hosts includedMetro21: Smart Cities Institute(opens in new window), The Sustainability Initiative at CMU(opens in new window), and the University of Pittsburgh Graduate School of Public and International Affairs(opens in new window) (GSPIA) and its Center for Analytical Approaches to Social Innovation(opens in new window) (CAASI). A grant from Hillman Family Foundations provided funding through the Block Center.
The event focused on methodology developed over a decade and is available in the lab's Data Science Project Scoping Guide(opens in new window).
Brian Martin Gomez talks through a project as Peter Casey holds notes that Gomez and other students wrote.
"Dr. Rayid Ghani and his team are a great resource not just for students but for organizations in the Pittsburgh region," said Christian Schoeberl, a graduate student in public policy and management(opens in new window). "Being able to learn from the experts on how to approach problem solving in a systematic way is what makes graduate school so rewarding."
The event began Friday evening with keynote Erin Dalton, director of human services for Allegheny County Department of Human Services and a 2004 graduate of the Heinz College, followed by a panel discussion.
On Saturday, Peter Casey, program director for Data Science for Social Good at CMU(opens in new window), guided participants through the methodology before seven organizations presented their data science challenges. Each group was then paired with student teams. Casey co-led the workshop with Sera Linardi(opens in new window), director of CAASI.
Casey said that the organizations came away with new skills and first iterations of project scopes. 
"We looked at helping families remain stably housed with the Allegheny County Department of Human Services, increasing transparency and accountability for police complaint processes with the Allegheny County Policing Project, and matching jobseekers with opportunities and training programs with the Regional Industrial Development Corporation of Southwestern Pennsylvania," Casey said.
Casey said that the Scopeathon is the first of many events of its kind. The event formed relationships among the students and organizations as they discussed ways to leverage data. 
"I've been able to meet people who are doing really interesting work. It's been great," said Brian Martin Gomez, a graduate student in public policy and management.
Ciez said networking was an important part of the outcomes.
"We have had students express interest in carrying on their Scopeathon projects, and the Block Center will help them explore options to secure funding for the continuation of their work with the partnering organizations," Ciez said.
From left to right: Mary Kubinski, a master's student in public policy and management and a graduate research assistant at Metro21; Ivy Lou, a senior in business administration; Ellie Ezzell, an economic development specialist at Regional Industrial Development Corporation (RIDC); and Bristow Richards, a master's student in public policy and management, work to understand the scope of a project related to conneting jobseekers to opportunities and training.
The Sustainability Initiative at CMU
The Scopeathon's data science projects fall into the world's 17 Sustainable Development Goals.Through a first-of-its-kind Voluntary University Review, CMU aligned its education, research and practices with the goals in 2020. Learn more(opens in new window)
Community Partners
The following organizations participated in the Scopeathon: