April 22, 2022
Mural Sends Good Vibes Your Way
By Bruce Gerson bgerson(through)cmu.edu
Walk into TCS Hall and you'll find "Good Thoughts, Good Words, Good Deeds."
That's the title of a new 44-feet long, 8-feet tall mural by artist Stephanie Dinkins in the lobby of TCS Hall. It's the latest public art piece on campus selected by Carnegie Mellon's Public Art Curator Elizabeth Chodos and the Public Art Committee.
Dinkins describes her work as a series of large-scale dye prints on metal panels that show a set of interconnected Venn diagrams. She says the diagrams signify the complexity of our relation to the systems that influence our lives and other beings — human, non-human and machine. The semi-reflective surface of the mural allows passersby to see themselves and serves as a reminder to always consider the common good when creating systems and technology.
"Care is the infrastructure that binds us." — Stephanie Dinkins
"The project seeks to be a daily reminder that people creating the technological ecosystems underpinning the systems people rely on have a responsibility to imagine and create automated systems that value, honor, support and sustain the common good," Dinkins said in her project proposal to CMU.
"Care is the infrastructure that binds us. Those engaging the theory, design, development and application of computational methods must remember that we are all connected and emphasize care and equity within code," she said.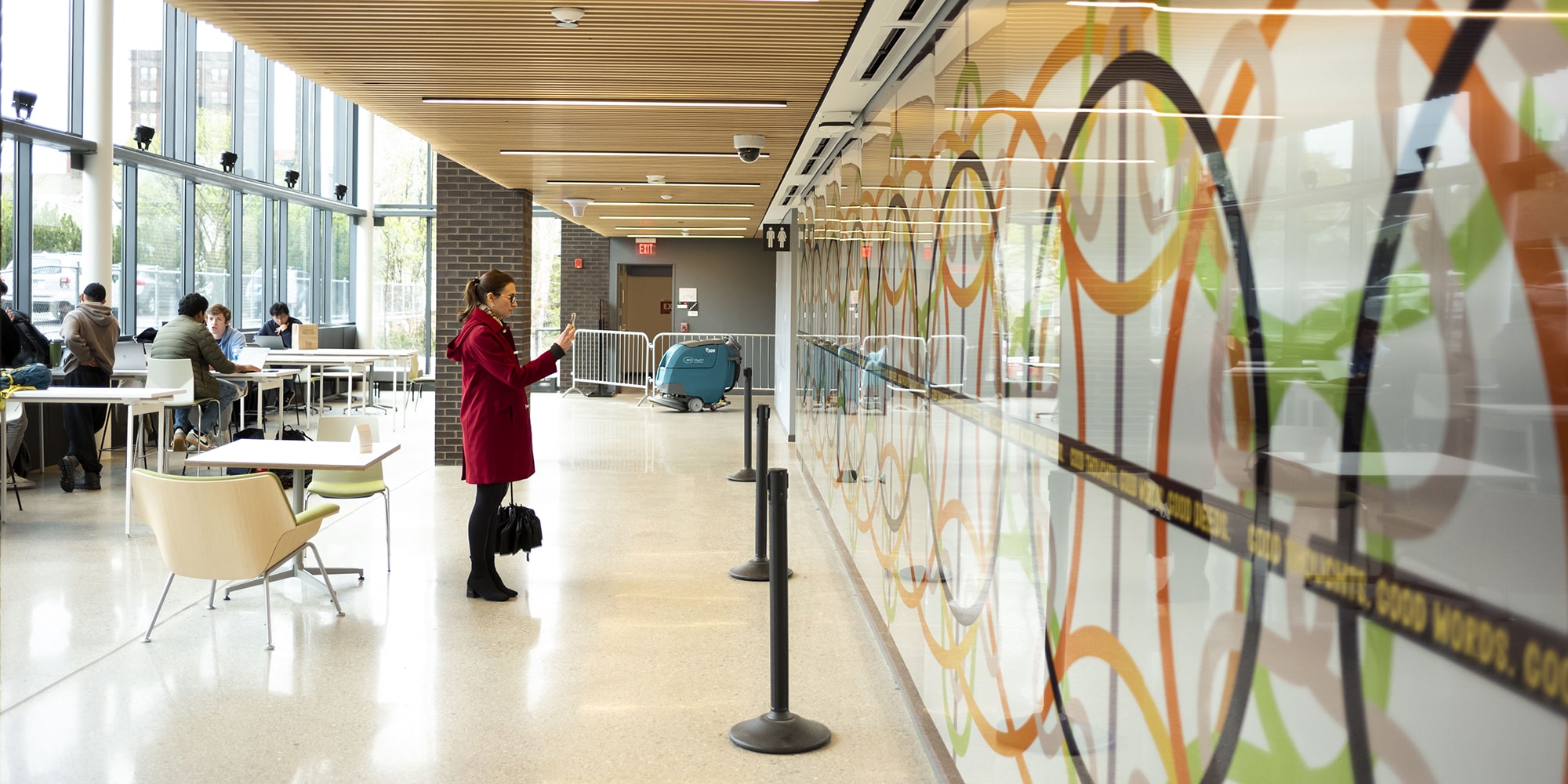 The university requires all new construction projects and major renovations to include public art to enhance and engage the community, integrate with the design of the interior and exterior spaces, and align with the building's use.
"The more people live with art as a part of their daily lives, the more they will experience the value and benefit of what artists contribute to society," Chodos said. "I hope that this work instills in everyone who sees it the necessity of care and ethics in all our actions, because we are all interconnected and rely on one another."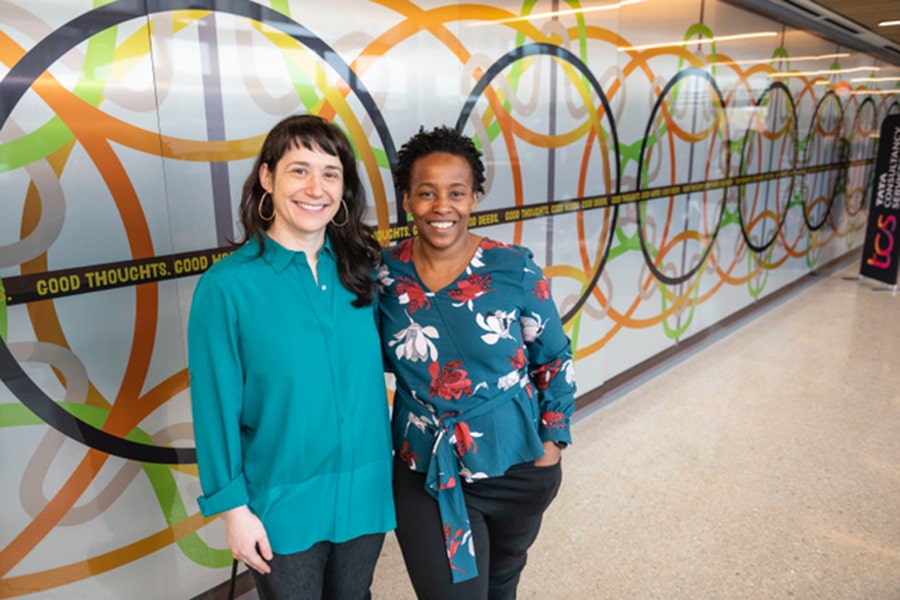 CMU Public Art Curator Elizabeth Chodos and artist Stephanie Dinkins in front of "Good Thoughts, Good Words, Good Deeds." 

TCS Hall is a 90,000 square-foot building that was made possible with a $35 million gift from Tata Consultancy Services. The five-story structure is a hub of CMU's academic partnership with TCS. It also houses the School of Computer Science's Institute for Software Research, the Master of Science in Computational Finance program and the Center for Business Engagement. The top floor is the home for TCS's Pace Port, a research and co-innovation center for companies across a range of industries and where TCS and CMU researchers will partner on next-generation technologies. 
TCS Hall, which opened in 2020 and was dedicated this week, has achieved LEED (Leadership in Energy and Environmental Design) Gold certification from the U.S. Green Building Council for its energy efficiency and sustainability.
Dinkins is a transmedia artist whose work creates dialog about race, gender, aging and future histories. She is a professor at Stony Brook University.