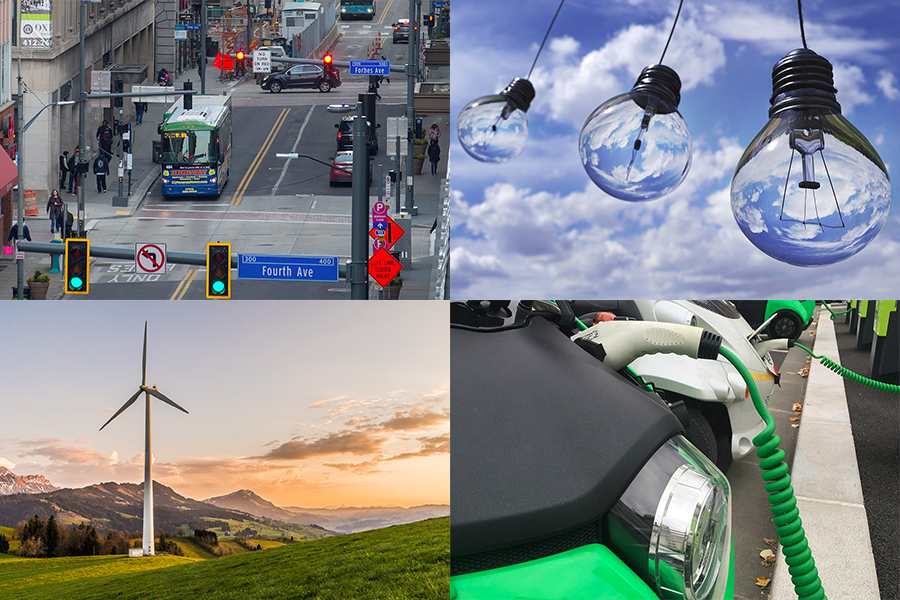 February 28, 2019
CMU Energy Week 2019 Explores What's Next in Energy Innovation
By Cody Januszko and Amanda King alking(through)andrew.cmu.edu
Media Inquiries
Julie Mattera
National Media Relations Representative
The Wilton E. Scott Institute for Energy Innovation at Carnegie Mellon University will hold CMU Energy Week 2019 from March 25-28. Now in its fourth year, this free symposium gathers energy experts, corporate executives, government officials, nonprofits, key influencers, students and entrepreneurs for a facilitated dialogue on how to advance energy technologies and innovations around the world.
This year's programming, which is open to the public, includes a distinguished forum and panel featuring powerhouse women who are leaders in the City of Pittsburgh's mobility and infrastructure planning. These trailblazers will discuss how to create a resilient future for Pittsburgh:
Mary Conturo, executive director of Sports & Exhibition Authority of Pittsburgh and Allegheny County;
Katharine Eagan Kelleman, chief executive officer of Port Authority of Allegheny County;
Karina Ricks, director of City of Pittsburgh Department of Mobility and Infrastructure; and
Arletta Scott-Williams, executive director of Allegheny County Sanitary Authority (ALCOSAN). 
"Pittsburgh's transportation system, city planning, water treatment and sports and convention facilities are all run by women. We are bringing these leaders together under one roof to share their insights during CMU Energy Week 2019," said Anna J. Siefken, Scott Institute Executive Director and event organizer.
A lineup of 10 panels featuring CMU faculty members and alumni, and energy experts will tackle topics ranging from sustainability, resilience and mobility in cities to grid-scale solar. CMU professors include Don Carter, the David Lewis Director of Urban Design and Regional Engagement of the Remaking Cities Institute in CMU's School of Architecture; M. Granger Morgan, the Hamerschlag University Professor of Engineering; Larry Pileggi, the Tanoto Professor and head of Electrical and Computer Engineering; Constantine Samaras, associate professor of Civil and Environmental Engineering and director of the Center for Engineering and Resilience for Climate Adaptation; and Jay Whitacre, Scott Institute Director and Trustee Professor in Energy, Engineering and Public Policy and Materials Science and Engineering.
One panel in particular will feature solid oxide fuel cell research conducted by Engineering and Public Policy Postdoctoral Research Associate Michael Whiston along with Whitacre, Scott Institute fellows Costa Samaras and Inês Azevedo, a professor in the Department of Engineering and Public Policy and co-director of the Center for Climate and Energy Decision Making; and Scott faculty affiliates Shawn Litster, a professor of mechanical engineering; and Kate Whitefoot, an assistant professor of mechanical engineering and engineering and public policy.
Fuel cells generate electricity via a chemical reaction. The CMU study, funded by the Alfred P. Sloan Foundation, identifies barriers to widely commercializing solid oxide fuel cells. The researchers' findings recommend how to meet the Department of Energy's cost and performance targets and could inform future industry and policy-making regarding solid oxide fuel cells. After a brief presentation of these findings by Whiston, the session will open into a discussion by panelists.
CMU alumni working in the energy sector, such as Mitsubishi Hitachi Power Systems President and Chief Executive Officer Paul Browning, will return to Carnegie Mellon to speak at CMU Energy Week. Browning is a 1990 alumnus of the College of Engineering.
CMU students will showcase their innovative work in the annual CMU Energy Week Student Research Poster Competition. The 30 most compelling posters will be displayed at a session on Tuesday, March 26, and be eligible for cash prizes.
Among the key energy leaders speaking at CMU Energy Week 2019 are:
Thomas Siebel, chairman and chief executive officer of C3;
Brian Anderson, director of National Energy Technology Laboratory at U.S. Department of Energy;
Barbara J. Burger, president of Chevron Technology Ventures;
Matthew Nordan, managing director of PRIME Impact Fund;
Ken Hayes, executive director of Cleantech Open;
Mandy La Brier, director of Energy Management for the City of Chicago;
Jay Hakes, former administrator for US Energy Information Administration; and
Michael O'Sullivan, senior vice president of Development for NextEra Energy Resources.
Attendees also can look forward to:
Tours of CMU's LEED Gold certified Tepper Quad;
The inaugural CMU VentureWell Energy Hackathon where collegiate students in the Pittsburgh area will propose solutions to energy challenges facing Honda, Chevron, Pittsburgh Parking Authority and the Pittsburgh 2030 District;
The third annual Energy Industry Career Fair for CMU and PITT students to meet with companies about full-time and internship opportunities; and
The second annual CMU Energy + Cleantech Investor Forum and Startup Showcase for entrepreneurs to pitch their companies and meet with investors. 
"CMU Energy Week panels and events focus on a wide range of energy sources, and put CEOs in the same room as top government officials, nationally recognized experts and talented students from Carnegie Mellon University," Siefken said. "This kind of interaction is incomparable — and paramount to finding solutions for world-wide energy challenges."
Registration for CMU Energy Week 2019 is required through cmuenergyweek.org.
CMU Energy Week 2019 sponsors include Chevron, Peoples, Duquesne Light Company, NextEra Energy Resources, VentureWell, Siemens, Westinghouse, TEN: The Efficiency Network, Lightsource BP, WGL Energy, Clearway Energy, Babst Calland, BCI Technology Investments, Montauk Energy, Johnson Controls, Washington Clean Energy Testbeds and Solbridge Energy Advisors LLC.
Learn more about CMU Energy Week 2019. If you have questions about partnership opportunities, please contact Anna Siefken. If you are interested in volunteering, contact Amanda King.