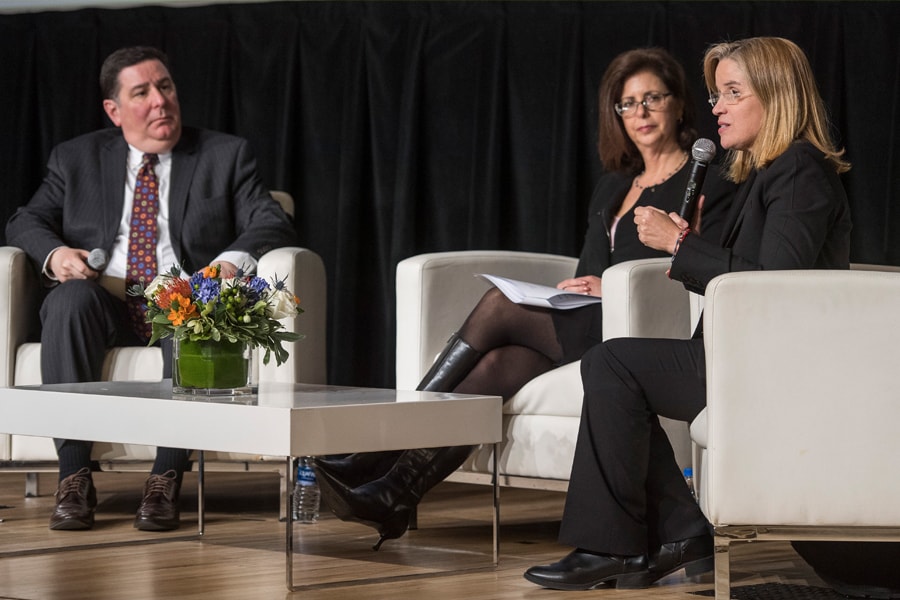 March 28, 2018
CMU Energy Week Features San Juan, Pittsburgh Mayors on Smarter Cities
Carmen Yulín Cruz, William Peduto address power challenges in forum
By Julianne Mattera jmattera(through)cmu.edu
Media Inquiries
Julianne Mattera
Marketing & Communications
San Juan Mayor and Carnegie Mellon University alumna Carmen Yulín Cruz spoke with Pittsburgh Mayor Bill Peduto about the energy challenges and opportunities their cities face in a panel discussion Wednesday during opening day of CMU's Energy Week.
The Distinguished Mayors Forum on Energy and Resilience: How Smarter Cities are Preparing for the Future, moderated by CMU Interim Provost Laurie Weingart, was part of the annual event hosted by CMU's Wilton E. Scott Institute for Energy Innovation. Energy Week brings together thought leaders from industry, government, academia and the nonprofit sector to engage and collaborate on energy research, trends, innovative technologies and opportunities to tackle pressing energy challenges.
"What we want to see in Pittsburgh is a new model of 21st century energy being delivered in the places it's being used, being used in the most efficient method possible, where buildings don't need that much energy because they are producing it themselves," said Peduto, who noted the need for institutions like Carnegie Mellon, where researchers drive innovation.
"Some of the other challenges is building the capacity within your city workforce to be able to understand the industry with people who have that experience and then keeping them in city government, which pays far less than what the private sector would like to give them," Peduto added.
Cruz, whose city was devastated by Hurricane Maria last fall, spoke about the need for a "back-up system of micro-grids" built on renewable energy sources, like solar and wind power.
"We must use the opportunity to look at that portfolio of options and to look at other cities that have already started doing that," she said.
Cruz agreed with Peduto about the need to attract and retain talented people to work in the public sector. She said working in city government can help transform people's lives.
Cruz took the opportunity to thank Pittsburgh and Carnegie Mellon for their relief efforts for Puerto Rico.
"The City of Pittsburgh helped us, but above all Carnegie Mellon University rose to the occasion and showed what Carnegie Mellon is all about. It's putting technology to work, but making sure that technology doesn't replace the heart of people. Lives were saved because of the people in this room.
"This is what power is about. It's about insuring that we all have access to things that can help us transform our way of life," she said.
Cruz was in part referring to the efforts of Rosana Guernica, a decision sciences major who led fundraising efforts to complete five relief flights to Puerto Rico, delivering 76,000 pounds of supplies and evacuating nearly 300 people in need of medical aid to the U.S. mainland.
Cruz graduated in 1986 from CMU's Heinz College of Information Systems and Public Policy with a master's degree in public policy and management. She has worked as a manager and director of human resources for various companies in the private sector, served as an at-large representative in the Puerto Rico House of Representatives, and was elected mayor of San Juan in November 2012.
Cruz has been recognized for her response to the humanitarian crisis, winning several awards, including the Martin Luther King Centre Humanitarian Leadership Award in 2018, the Antonio Villaraigosa Leadership Award in 2018, and the AIDS Healthcare Foundation Humanitarian Award in 2017. She also was nominated by People en Español as one of the 50 most Powerful Women in 2017, and TIME Magazine chose her as a candidate for its Person of the Year in 2017.
"The conversations and insights shared during CMU Energy Week 2018 were extraordinary," said Anna J. Siefken, event organizer and Scott Institute associate director for Innovation and Strategic Partnerships. "We had thought leadership from around the world, and we could not be more pleased with the outcomes. To have witnessed the mayor of Pittsburgh and the mayor of San Juan having such an intimate discussion about the importance of energy and grid resilience will have an impact on future initiatives and planning."
This story was updated April 16.