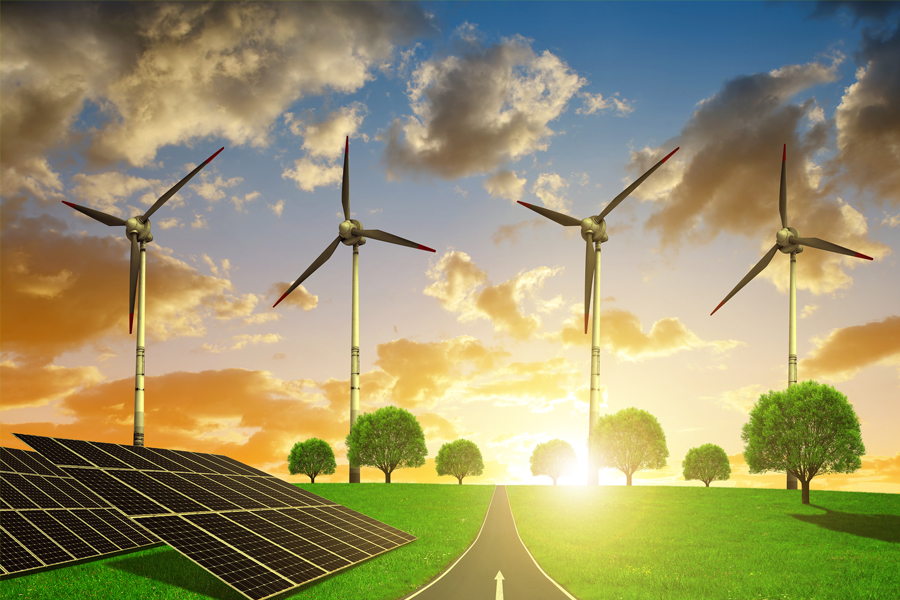 March 05, 2018
CMU Energy Week To Tackle Pressing Challenges, April 4-6
San Juan Mayor, CMU alumna Carmen Yulín Cruz to attend
By Amanda King alking(through)andrew.cmu.edu
& Annie Rucker arucker(through)andrew.cmu.edu
Media Inquiries
Julianne Mattera
Marketing & Communications
Carnegie Mellon University's Wilton E. Scott Institute for Energy Innovation will host its third annual CMU Energy Week, April 4-6. Open to the public, this year's symposium brings together thought leaders from industry, government, academia and the nonprofit sector to engage and collaborate on energy research, trends, innovative technologies and opportunities to tackle pressing energy challenges.
"Fostering opportunities for energy innovation is key to creating sustainable and affordable energy alternatives. Scott Institute faculty and CMU alumni have been at the forefront of creating energy solutions, and we're excited to showcase their research and technologies during CMU Energy Week," said event organizer Anna J. Siefken, the Scott Institute's associate director for Innovation and Strategic Partnerships.
Researchers and entrepreneurs will showcase their work and cleantech startups from Pennsylvania, Ohio, Maryland, Virginia, West Virginia, Delaware, and the District of Columbia will meet with investors at CMU's inaugural and private Energy + Cleantech Investor Forum.
Budding entrepreneurs will compete for more than $60,000 in the third Allegheny Cleantech University Prize Collegiate Competition, sponsored by the U.S. Department of Energy (DOE). CMU energy research will also be displayed at the CMU Faculty SEED Funding Showcase, a poster and multimedia competition and an energy-themed dramatic monologue competition with CMU School of Drama students.
"This year, we are bringing visionaries to campus who can speak about investments in cleantech and energy innovations that will help secure our clean energy future," Siefken said.
Key leaders, among others, attending CMU Energy Week include:
David Danielson, managing director for Science at Breakthrough Energy Ventures and former DOE assistant secretary of Energy Efficiency & Renewable Energy;
Chanette Armstrong, a 1981 alumna of CMU's College of Engineering who is director of the Office of Technology Transitions for the U.S. Department of Energy;
Don Anderson, operating partner and chief sustainability officer in the Private Equity Group at The Blackstone Group L.P.;
Andrew Moore, dean of CMU's School of Computer Science;
Alex Laskey, founder and president of Opower;
Johanna Wolfson, principal at PRIME Impact Fund;
Will Allen, former Pittsburgh Steeler and managing partner at Nascent Group Holdings; 
Erik Birkerts, chief executive officer at Clean Energy Trust; and
Anne Pramaggiore, president and chief executive officer of ComEd.
An evening forum on how smart cities are preparing for the future will feature distinguished mayors from around the world, including San Juan Mayor and CMU alumna Carmen Yulín Cruz and Pittsburgh Mayor William Peduto.
"Public-private partnerships like Pittsburgh's work with Carnegie Mellon University are key to solving issues like climate change," Peduto said. "Since we've joined 100 Resilient Cities, we've taken over 300 actions with our partners that are already underway — making Pittsburgh more resilient to the physical, social and economic challenges that are a growing part of the 21st century. The future is near and we're excited to share our resilience journey at CMU Energy Week 2018."
Nine panels will focus on topics, such as energy-efficient technologies and building performance; battery technologies; entrepreneurship in energy; how cities are leveraging microgrids, distributed energy resources and storage for resilience; and food, energy and water infrastructure.
"CMU Energy Week 2018 provides attendees with the unique opportunity to learn about and support, regional, national and world-wide energy innovations," Siefken said.
During the three-day event, the Scott Institute will launch a number of initiatives and share announcements including unveiling The Center for Sustainable, Equitable, Efficient Energy Services and the new Carnegie Mellon Green Design Institute, and a fellows program promoting and rewarding CMU's most dedicated energy faculty.
Additional programming will include:
An Energy Industry Career Fair for CMU and University of Pittsburgh students to connect with employers offering job and internship opportunities;
Tours of CMU's Sherman and Joyce Bowie Scott Hall (home to the Scott Institute) and the university's Tepper Quad;
Field trips to Hazelwood Green and The Hilltop Urban Farm, poised to become the largest urban farm in the U.S.; and
A reception celebrating Scott Hall's LEED Gold certification from the U.S. Green Building Council.
Registration for CMU Energy Week 2018 is required at cmuenergyweek.org. Participants should register for lunchtime keynote presentations by Wednesday, March 28.
Event sponsors include People's Natural Gas, Philips, Southern Company, Itron, Inc. and WGL Energy.
Learn more about CMU Energy Week 2018. Questions about partnership opportunities should be directed to Siefken at asiefken@andrew.cmu.edu. Interested volunteers can sign up online.