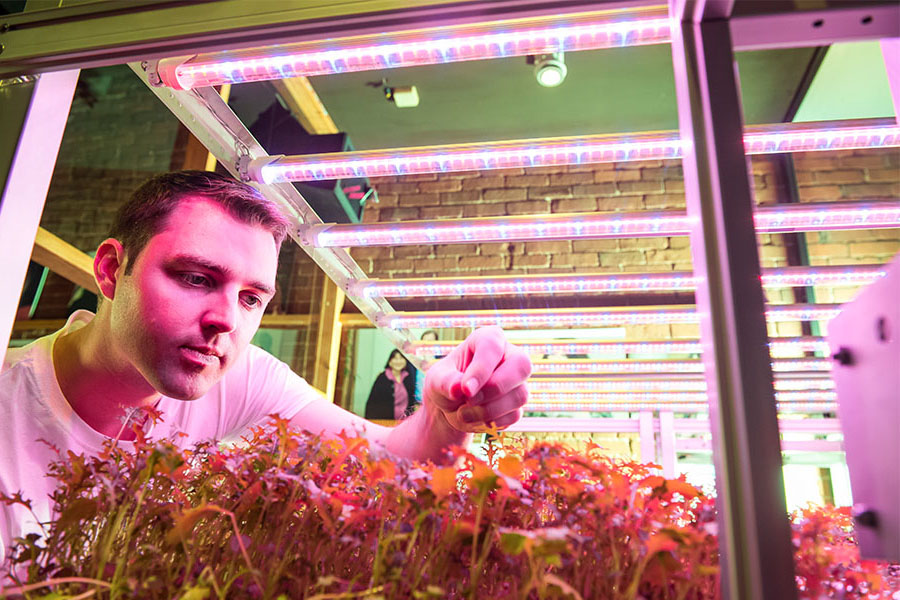 October 05, 2018
RoBotany: Transforming the Agriculture Industry with Automated Robotics and Software Analytics
By Amanda King and Annie Rucker
Media Inquiries
RoBotany, a Carnegie Mellon University spin-off company founded in 2016, develops automated robotics and software analytics to make indoor agriculture more efficient and environmentally friendly. The company, co-founded by Carnegie Mellon Tepper School of Business alumni Austin Webb and Daniel Seim along with Austin Lawrence and Brac Webb, grows produce on floor-to-ceiling shelves in a climate-controlled warehouse—a former steel mill located in the South Side neighborhood of Pittsburgh, PA. 
RoBotany's smart, indoor vertical farms grow hyperlocal, pesticide-free produce year-round while using 95 percent less water and avoid runoff pollution. Its innovative technology allows for the first-ever human-free farm while also optimizing plant growth for both quality and yield. 
"They are solving two big problems: one is world hunger. We have a growing population and more arid land to actually grow food, so this is a more efficient way to grow food and even though it's starting small here at Carnegie Mellon in Pittsburgh, there is big potential," said David Mawhinney, who serves on RoBotany's advisory board and is executive director of CMU's Swartz Center for Entrepreneurship. "There is also a desire amongst communities to have food that is grown closer to them under organic conditions. Indoor vertical farming is better than organic, and RoBotany wants to create a category that is beyond organic on the premium food scale measurement."
The startup currently sells its produce from one of its prototype farms to Whole Foods and Giant Eagle Market District in Pittsburgh under its produce brand Pure Sky Farms™.
RoBotany recently expanded its office space and has grown the team fivefold. As of summer 2018, they are building the company's first full-scale farm.
RoBotany's innovative solution has caught the attention of media like NEXTpittsburgh, which named RoBotany one of 17 tech companies to watch in Pittsburgh. The company's work has been featured in various media outlets including U.S. News & World Report, National Public Radio and the Tribune-Review. 
While he was a student at CMU, Webb took advantage of multiple entrepreneurship resources on campus to launch RoBotany: from working on the company in his classes to participating in the National Science Foundation (NSF) I-Corps site program at CMU, which aims to accelerate commercialization of university research. In 2016, RoBotany was accepted into CMU's startup incubator, Project Olympus—the birthplace of RoBotany's first farm. 
In 2017, the team went on to compete and place first in two on-campus competitions: the Swartz Center's McGinnis Venture Competition and the DOE-sponsored Allegheny Cleantech University Prize Collegiate Competition hosted by the Scott Institute. The company took home a combined $75,000 in prizes.
"CMU helped me launch RoBotany because of the early pre-seed capital we received from the NSF I-Corps Program, Project Olympus and the Allegheny Cleantech University Prize Collegiate Competition," said Webb. "In addition, we were able to benefit from the university's concentrated ecosystem of talent across many disciplines on campus."