Wednesday, April 5, 2017
Vishwas Prabhakara Doesn't Hold Back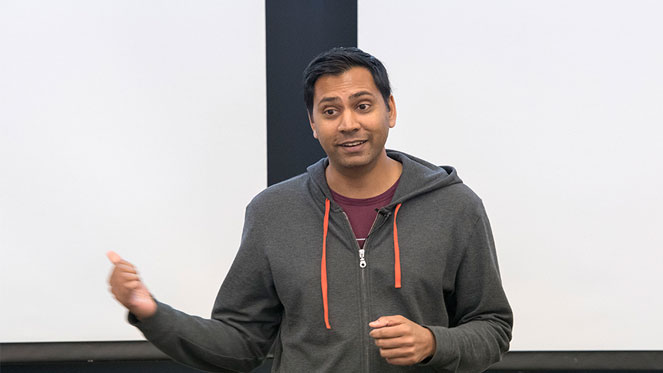 For young professionals on the rise, Carnegie Mellon University students picked the lock on a treasure chest of advice.
Vishwas Prabhakara
(DC'02), general manager of Yelp Reservations, gave students on the verge of entering the workforce a wealth of information at an interactive talk and a roundtable discussion for the Dietrich College Entrepreneurs Speaker Series, co-sponsored by CMU's
Swartz Center for Entrepreneurship
.
In "What They Don't Want You To Know," Prabhakara emphasized the power of assertiveness. He gave highlights from his 15 years of entrepreneurial and product development experience, in which he has held senior positions at ESPN and Digg, founded Fanvibe and was CEO of BeRecruited, prior to leading Yelp Reservations.
Instilled with optimism, Prabhakara stressed three main points:
Start Doing and Learn As You Go: Taking action is preferred over being completely ready. (You'll never be totally prepared.) Using the metaphor of stepping stones, Prabhakara sees every step as progress toward a goal.
Get Feedback: Receiving criticism is important. "Ask, ask again and follow up" is how Prabhakara gained effective feedback from his managers and colleagues and then applied it in a constructive manner.
Don't Let Them Hold You Back: Feelings of fear and doubt are natural but should not be in control. Prabhakara advises to "break the rules" in efforts to embrace opportunities that align with your core strengths and passions.
After graduating with majors in information systems and economics, Prabhakara first worked in investment banking. He left after two years, realizing he wanted to drive the top line of business in a role that generated revenue.

His switch to join a mobile and broadband services group at ESPN was a dynamic move that would lead eventually to roles in Silicon Valley product development and entrepreneurship.

During the roundtable discussion, Amy Zheng, a senior majoring in information systems and statistics, asked Prabhakara how to prepare for and earn a position in management. She has secured a software engineer position at Amazon after graduation.

"It takes time to form good relationships. You have to work at building trust and establishing credibility every day. In college, students meet and collaborate with each other relatively quickly, but the professional world is different," Prabhakara said.

Prabhakara was quick to point out that there are different types of management, such as technical leaders, business leaders and engineering managers. Regardless of the role, he gave three tips: first, to demonstrate competency by doing a job very well, second, to show initiative by looking for opportunities to add value, and lastly, to gradually make known management interests to supervisors.

Donovan Powers, also a senior majoring in information systems, wants to work for a startup and asked how to avoid ones that would be likely to fail.

Good qualities of a startup are easier to perceive than the bad ones, according to Prabhakara. He advised Powers to look for a product with growth potential, a founder who is engaged, and a list of investors who have great backgrounds.

Watch a video of Prabhakra's talk.
Previous Dietrich College Entrepreneurship Speakers:
Adam Gross (DC'94): After CMU: Building a Career in Technology
Lane Bess (DC'83): The Road to Building Great Companies
Javier Soltero (DC'98): I Never Learned To Spell "Successful"
_____
By Ann Lyon Ritchie