Reinhard A. Schumacher
Professor of Physics


Nuclear & Particle Physics
Quark Interaction Experiment
Wean Hall 8406
412-268-5177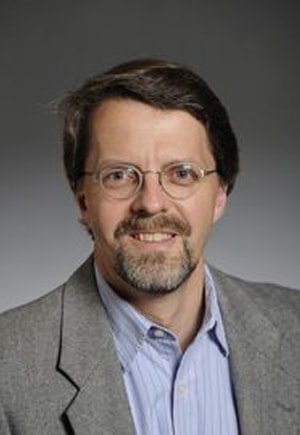 Education & Professional Experience
PhD: Massaschusetts Institute of Technology (1983)
B.S.: Case Western Reserve University (1978)
Professional Societies:
Fellow, American Physical Society
Professor of Physics, Carnegie Mellon University, 1999–
Indefinite Tenure, Carnegie Mellon University, 1995
Associate Professor, Carnegie Mellon University, 1993–99
Assistant Professor, Carnegie Mellon University, 1987–93
Post-doctoral Research: Paul-Scherrer Institute (Switzerland), 1983–87
Research Interests
Quark interaction physics explores sub-atomic particle systems at the boundary between the quark-gluon and meson-baryon descriptions of matter. The field addresses questions that, as a practical matter, do not require the highest beam energies or luminosities, but do call for high-precision measurements using specialized equipment.
Currently, my main area of work is in the electromagnetic production of strange particles (kaons and hyperons). The production of strange-quark pairs via the well-known electromagnetic interaction gives us an avenue for refining our knowledge of baryon resonances, coupling constants, and polarization observables; the results are compared with modern quark models and with unitarized chiral perturbation theory. This work is being done at the 
Thomas Jefferson National Accelerator Facility (
JLab
)
. More exactly, my experimental work is done using the CEBAF Large Acceptance Spectrometer 
(
CLAS
)
 in Hall B and using the GlueX detector 
(
GlueX
) 
in Hall D at Jefferson Lab.