Solar Eclipse About to Stun Pittsburgh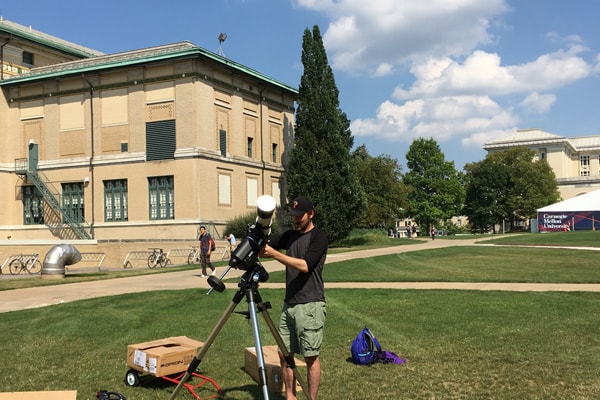 August 15, 2017
The Solar Eclipse and Eddington's Experiment
Media Inquiries
Jocelyn Duffy
At 1:45 on Monday afternoon, August 21, the moon will begin blocking the light coming to us from the Sun. Over the next half hour, the skies will darken and then return to normal, birds will tweet their confusion, and many of those on campus will experience for the first time the wonders of a Solar Eclipse. The basic physics of this truly epochal event – the last total solar eclipse that occured in the lower 48 states dates back to the 1970's – is described here.
The eclipse will be total only a bit further South from Pittsburgh. Lucky viewers there will for a few minutes see black surrounded by an oddly-colored red ring where the Sun used to be. Princeton astronomer Ed Turner has seen "very experienced world travelers who have been all over the place and seen all sorts of famous and rare sights, man-made and natural, to react to a total eclipse by screaming, yelling 'OMG!', jumping up-and-down, running around hugging people, staring with their mouths hanging open, talking about it incessantly for days. etc."
See also Annie Dillard's classic essay Total Eclipse in The Atlantic.
On campus, a variety of activities are planned.
Join the Carnegie Mellon ASTRONOMY CLUB to view the solar eclipse! The club will set up three telescopes with solar filters, and also provide eclipse glasses that visitors can use. Meet them at a tent by the fence from noon to 4 p.m.
Glasses will also be available in the Mellon Institute lobby.
Assistant Professor Matthew Walker (pictured on the left) is traveling South to be in the path of the total eclipse and will attempt to recreate the famous 1919 experiment conducted off the West coast of Africa by the Cambridge astronomer Sir Arthur Eddington (1882–1944, pictured on the right) that provided a first stunning prove for Albert Einstein's theory of general relativity (and jump-started Einstein's prominence as a global celebrity).
Sponsored by the Mellon College of Science, the equipment used in Matt's expedition and the data he acquires will be used in undergraduate Labs at CMU for years to come.
Look out for interviews with Matt during the University's live stream of the eclipse and on our local NPR station, WESA.
During the live stream, incoming Physics Department Head Scott Dodelson will also discuss the eclipse and more generally the role of physics in our lives and futures.
With all this anticipation of an exciting event, let's hope for a cloud-free afternoon!