November 07, 2014
Neta Bahcall To Present Bennett-McWilliams Lecture in Cosmology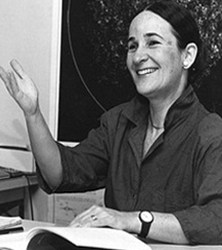 PITTSBURGH—Prominent astrophysicist Neta Bahcall, who was the first head of the Hubble Space Telescope's Science Program Selection Office, will present Carnegie Mellon University's third Bennett-McWilliams Lecture in Cosmology at 4:30 p.m., Tuesday, Nov. 11. The lecture will be held in the Gates-Hillman Center's Rashid Auditorium and is hosted by the McWilliams Center for Cosmology.
Bahcall's lecture titled "Lighting Up the Dark: Where is the Dark Matter?" is free and open to the public. This is the third in a series of lectures funded by alumni Fred Bennett (S'86) and Bruce McWilliams (S'78,'81).
Bahcall, who is the Eugene Higgins Professor of Astrophysics at Princeton University, will discuss her work investigating how dark matter is distributed in the universe, and how the distribution of the mysterious dark matter relates to the distribution of light, stars and baryons. She will also discuss the implications her research has on other questions in cosmology, including how galaxies form and what is the mass-density of the universe.
Bahcall's work has been summarized in more than 300 scientific publications. She and her colleagues have provided powerful constraints on cosmology, including one of the first determinations of the mass-density of the universe and the amplitude of mass fluctuations. She is a member of the National Academy of Sciences and the American Academy of Arts and Sciences. She also holds a distinguished research chair at the Perimeter Institute for Theoretical Physics, is a member of the editorial board of PNAS, and is a past vice-president and century lecturer of the American Astronomical Society.
In addition to her research, Bahcall works closely with students and post-doctoral fellows. She is the director of the undergraduate program in astrophysics at Princeton and past-director of Princeton's Council on Science and Technology.
By: Jocelyn Duffy, jhduffy@andrew.cmu.edu, 412-268-9982