Midshipman Stories
Our midshipmans' reasons for joining NROTC are as diverse as their chosen career paths within the program. Some seek adventure, while others are more altruistic and looking for a job filled with meaning. No matter the reason, all midshipman share the same calling--to protect and defend the country they love. Below are the stories of such midshipman, describing their own reasons for joining NROTC and experiences thereafter.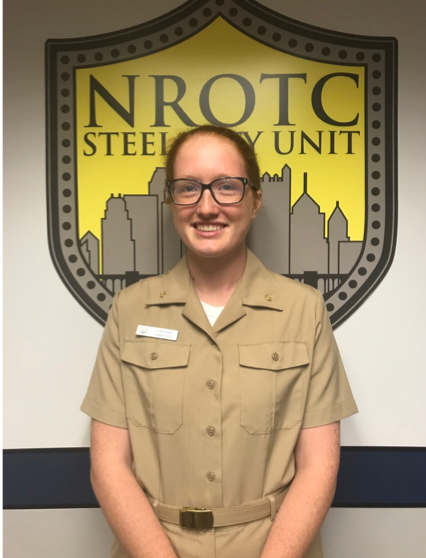 MIDN 1/C Cruser
My name is MIDN Cruser and I am a 1/C who will be going into the SWO community. I was inspired to join NROTC because both of my parents were in the Army and I chose the Navy specifically because I liked the mission sets. I then applied to NROTC and got the scholarship to Carnegie Mellon. I excitedly accepted and eight months later joined the NROTC unit at Carnegie Mellon. When I first got to the unit, I was shy and timid. Throughout my time in the unit, I have had many opportunities. I have become more disciplined and grown in patience. I have learned how to fail successfully, which means not giving up and surrounding yourself with people who will be there through the good and bad times. NROTC has helped me to become confident and outgoing. NROTC has challenged me mentally, physically, and emotionally and forced me to become a more capable and well rounded person.
MIDN 1/C Bizzoco
My name is Christopher Bizzoco and I am a 1/C (senior) Marine Option Midshipmen at CMU NROTC. As the captain of my high school football team, I had prior experience in leadership without actually knowing it. However, I soon learned that experience would serve me well. Although I enrolled at the University of Pittsburgh, I didn't have a plan for my future. I knew that I would need to strive for a new goal and a community which would struggle alongside me in pursuit of that common goal. A friend of mine on the lacrosse team mentioned that they were in the ROTC program, so I decided to look into it. The summer before leaving for school I figured I would give it a shot and filled out all the necessary paperwork. After New Student Orientation (NSO), which is three days of immersion in the military lifestyle, I knew that I had chosen the right path. For the next few years, my fellow midshipmen and I persevered to earn a scholarship and train to be the best officers we could be through 6 AM workouts, drill, and classes. Through my struggle I was able to pick up a three year scholarship and eventually attend Officer Candidate School (OCS) this past summer and earn the honor of becoming a United States Marine. Throughout my time in NROTC I have had the privilege of learning leadership from some of the best in the Marine Corps and the Navy. I wouldn't trade it for anything in the world and hope to use my skills as an infantry officer in the upcoming months after graduation and years of my career.