August 22, 2023
CMU President Jahanian Welcomes the Class of 2027+
Media Inquiries

Name

Peter Kerwin

Title

University Communications & Marketing
First-year students and their families were greeted by plenty of sunshine and pleasant breezes as they followed a variety of paths to the tent at the center of Carnegie Mellon University's Pittsburgh campus for the President's Welcome on Sunday morning.
In his welcome remarks, Carnegie Mellon President Farnam Jahanian(opens in new window) praised the incoming students for being among the brightest and most exceptionally gifted stars of their generation and celebrated their achievements that led to this moment.
"The next four years or so will undoubtedly be some of the most transformative of your young lives, and your CMU education will give you every opportunity you can imagine to pursue — and achieve — your dreams," Jahanian said.

    
Yoona Lee, one of seven head orientation(opens in new window) counselors, took the stage first to welcome a standing-room-only crowd of faculty, staff, students, parents, friends and families to the hour-long program. Lee encouraged students to pursue their own personalized path to happiness in the spirit of this year's orientation theme.
"Every year, the head orientation counselors choose a theme for the first-year orientation program in the hope that you will embody it throughout your journey at Carnegie Mellon," Lee said. "'Pursue Your Happiness' — also the state slogan for Pennsylvania — helps us all feel connected to the City of Pittsburgh, your home away from home for the next several years."
Members of the class of 2027 are coming from 45 states across the U.S. as well as Washington, D.C., and Puerto Rico, and from 36 nations around the world. Jahanian said a diverse and inclusive community is the foundation for excellence in learning, creativity and human development.
"Each of you brings a unique outlook and set of experiences that will enrich our community," he said.
The program featured a moving performance of the song "True Colors" by College of Fine Arts(opens in new window) seniors Abigail Cunningham, Solomon Onyukwu and Billy Holtz, followed by remarks from James H. Garrett Jr.(opens in new window), provost and chief academic officer; Gina Casalegno(opens in new window), vice president for Student Affairs and dean of students; and Lauren Moran, associate dean for Student Affairs and director of First-Year Orientation and Family Engagement(opens in new window).
"Your passion and pursuit of excellence will make the extraordinary possible." — President Farnam Jahanian
First-years Patricia Huang, from Salem, Connecticut, and Calla Song, from Austin, Texas, were all smiles while they waited for the program to start. Both are planning to study electrical and computer engineering(opens in new window) and shared how excited they were to be here.
"I chose CMU because the university has a really good engineering program, and I love that they offered me many options to be interdisciplinary," Huang said.
Song said she chose CMU for similar reasons.
"The engineering program is strong. CMU also has a good arts program, which is something I'm interested in. I feel like the BXA Intercollege Degree programs(opens in new window) and the Engineering and Arts(opens in new window) additional major are something interesting to explore in the future," Song said. "A lot of colleges are not strong in both, so that was a big draw."
CMU In Demand
Demand for CMU has grown so much that in just five years, the number of applicants to CMU has risen by more than 40%. 

CMU had 33,707 applicants in 2023, one of the highest number of applicants in the university's history. 

Eleven percent of this year's applicants were admitted — the university's most selective admit rate ever — and a record 45% of admitted students chose to enroll.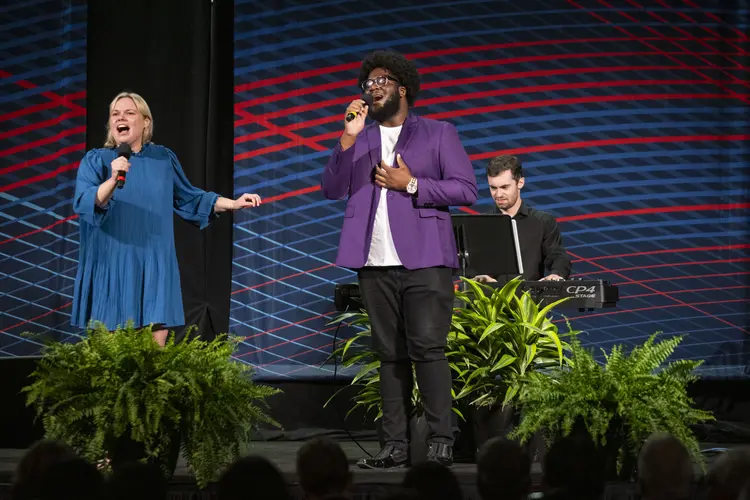 The program featured a moving performance of the song "True Colors" by College of Fine Arts seniors Abigail Cunningham, Solomon Onyukwu and Billy Holtz.
President Jahanian posed with this year's head orientation counselors.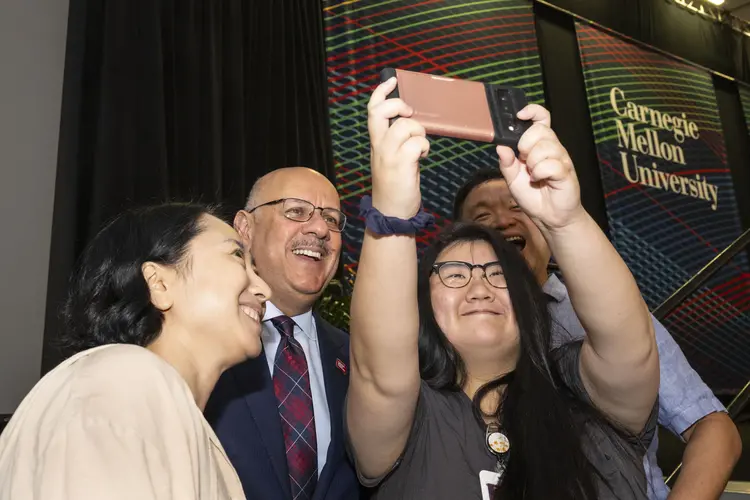 A family new to the community takes a selfie with President Jahanian.
A couple who flew in from Europe with their son said they chose CMU because it has "one of the best computer science(opens in new window) programs" and expressed delight with their experience so far.
"This is amazing! It is a really great opportunity to be here. We're very impressed they did two days of orientation with the parents. I hear other universities are only doing one day," said the mother. "So far, we are amazed. It's really excellent. Excellent organization, the move-in was very easy. A lot of enthusiasm, so I think it's a great place to be."
Last week, Jahanian welcomed 3,600 new master's and Ph.D. students to CMU from 80 countries, calling them some of the most gifted engineers, artists, scientists and entrepreneurs who have the talent to make their mark on society.
"Make no mistake, you're here at a truly exciting time," he said. "Your passion and pursuit of excellence will make the extraordinary possible."