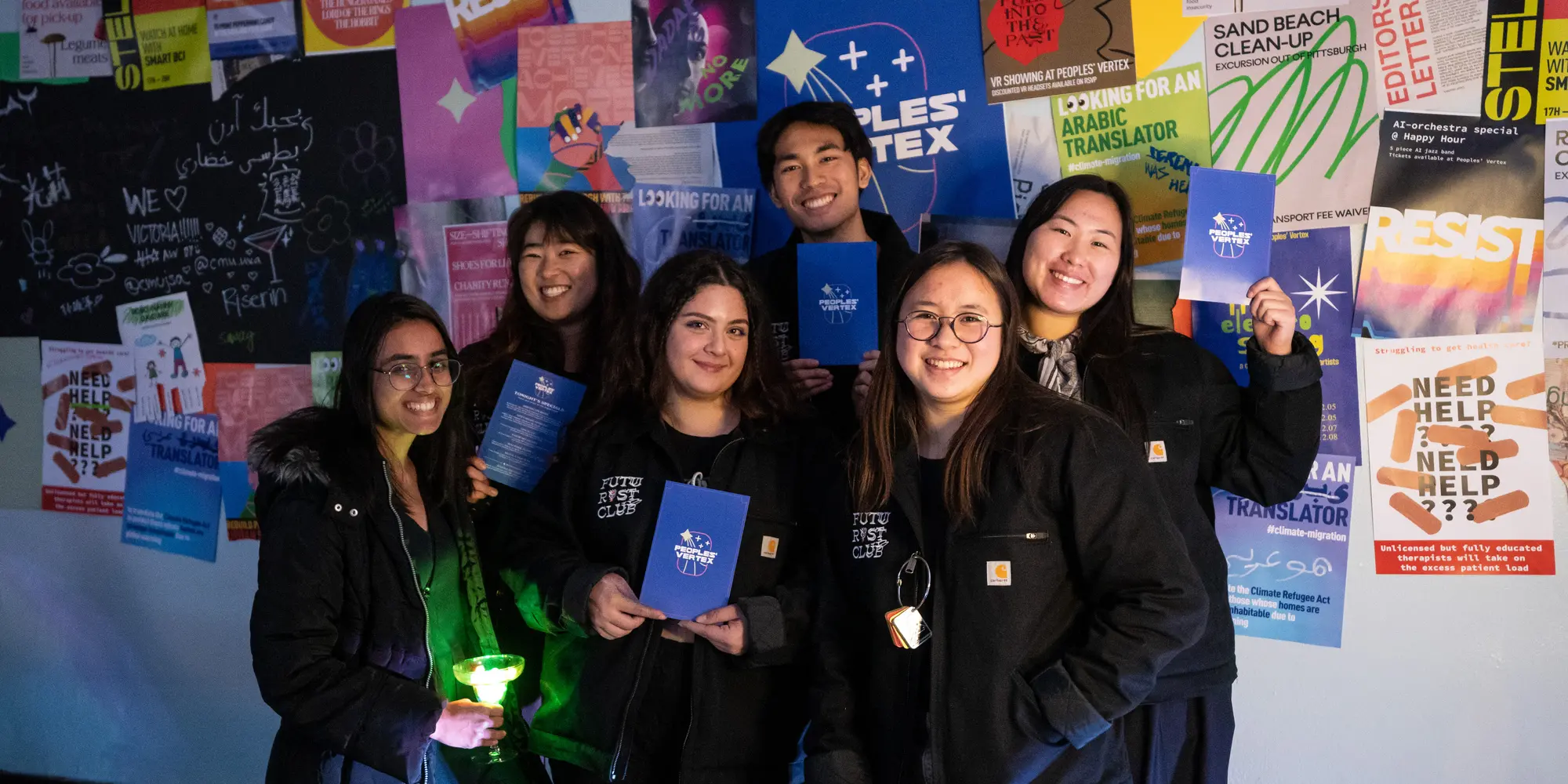 April 5, 2023
Student Club Creates Interactive Experience To Help Determine Futures of Vibrant Communities
Media Inquiries

Name

Peter Kerwin

Title

University Communications & Marketing
Serena Wang acknowledges that when she first heard about the practice of futurism, she didn't know much about it. But she knew enough to recognize the important role it could play in her academic and professional career. When she learned about the Futurist Club at Carnegie Mellon University in 2021 — which was relatively inactive at the time — Wang saw an opportunity and grabbed it.
"It was a chance for me to take it (the club) into my own hands and try and craft it into a learning place for me as well as other students," Wang said. "It's something where it doesn't matter how old you are, whatever academic background you have, whatever experience you have. It's relevant to you," Wang said. "And it's something that I think provides an opportunity for true interdisciplinary work, which is what CMU is really about."
Wang, who graduated from Carnegie Mellon University in December with a bachelor's and master's degree in human-computer interaction (HCI), signed on as the new club president last January.
Rather than making predictions, a futurist is someone who seeks to understand the multiplicity of futures by critically thinking about current trends, technologies, processes and other factors that aid in decision-making; and builds long-range plans necessary to reach a desired future scenario. Terms often used alongside futurism include transdisciplinary, intergenerational and anti-disciplinary.
"I think it's not about, 'This is the future that we need. This is the future that is going to happen, or that must happen.' It's more like, 'This is one of the potential futures that could exist,'" Wang said. "What are the things you want to take away from it? What are the things that you don't want to bring with you into the future that's going to play out? And what do you do now to get there or to avoid that?"
To help revive the club, Wang did a lot of networking, made in-class announcements, built a Slack community, and reached out to classmates and friends. She approached faculty and other students that she knew were working in futurism and asked them to be a part of a speaker series, which heightened the interest of other students to join the club. What started with about seven people became a club with a membership of about 90 students by mid-spring semester. Membership now stands at 168 students.
"The club's mission is to create a space for intergenerational and transdisciplinary connections to learn about and from each other, to learn together about how to create preferred futures, how we define those preferred futures, and how we work toward them," Wang said. "So, it's a lot about finding what are the issues that are important to us right now. How does that affect not just you, but how does this problem affect other people? How can you look at it in new ways? And then how do you project that into the future to get a new understanding?"
It was Wang's connection with the club's faculty adviser, Keith Webster, the Helen and Henry Posner, Jr. Dean of the University Libraries at CMU and a certified futurist as well, that led to the club's first client project with Pittsburgh nonprofit New Sun Rising (NSR).
"Part of my mentorship role was helping them to think about projects that might be interesting. It was clear that they were very interested in doing something in a local community," Webster said. "I oversee the University's Sustainability Initiative, and as part of that, I've had a lot of good engagement with the Center for Shared Prosperity. When I connected the club with people both in that center and in the Sustainability Initiative, they were introduced to New Sun Rising."
NSR is a nonprofit intermediary that builds vibrant communities through culture, sustainability and opportunity. "Our goal is to help communities lead and benefit from progress toward the future that they envision," said Scott Wolovich, NSR's executive director. "We work with a lot of disinvested communities. Much of what we're doing to fulfill our mission really requires people to see a future where conditions are much different than what they're currently existing within."
Wolovich and his team worked with Wang and the rest of the club to devise a project that would support NSR's mission.
"We're present in the 2023 context of what we think vibrancy looks like today. But we really wanted to take this opportunity with the club to look into the future and ask the question, 'What is the future of vibrant communities?'" Wolovich said. "Their project was researching, exploring, and playing back to us different scenarios and alternate futures based on that prompt. And then using that information they built an interactive exhibit where they collected feedback based on the community's experience."
Through a series of ideation sessions, the team conceptualized a future that they and NSR agreed would be the most interesting type to explore and receive community feedback on: one where small organizations and nonprofits faced heavy resistance from government and oppressive institutions to the point their work becomes unsanctioned and underground.
The team created an experiential installation they called Peoples' Vertex, a secret community gathering space for people and organizations to exchange help and share a sense of camaraderie. The installation was modeled after a Prohibition-era speakeasy, and Pittsburgh community members were invited to actively participate in this future scenario. The idea of a speakeasy came about when Graana Khan, one of the club members and a senior studying HCI and architecture, envisioned a situation where nonprofit and community work became illegal due to resistance from larger, more bureaucratic organizations.
More than 40 guests attended the event, held at Community Forge in Wilkinsburg, Pennsylvania.
Welcome to Peoples' Vertex
Participants entered the space through a door plastered with eviction notices, indicating the area has been closed off due to overdue rent. When they opened the door, they were greeted by a bouncer who onboarded the guests. They were set up with special nontraceable physical IDs, so the government and police were unaware of a guest's location. While they were waiting for their mocktail, they saw a screen on the wall tracking police cars and monitoring activity on the streets, just in case the police got too close, for instance, and evacuation procedures needed to take place. Near the bar, participants found menus scattered around notifying them of various services offered courtesy of donations from other Peoples' Vertex patrons and partners.
They joined a chat with other patrons, contributed to the collective graffiti wall and examined posters strewn across the walls. Posters ranged from asking patrons to upcycle their AirPod 14s to recruiting translators for an app helping refugees who had to leave their homes due to climate change. Finally, guests ended their experience in the future at a photo booth where they took a headshot with digital fashion filters to be used for corporate job applications.
After going through the entire installation, participants were led back to the present to reflect on the future they had just interacted with. There were two stations for reflection: one to get the gut reaction of the participants on whether the future was bright or dark, and the second included double-sided cards where patrons were asked about their hopes, fears, and expectations for the future and their current involvement in the community. The back side had blank space for them to elaborate on their answers. The cards were then given to NSR for analysis and will contribute to their ongoing research around Pittsburgh communities' hopes, fears and expectations for the future.
Results showed that 28 people thought the future was relatively dark, compared to 18 who thought it was bright. The majority found vibrant communities to be situated in local scale work that went around big institutions.
The Takeaway Part One
"I think I had no clue what to expect at the start of the semester. I didn't have a prescribed idea of what the final project would look like," Wang said. "So that was all just working with the team and figuring out what was something that we could do? The result was only possible through all the research, all the discussions and all the bouncing off ideas with my teammates."
Attendees had varied reactions to the experience — one of which was confusion, though that wasn't unexpected. "We had people participate that had never heard of this concept of futures. When people walked in, they weren't told that we were doing this project for New Sun Rising and they're going to pretend that they're in the future," Wang said.
Part of the reflective experience at Peoples' Vertex was a matrix where participants were asked to place a star where they think the future of vibrant communities lie — within the local community or on a national scale — and working within institutions versus working around institutions. "I was pretty surprised, because we had almost no one put their stars in the quadrant where it was saying national scale work and working within institutions," Wang shared. "So, people are really gravitating towards that small local type of work and needing to work around institutions rather than within."
The Takeaway Part Two
As she begins her job search post-graduation, Wang realizes that practicing futurism may indeed have to wait for the future. "It's not a job that you could just Google search," she said. But that hasn't stopped her from looking for places that are open to learning futurism.
"I think my biggest takeaway was a huge sense of confidence and self-assurance that this is something that I can genuinely carry with me throughout my career. I can do this type of work anywhere that I go," Wang said. As she departs from CMU and the Futurist Club, she leaves feeling hopeful, knowing the club is in the trustworthy hands of her two successors — fourth year architecture student Khan and second year fine arts student Arin Pantja — who took over as the co-presidents.