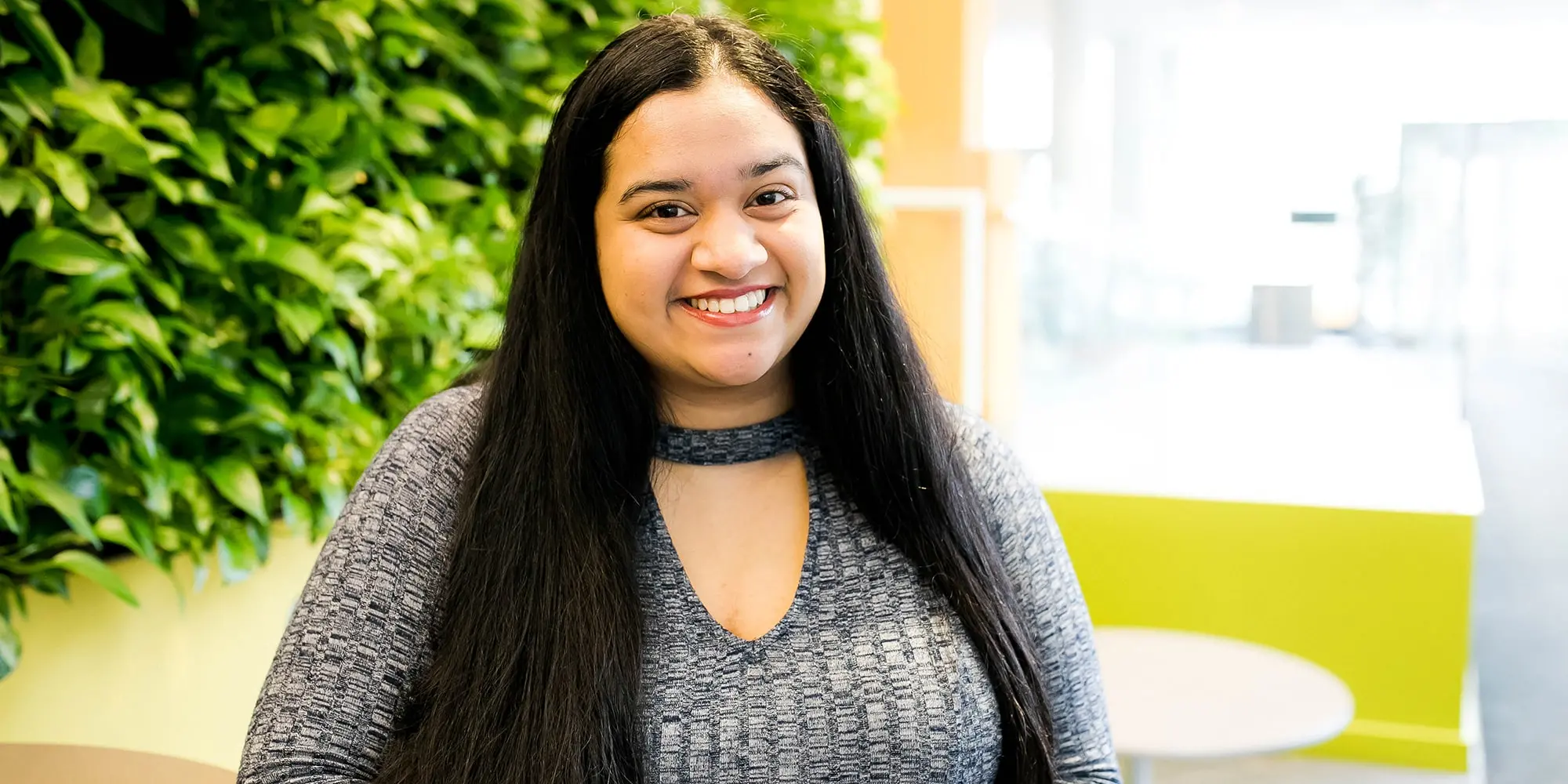 March 14, 2022
Undergraduate Women Use Political Power To Create Change
Media Inquiries

Name

Ryan Scarpino

Title

University Communications & Marketing
Carnegie Mellon University Study Body President Alexis Ozimok(opens in new window) ran for office to help make sure that student voices were being heard. Since taking office alongside Vice President Catherine Taipe, she has helped reshape campus through communicating and collaborating with other student organizations and administration.
"With the work and initiatives we've done, student life feels better," said Ozimok, a senior studying international relations and politics(opens in new window).
Ozimuk said that in the four years she's been at CMU, she has seen the student body become more engaged.
"I'd like to think that we left this place a little bit better than when we found it," she said.
Ozimok's work in politics goes beyond CMU. As a regional fellow for NextGen America, a nonprofit that mobilizes young voters, she helps conduct voter outreach and generates social media content related to voting, and she has interned for local and congressional campaigns.
Undergraduate women at CMU like Ozimok are working to impact local and national politics. While Millennials and Generation Z represented the largest share of eligible voters in 2020, college students often have low voting rates, according to the Pew Research Center.
"Historically, the voices of college students are not necessarily represented in legislation so the only way to really get change is by getting directly involved," Ozimok said. "You can really find an outlet in politics and government for anything you're passionate about ... It creates a really cool intersection of all these different fields of study and work in a way that you can directly engage with them."
F.E.M.M.E. President Mashia Mazumder is a leader who helpsmobilize students for change.

As Student Body President Alexis Ozimok represents students on campus at events like Convocation (left) and when President Joseph Biden visited Mill 19 (right) in January along withDivyansh Kaushik, president of the CMU Graduate Student Assembly. Photo courtesy of Kaushik.
Abigail Macy agreed. A senior violin performance(opens in new window) major, Macy is a member of Women in Politics at CMU(opens in new window) and the chair of CMU Votes, a student organization that aims to drive political participation and learn about issues. Through supporting candidates and issues, she said voting creates a real impact on areas such as health care, education and criminal justice.
"We are at the cusp of adulthood and we're representing all of the minors who can't vote," Macy said. "The people in power are not our age, so they're not going to be thinking about what a 20-year-old needs as they're starting off their life."
Last year, Macy was part of a coalition of students who worked to increase election participation. Through their efforts, the university received a gold seal for achieving 70-79% voter participation for the 2019 presidential election by the ALL IN Campus Democracy Challenge(opens in new window).
"I really hope that the next generation of students take up this mantle of CMU Votes. We started it at a time when emotions were really, really high around politics," Macy said.
Mashia Mazumder became politically active while in high school in California after the Marjorie Stoneman Douglas High School shooting in Parkland, Florida.
"It just shook me, it was a very suburban school like where I'm from," said Mazumder, who grew up in San Jose, California and is a senior studying computer science(opens in new window). "I started getting active and organizing around gun violence and policies like that. It was an incredible experience to connect with the mayor and local legislators. These people were making very real decisions that impact me and my life."
When she got involved in CMU Votes she said she learned more about how student leaders could help mobilize students for change.
"I also got to see how SLICE [Office of Student Leadership, Involvement and Civic Engagement](opens in new window) was supporting different initiatives," Mazumder said. "I feel like we were doing particularly good programming around the time of the 2020 elections. Even after those ended, CMU Votes kept its name because voting is important no matter what time it is. Every year there's elections. It's always relevant."
Mazumder serves as president of Feminists Engaged in Multicultural Matters and Education(opens in new window), also known as F.E.M.M.E., an organization dedicated to educating the campus community on societal marginalization through an intersectional feminist lens. Like CMU Votes, the organization often partners with other groups for educational programming, events and discussions. Recently they held a roundtable discussion on gender equity issues on campus.
"It's definitely great to have a space to debrief and process what's happening, especially with gender and the media," Mazumder said. "It's good to be spreading that knowledge and hopefully it translates into change somewhere."
While Ozimok, Macy and Mazumder will graduate in May, the next group of student leaders is preparing to shoulder the work of promoting the importance of politics forward.

First-year student Brenna Wrubel won the minority inspector of elections position in her home district prior to graduating high school.
As a high school senior preparing to vote for the first time, Brenna Wrubel's first venture into elections involved jumping in headfirst after she researched the candidates in her local 2021 primary election.
"I noticed there was nobody running for judge or inspector of elections on either the Republican or Democratic ballot," she said. "So I Googled them and looked up what were the responsibilities for that position."
In Pennsylvania, there are minority and majority inspector of elections that hold four-year terms and assist the local judge of elections to run Election Day activities, as well as share the responsibility of operating a polling site. They manage poll books and assist voter sign-in and delivery of ballots to eligible voters. Minority inspectors have additional duties as well including maintaining a copy of the election results in a sealed envelope.
"That's a very important position, especially at this time when election integrity is under attack," she said.
Wrubel thought the work looked doable and she broached the topic with her mother, Eileen Wrubel, a technical director at CMU's Software Engineering Institute(opens in new window). Eileen Wrubel graduated from CMU in 1997 with a degree in mathematics.
"Brenna is the type of person who is really engaged in how policy decisions create and influence real world outcomes," Eileen Wrubel said.
After talking with her mother, she decided to make a go of it.
"It's surprisingly easy to run for office," Brenna Wrubel said. "A lot of times we think of politics as being senators and representatives and having these big national conversations on a big stage, but a local elected position is very easy to run for. You can make a difference."
She ran a successful write-in campaign and won the primary race for minority inspector of elections race before graduating from Seneca Valley High School, about 30 miles away from Carnegie Mellon, where she is now a first-year student in the Dietrich College of Humanities and Social Sciences(opens in new window).
Wrubel, who is studying ethics, history and public policy(opens in new window) with a minor in professional writing(opens in new window), said she originally thought she would help with campaigns. But running for office has given her a new way to approach public service.
"I think of it as more like community service than like a political position. You're serving the community and helping them out," she said. "Politics is about caring about the world around you. ... When you cast your ballot or volunteer for a candidate, contribute to a campaign or run for office, you're telling the government whether or not you care about the rights and the lives of all of these real people in your communities."