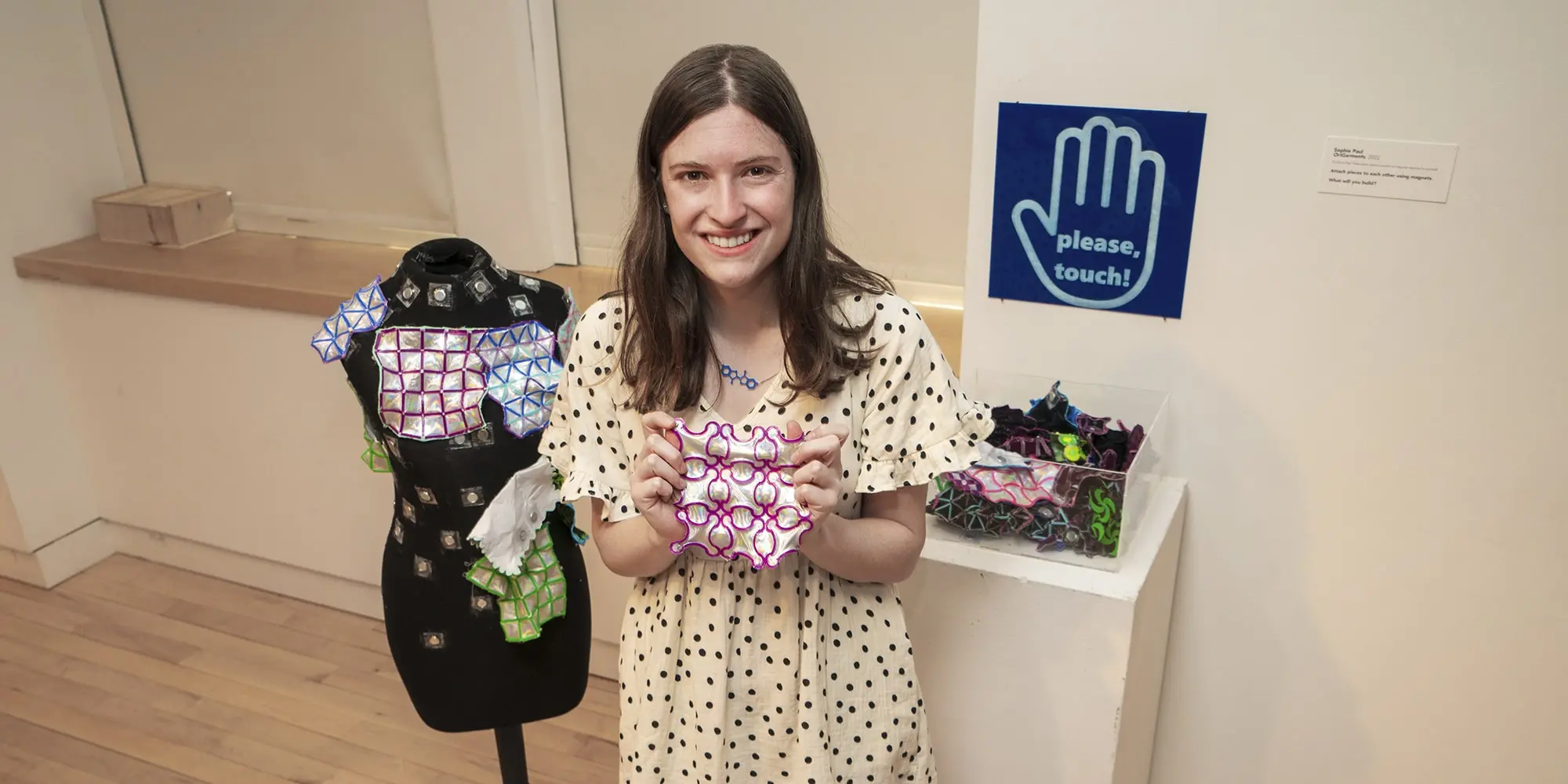 July 19, 2022
Engineering Art
Media Inquiries

Name

Lynn Shea

Title

College of Engineering
Sophie Paul is among the hundreds of students who graduated from the College of Engineering(opens in new window) this spring. In addition to earning a bachelor's degree in materials science and engineering(opens in new window), she was one of the first students to also have completed the additional major in engineering and arts(opens in new window).
The St. Louis, Missouri native has long been into art. She's been making pottery for 10 years. So, when a professor in a first-year sculpture course told her about the additional major, she decided to pursue it.
"I was already pretty creative, and the engineering and arts (EA) additional major seemed like a great way to fill my general education requirements," Paul said.
As a materials science and engineering major, she found many ways to incorporate science with the art. In her capstone course, she created 3D-printed pop-up textiles for modular interlocking wearable fashion.
She had to study materials research papers, as well as art blogs, to develop the novel approach she came up with: 3D printing filament onto stretch jersey fabric. The process involved a lot of trial and error. She had to study and test the properties of the filaments to prevent warping and get the fabrics to pop up in just the right way.
"It's pretty frustrating when it doesn't work. There's a lot of troubleshooting working with materials. But it's so rewarding when you finally get it right," Paul said.
Such hands-on experimentation not only deepened her understanding of kirigami — self-folding, cut origami — but the process was also very relevant to learning the chemistry and geometry used in materials science.
Findings from her honors thesis will be submitted at an upcoming human-computer interaction conference. She applied kirigami methods of cutting and folding paper to design shutters that use sensors to automatically open and retract efficiently and conserve energy. She completed the research under the direction of Lining Yao(opens in new window) in the Morphing Matter lab.
The intersection of disciplines, innovation and curiosity is exactly the type of learning and discovery the BXA Intercollege Degree Programs(opens in new window) sought to create when the EA additional major was developed in 2018. The BXA Programs also combine arts curriculum with humanities, science and computer science. Students, like Paul, whose primary major is in engineering, choose their arts concentration from the College of Fine Arts(opens in new window)' Schools of Architecture(opens in new window), Art(opens in new window), Drama(opens in new window) or Music(opens in new window).
Paul said that she relied upon the additional support from academic advisors who served as liaisons between CFA and engineering. In addition to her primary advisor in the College of Engineering, she had a CFA academic advisor to guide her focus in the arts.
"They really helped me," explained Paul.
She said the extra effort to pursue the additional major was a good investment that will serve her well when she enters the University of California at Santa Barbara in the fall to pursue a mechanical engineering Ph.D. in soft materials.