August 16, 2022
CMU Joins Transportation Officials at Launch of New Autonomous Vehicle Testing, Safety and Training Facility
Media Inquiries

Name

Peter Kerwin

Title

University Communications & Marketing
Representatives from Carnegie Mellon University joined officials from the Pennsylvania Department of Transportation (PennDOT), Pennsylvania Turnpike Commission, the Regional Industrial Development Corporation (RIDC) of Southwestern Pennsylvania and the state's Department of Transportation Secretary Yassmin Gramian in launching the Pennsylvania Safety, Transportation and Research Track, or PennSTART(opens in new window) — a state-of-the-art facility created to benefit emergency responders, transportation technology companies and research institutions.
In addition to serving as a site for automated vehicle (AV) testing and development, PennSTART's aim is to address safety, training and research needs. This builds on the state's role as a leader facilitating the AV industry's growth while positioning Pennsylvania at the forefront of the effort to ensure the safety of highway travelers and responders today and well into the future.
"Carnegie Mellon University is pleased to be a birthplace of autonomous vehicle technology dating back to 1983 and won the 2007 DARPA Urban Challenge that helped to trigger today's global race to autonomy," said CMU President Farnam Jahanian(opens in new window). "This new testbed will benefit today's researchers, industry and policymakers in moving toward safer and more efficient transportation, while helping to strengthen our regional economy and workforce."
Stan Caldwell(opens in new window), executive director of Traffic21(opens in new window) and the U.S. Department of Transportation designated Mobility21(opens in new window) National University Transportation Center, recognized the strong track record of cooperative efforts between CMU and Pennsylvania transit leaders. "Since 2010 Traffic21 researchers have been advising PennDOT in managing automated vehicle technology and we look forward to this new partnership in PennSTART to continue our collaboration for another decade," Caldwell said.
Raj Rajkumar, director of CMU's Mobility21 and the Metro21: Smart Cities Institute, is invited to speak at the launch ofthe Pennsylvania Safety, Transportation and Research Track, or PennSTART, on Aug. 11, 2022. 

CMU's Raj Rajkumar, left, takes a selfie with Yassmin Gramian, Pennsylvania Department of Transportation secretary.
Examples of technologies for which safety and operational testing as well as training could be conducted at the facility include:
Traffic incident management (TIM) training.
Testing and hands-on training for new intelligent transportation systems, tolling and signal equipment.
Safe, simulated training for higher-speed and mobile work zone operations.
Safety certification training opportunities.
Simulated environments for temporary traffic control device testing and evaluation.
Smart truck parking applications and other opportunities for commercial vehicle technology partnerships.
Controlled environments to test various AVs and other emerging technologies for transit buses, infrastructure equipment and other applications.
"Through the recent Infrastructure Investment and Jobs Act, the federal government is investing in research and testing programs for transportation technology and PennSTART will position our faculty and students to compete in keeping that work here in our region," said Raj Rajkumar(opens in new window), director of Mobility21 and the Metro21: Smart Cities Institute(opens in new window). "I look forward to working with our PennSTART partners here today, and many others throughout the region, to achieve this vision of a safer and more equitable and sustainable transportation system and ensuring industry stays and grows in Pennsylvania."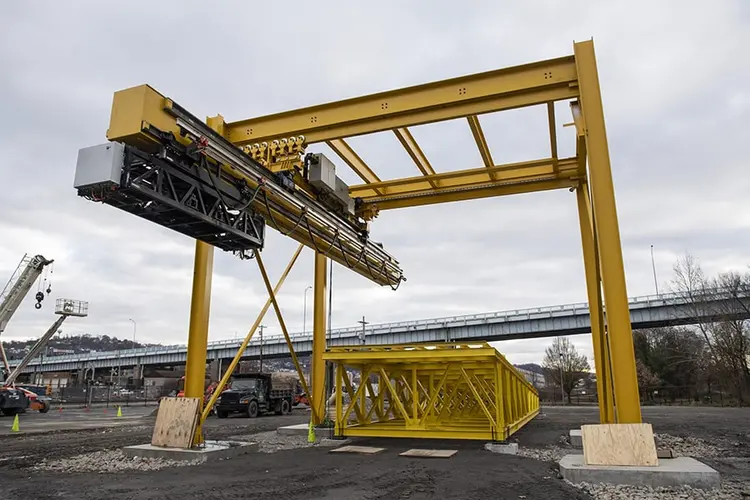 NREC Tech