September 01, 2021
Orientation Day of Service Instills Sense of Community
By Michael Henninger mhenninger(through)cmu.edu
Media Inquiries
Shilpa Bakre
University Communications and Marketing
With no cover from the sun, Jesse Ding knelt in the dirt for hours. Alongside fellow first-year Carnegie Mellon University students, she pulled weeds from a tomato patch at the Hilltop Urban Farm in Pittsburgh's Mount Oliver neighborhood.

Ding, an incoming first-year computer science student, participated in CMU's annual Orientation Day of Service, an event that introduces the new students to volunteer opportunities throughout the region. The event stresses the importance of contributing to the broader Pittsburgh community. In the humid heat, Ding kept a laser focus on the task at hand.

"I feel like after I'm done with my work and I see what I have accomplished — like getting rid of this row of weeds — maybe that will give me the feeling of satisfaction," Ding said. "But right now, I'm just like Andrew Carnegie said. 'My heart is in the work.'"

The Hilltop Urban Farm is one of nearly 20 sites where CMU volunteers spent Saturday lending a helping hand. Orientation Day of Service returned to an in-person stance this year after the pandemic caused changes to last year's Orientation activities. Julie Schultz, the associate dean for parent and family engagement and first-year orientation, said she was glad to see CMU students able to volunteer.

"I think COVID has accentuated the disparity in our community and made the call to be involved more important than ever," Schultz said. "CMU has prioritized our mitigation efforts — masks, a vaccine requirement, testing — in a way that our students can feel comfortable and safe and serve our larger community."

The Hilltop Urban Farm originated as an incubator program for farmers that shifted its operating model during the pandemic to include growing food for community donation. Masoud Sayles, farm program manager, directed two groups of CMU students to help with weeding and leveling ground for the farm's next hoop house.

"When you have a small staff, it's really quite a boom to get this many people pitching in and helping out," Sayles said. "There's such a great need in the Hilltop community for fresh produce."

Arjun Ramachandran, the Orientation leader on site and a senior studying international relations and politics with minors in cyber security and music technology, dug dirt for the hoop house. Volunteering had taken on new meaning for Ramachandran with recent events.
"My cousin and I started a nongovernmental organization last summer to help people in rural India with COVID. What we tried to do was have groceries, basic medicine and clean water delivered to these areas," Ramachandran said. "To best serve the families we are helping, and to further the mission of our NGO, volunteering experiences like these are priceless. They provide so much perspective."

Meggan Lloyd, a coordinator for Student Leadership, Involvement, and Civic Engagement (SLICE), said that is exactly the goal.

"Carnegie Mellon shows its students the importance of being involved in their community from the very first week," Lloyd said. "At CMU, civic engagement is a priority, and should be a foundational aspect of the student experience. With Orientation Day of Service, our goal is to show students the breadth and range of volunteer opportunities that are available to them. Our student body has a vested interest in making a positive impact in the Pittsburgh community."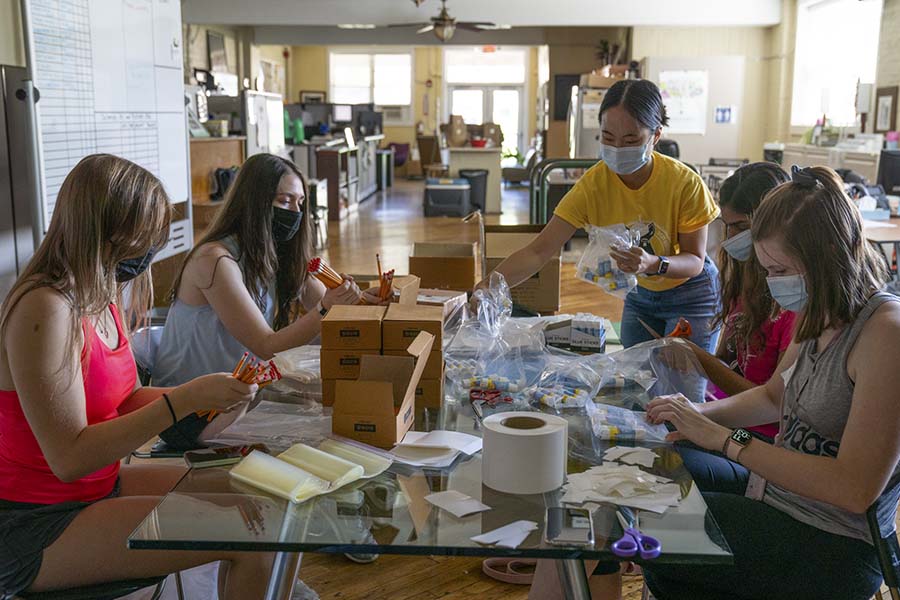 CMU volunteers sort supplies at The Education Partnership in Pittsburgh's West End.

Josh Morrow is this year's head orientation counselor in charge of Orientation Day of Service. A rising senior studying biology and psychology, Morrow coordinated many of the day's activities.

"It's important for us as students to see what Pittsburgh is, beyond campus," Morrow said. "To have a direct impact out there, no matter how small, is really important. When you're in college, sometimes it's hard to see the immediate results of what you're working toward."

In Wilkinsburg, a group of CMU students carried boxes at a Greater Pittsburgh Community Food Bank drive-up food distribution. Due to COVID-19 concerns, the Food Bank shifted to a drive-up model in order to operate more safely. Rosie Evans, a distribution coordinator for the food bank, said there was an increase in need during the pandemic.

"We could not do any of these events without our tremendous volunteers," Evans said.

First-year students Robert Wetten, statistics; Ankita Chatterjee, electrical and computer engineering (ECE); Melinda Chen, materials science and engineering; and Bharathi Sridhar, ECE, helped load boxes of dry food, frozen food and produce into cars to help in the Food Bank's mission to fight food insecurity.

"COVID-19 was an eye-opening experience," Chen said. "It changed the trajectory of how I look at life. It's made me grateful for the things I have and made me want to pitch in to help others."