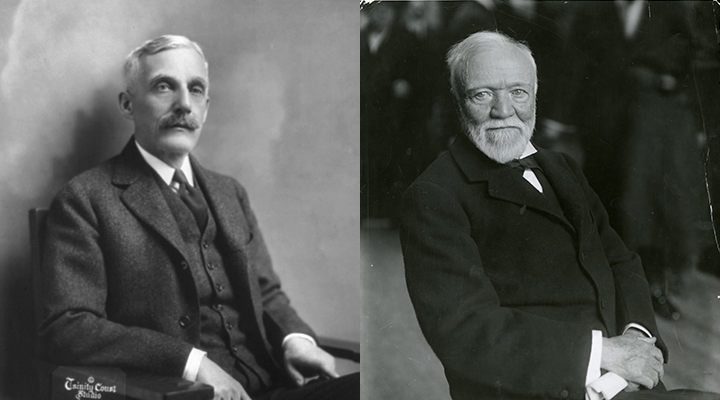 Industrial Titans, Revolutionary Philanthropists
Because Andrew Carnegie and Andrew Mellon shared their wealth, higher education would never be the same.
The Carnegie Mellon University of today exists because of two philanthropists whose commitment to education and discovery laid the foundation for this institution that is honored to carry their surnames.
Born in 1835, Andrew Carnegie was industrious, intelligent and a shrewd investor, controlling the development of the U.S. steel industry in the late 1800s and amassing a fortune of $372 billion.
In 1900, declaring, "My heart is in the work," he designated $2 million to create the Carnegie Institute of Technology, nicknamed Carnegie Tech.
Like Carnegie, Andrew W. Mellon focused his efforts on the industrial opportunities available in Pittsburgh. Born in 1855, he was a banker and venture capitalist who held investments in 300 companies during his lifetime, including the Aluminum Company of America, or Alcoa, the chemical company Koppers, the Carborundum Company, and Westinghouse Electric.
Andrew Mellon and his business partner and brother, Richard, recognized that they had built their fortunes by applying new technologies to industries. In 1909, they co-founded the Mellon Institute and School of Specific Industries at their alma mater, the University of Pittsburgh. The Institute conducted so much important research (smog abatement for Pittsburgh, the invention of the gas mask, a pneumonia serum, and more) that in 1928, it was incorporated as the Mellon Institute of Industrial Research.
By the 1960s, Andrew Mellon's son, Paul, secretly proposed a merger between the two institutions. While the administrators of both Carnegie Tech and the Mellon Institute realized that each had strengths that would increase if they merged, few could have predicted how fast the new institution would transform into a global powerhouse. And so, in 1967, these two legends' visions merged to become Carnegie Mellon University, forever impacting the world of higher education, research and discovery.