May 23, 2021
Apart and Together, CMU Celebrates a Class Like No Other
Class of 2021 attends commencement in person and around the world
By Jean Hayes jeanhaye(through)andrew.cmu.edu
& Heidi Opdyke opdyke(through)andrew.cmu.edu
Media Inquiries
Jason Maderer
Marketing & Communications
Maggie McGrann arrived in Gesling Stadium feeling restless.
"I didn't sleep well last night — both from a combo of nerves and because it's a big day. And it was a big year," said McGrann, who graduated Saturday with a master of fine arts in costume design from the
School of Drama
in the
College of Fine Arts
. "I'm excited to see my classmates and cohorts who I haven't seen a ton of this year, so I think that contributed to the restlessness."
Her friend, Morgen Warner, who also received her MFA in costume design, had nightmares about forgetting to steam her robe.
McGrann and Warner were two of the over 2,000 students who participated in Carnegie Mellon University's 123rd commencement exercises in person, with many more joining remotely. The exercises were split into two ceremonies this year due to the COVID-19 pandemic — with doctoral and master's students graduating on Saturday, May 22, and bachelor's degree students on Sunday, May 23.
The two ceremonies were CMU's first large-scale in-person events since the 2020 spring semester. A total of 4,965 bachelor's, master's and doctoral degrees were conferred over the two days, with college, school and department virtual degree ceremonies throughout the weekend.
CMU restricted in-person attendance of the events to only student participants. Graduates unable to attend the ceremonies in person and those from CMU's global campuses, as well as families, friends and members of the community, were able to watch the ceremonies through livestreamed video.
"It feels amazing to be here in person. For one year we've been attending classes online. So, to be on campus for something that we worked hard for during the last two years is a really nice feeling," said Sarthak Munshi, who graduated on Saturday with a master's degree in information security from the
College of Engineering
.
"Commencement is always a special day for our community. But today is particularly meaningful — and you, the Class of 2021 — are particularly special," said CMU President
Farnam Jahanian
. "After 15 long months of the COVID-19 pandemic, rays of light and hope are starting to shine through, bringing with them the promise of a better tomorrow. It feels great to be here in person together, and I want to thank you all for your cooperation in making this event possible."
Other commencement speakers included Amy Burkert, vice provost for education and faculty marshal; James Rohr, chair of the CMU Board of Trustees; Provost James Garrett; the deans of the seven colleges and schools; honorary degree recipients France Córdova, Martha Nussbaum, alumna Jewell Parker Rhodes and alumnus Robert Summer; and graduating students Frank Avino and Cristina Pullen.
Mae Yeakel, Gayathri "G" Manchella and Amy Park are three best friends who received their bachelor's degrees at Sunday's undergraduate commencement ceremony.
"These girls have been by me since day one. We started college together and we're ending it together. I couldn't be happier," said Yeakel, who received her degree in business administration from the Tepper School of Business.
Park, another business administration grad, added, "Other than a bachelor's degree, I think the best thing you can walk out of college with is best friends. You meet the best people here.
"It was a long four years. A lot of studying, all-nighters, and a lot of tears, too, but we made it and it is a great day. We get to be here to celebrate — all of us," Park said. "We put so much work into the four years to get to where we are today. It's such a huge accomplishment that we get to graduate from Carnegie Mellon University, one of the best universities in our nation, in the world. Congrats to the class of 2021."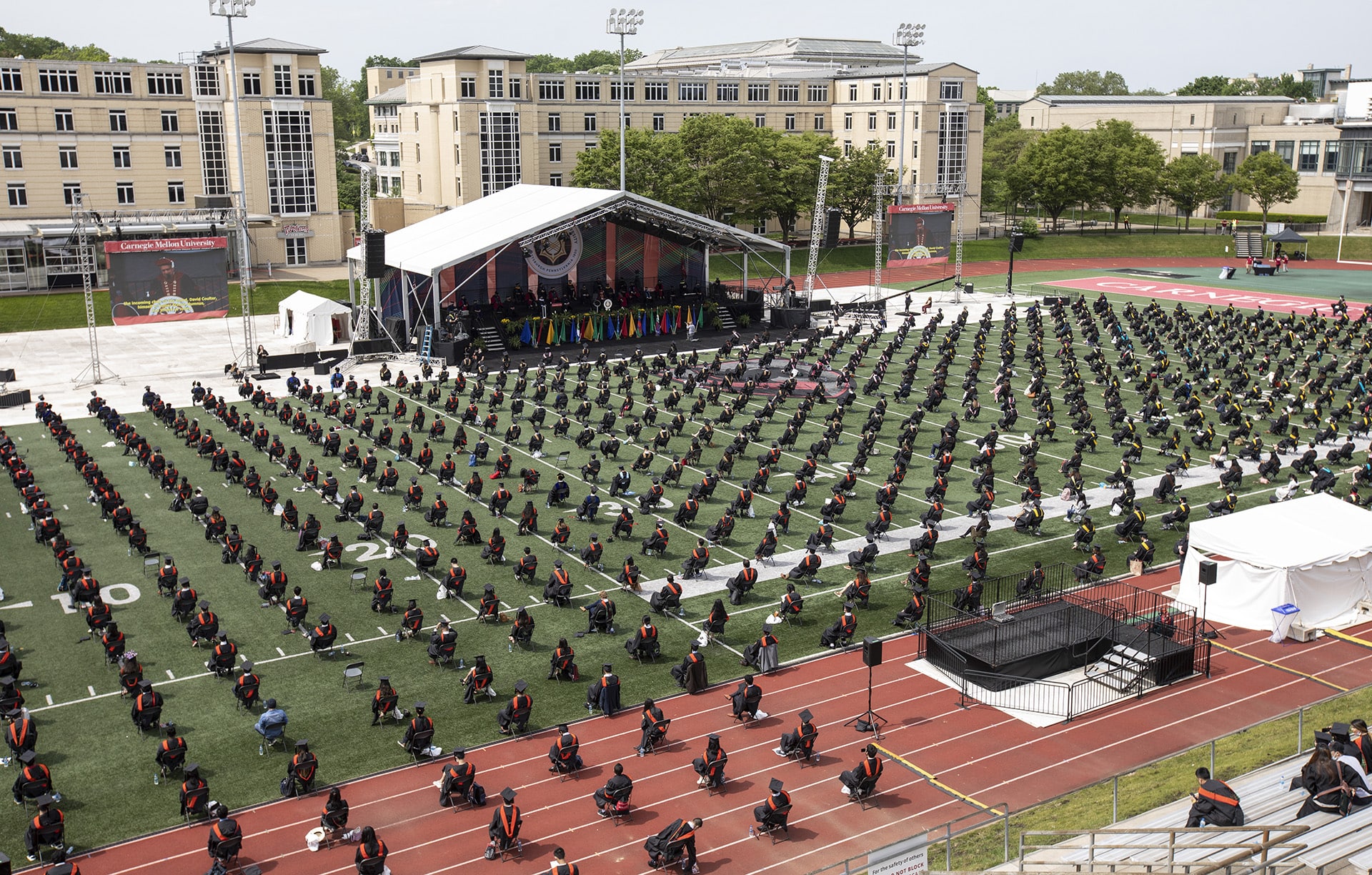 Graduate students in attendance at Saturday's Commencement ceremony.
Celebrating in Spirit
Not all of the graduates were able to attend the in-person commencement ceremonies, but they made the best of it.
Aashrita Indurti, a master's student in the School of Design, has conducted her entire CMU experience from Bangalore, India, which is 9.5 hours ahead of Pittsburgh. She said she has yet to set foot on the Pittsburgh campus.
"It's been a wild ride. Obviously, you miss out on the physical aspect of things, but it's also been really fun," she said. "I see all these futuristic movies and you're telecommuting to uni so it's been a whole different perspective of being virtually present and still being included in everything that's happening."
She watched the graduate commencement ceremony and attended her program's diploma ceremony remotely on Saturday.
"Design has done a stellar job of making sure we were included in everything. I really appreciate the whole concept of care that's been brought in," Indurti said.
Zeja Copes virtually received her bachelor's degrees in art and creative writing. Based in Pittsburgh, she chose to live with her parents and be 100 percent remote for her senior year.
"It's not like I needed a lab, which helped my decision to stay remote," Copes said. "It's been an interesting experiment."
She watched the livestream of Sunday's ceremony and participated in the virtual diploma ceremonies for the Department of English and School of Art from her living room.
"It reminded me of how big the community is, and how many people have been rooting for us to make it to this day," Copes said. "I'm proud to be in the Class of 2021. We pushed through and we deserve our props. This isn't what any of us pictured when we were freshmen, but we kept going. Now we get to wake up Monday morning as alumni. I'm going to count that as a victory."