May 18, 2021
CMU Returns to In-Person Commencement
Graduates will be participating virtually as well
By Bruce Gerson bgerson(through)cmu.edu
Commencement is a milestone for graduating students. This year it has extra special meaning for Carnegie Mellon University, too.
CMU will host two in-person commencement ceremonies this weekend, May 22-23, the first large in-person events hosted by CMU since the pandemic brought everything to a halt 14 months ago. It's a positive turning point in the university's recovery from COVID-19.
"Commencement is such a unique milestone in the lives of our students and their families, and a treasured CMU tradition," said CMU President Farnam Jahanian. "Being able to gather the graduates of the Class of 2021 to celebrate commencement in two, physically distanced ceremonies is a meaningful step forward in helping our community begin to resume a semblance of normalcy." 
Provost Jim Garrett said the easing of restrictions on outdoor gatherings in Pennsylvania allowed CMU to move forward with plans for an in-person commencement. 
"Our primary concern will always be the health and safety of our community," Garrett said. "With increasing evidence that transmission of the COVID-19 virus is significantly lower in outdoor settings, the Commonwealth of Pennsylvania recently expanded the scope of permitted outdoor gatherings. With these changes, the university was able to update its own policies to expand in-person activities outdoors, including the university-wide commencement program." 
Ph.Ds and master's degrees will be conferred Saturday, May 22. The commencement ceremony for bachelor's degree candidates will be held Sunday, May 23. Both ceremonies are for graduates only — no guests will be permitted due to COVID-19 restrictions — and will begin at 11 a.m. in Gesling Stadium. The ceremonies will be livestreamed on the commencement website for graduates who are unable to attend, families and friends.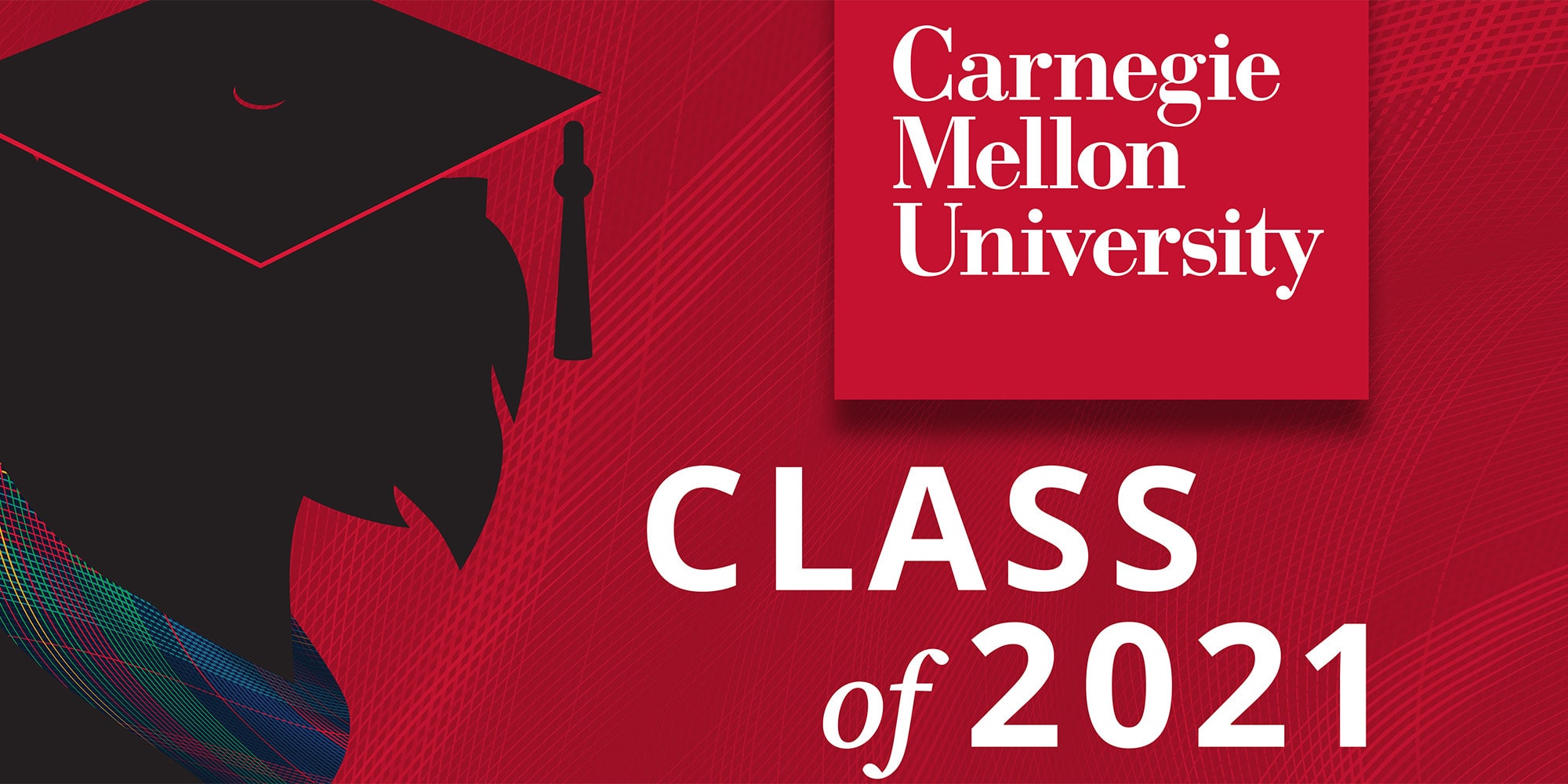 A live pre-show will begin in the stadium at 10 a.m. and online at 10:30 a.m. each day. Led by student hosts Sunny Dangui and Alice Shashkina, the pre-shows will aim to connect the virtual audience with the stadium audience, and will feature the popular roaming Tartan Cam, photos from remote students and their families, and well wishes from faculty, staff and students. Dangui, the host of PiperTV, is a graduate student in entertainment and industry management in Heinz College, and Shashkina is a junior majoring in statistics and behavioral economics with a minor in human-computer interaction.
More than 1,200 students have registered to participate in the graduate student ceremony and about 1,000 undergraduates have registered for Sunday's in-person commencement. Each student will be given specially branded commencement face masks to wear when they check in and chairs will be placed six feet apart, stretching from goal post to goal post. Some students will be seated on the track and in the bleachers.
"I'm really excited to see a lot of my peers, even if it's 6 feet apart." — Victoria Lugo Farinacci
There will be no procession or recession this year — students have been assigned specific times and locations to report and enter the stadium. They'll exit the stadium the way they entered.
All department diploma ceremonies will be conducted virtually.
Despite the restrictions and modifications, Victoria Lugo Farinacci, a senior graduating with a bachelor's degree in global studies, was thrilled when she heard the news that commencement would be held in person.
"After a year of having all of my classes online, and not being able to get a full senior year 'experience,' I was ecstatic that we had some form of normal for our biggest achievement at CMU — our commencement!" she said. "I am so grateful to have this opportunity; it's really an immense milestone in our lives! I'm also really excited to see a lot of my peers, even if it's 6 feet apart."
Farinacci, whose family will be cheering her on while watching the livestream from their home in Ponce, Puerto Rico, has a special plan for her History Department's virtual diploma ceremony.
"I got a projector for the outdoors and I will be watching at my home [in Pittsburgh] with my housemates. I'm really excited," she said.
Rebecca Hodge was shocked, in a good way, when she heard about the in-person ceremonies. 
"I am thrilled to get this opportunity. It really feels like a true bookend to my time here." — Rebecca Hodge
"I had this image of me sitting alone in my room and staring at my laptop, then closing it and saying 'well, I graduated,'" said Hodge, who will be receiving her bachelor's degree in dramaturgy with minors in literature & culture and gender studies. "I am thrilled to get this opportunity. It really feels like a true bookend to my time here."
Hodge, who is planning to work in the entertainment industry, said her parents, grandparents and sister will be watching commencement from their home in North Carolina.
While about 2,200 graduating students will be participating in person, many more will be tuning in virtually as 4,965 bachelor's, master's and doctoral degrees will be conferred over the two days.
Taery Kim, who will be receiving her master's degree from the School of Design, will be watching commencement and her diploma ceremony from her home in South Korea, where she has studied remotely all year.
"The most difficult part was having to live on the wrong side of the time zone for most of the year," she said. "My working hours were from 9 p.m. to 6 a.m. KST, which is when my 3-year-old child is asleep. After sending him to daycare in the morning, I slept during the day."
Taery Kim will be watching the commencement ceremony at midnight in South Korea.
Kim, a research assistant in the School of Design's Computational Creativity Lab, helped to create social augmented reality experiences for commencement. She will be watching the commencement ceremony at midnight in South Korea.
"It will be too late to watch with my family, but I will tune in before going to bed," she said.
Satvika Neti studied remotely this year and will receive a master's degree in public policy and management in the data analytics track. She said she missed "all the little moments" that make classmates friends, but is looking forward to participating in commencement and her diploma ceremony virtually from her apartment in Pittsburgh.
Neti will be watching with her parents and best friend.
"I'm the student speaker for my department graduation. It will be fun since it's pre-recorded," she said.