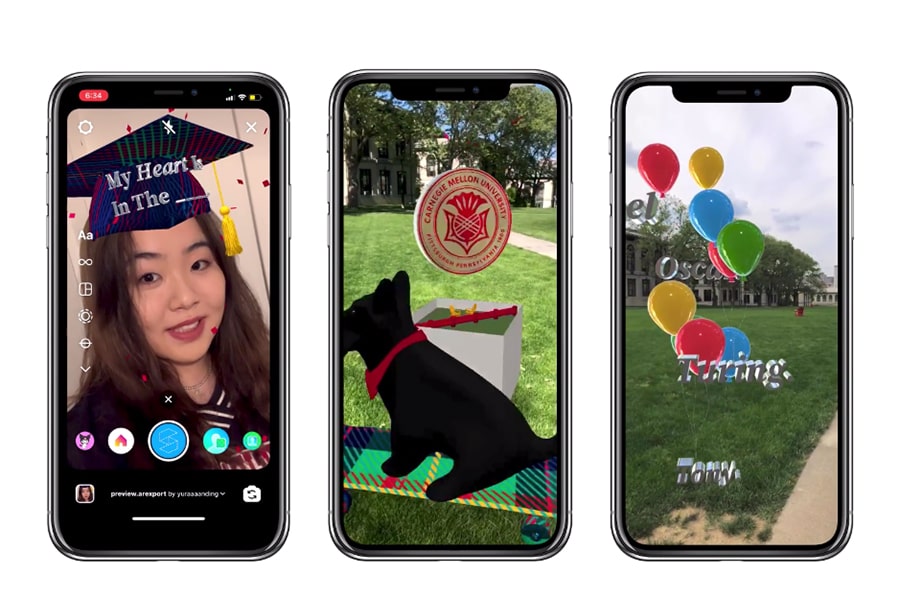 May 18, 2021
Designing a More Memorable Virtual Experience
By Kelly Saavedra ksaavedra(through)cmu.edu
Kyuha Shim's design class has a gift for the Class of 2021. They've created augmented reality filters for use on Instagram to help graduates enjoy a more joyful and connected virtual experience.
The project is hosted by Shim's Computational Creativity Lab (CCL), a research initiative within the School of Design dedicated to using computational processes and methods to explore creativity.
Projects in the lab generally involve imagining the future through experimenting with emerging technologies, building systems for human interaction and curating data for collaborative and communal spaces.
"For this current project on enhancing the experience of Commencement, I saw an opportunity to bring in our Communication Studio IV: Social Systems students," said Shim, an assistant professor of design. "The studio course's objectives include reimagining and interrogating modes of communication and interaction, and we've all enjoyed working with the University Events and Marketing and Communications teams on this project."
The pandemic has transformed the ways people communicate and interact, but the focus has primarily been on the development and use of online tools and platforms that prioritize efficiency.
"This project presents one solution to an ongoing question about this existing mode of communication and interaction: how can we create better interactive experiences that bring joy, augment celebrations and make it easier to share moments of great meaning?" Shim said.
While thinking about what design students can contribute to CMU during the pandemic, Shim thought working to improve the virtual Commencement would be the perfect opportunity to build a sense of community, connectivity and, if they can, add a little bit of fun and play.
The social media filters the team designed for Instagram range from wearing a virtual graduation cap, to a celebratory unboxing of the diploma alongside Scotty on a skateboard, to balloons toting well wishes, flashing stickers around the graduate that boast "I did it!" and plenty of confetti.
"I wanted our students to contribute to designing joyful and memorable experiences for their fellow students who are graduating this year," Shim said.
Fifteen students were involved in the project. For Jina Lee, a junior majoring in design, the project has been an opportunity to expand her abilities as a designer through the digital realm to evoke inclusiveness during a time that can be very isolating for people.
"There isn't as much flexibility to explore new platforms in other courses," Lee said. "Kyuha has given us much support to confidently progress through this project with augmented reality. I appreciate how we are able to work with the school to celebrate our seniors, as many of them have really made an impact on my time at CMU so far."
For Taery Kim, who will receive her master's degree in design on Saturday, it has been an especially great experience to take part in this Commencement project.
"My mode of study has been remote — joining from South Korea — throughout the academic year, and a virtual Commencement was something I had always expected. Nevertheless, I felt a sense of disappointment and lack of excitement about graduating without wearing a graduation cap and regalia, without being able to share these moments with my friends and family, and without all the festivities and celebrations," she said.
But Kim is thrilled with the team's work, which will extend the celebrations and nuanced emotions associated with the graduation ceremony beyond the screen.
"It brings me great joy to be part of this team," she said. "We're building emotional and spatial connections between the remote and in-person graduates, between the graduates and the event and the CMU campus, and between the graduates and their friends and families!"