April 01, 2020
Students Log On for First Days of Remote Instruction at CMU
By Michael Henninger mhenninger(through)cmu.edu
Media Inquiries
Jocelyn Duffy
Associate Dean for Communications, MCS
At the start of Scott Dodelson's Quantum Physics class, he polls his students to find out where they are physically, and what they're experiencing in different parts of the world. The stories are all similar. The streets are quiet. People are trying to stay inside. After taking time to connect and talk with his students, Dodelson jumps into his physics lecture, talking about eigenvalues.

On March 11, Carnegie Mellon University announced its transition to remote learning to combat the spread of COVID-19, the new coronavirus rapidly spreading across the world.
"It's clear this was the right move for the health and safety of our students," said Dodelson, a professor and head of the Department of Physics. "We still need to provide our students with the education they deserve."

To gear up for the online transition, Dodelson bought an iPad and a stylus so that he could write on a shared screen that his students could see over Zoom. After some experimentation, he actually believes the online platform may have certain advantages over in-person learning.

"The chat feature in Zoom is actually better than class," Dodelson said. "Some people just don't want to raise their hand in person. With chat, I've gotten many more comments and questions from a much more diverse set of students. I thought that was great."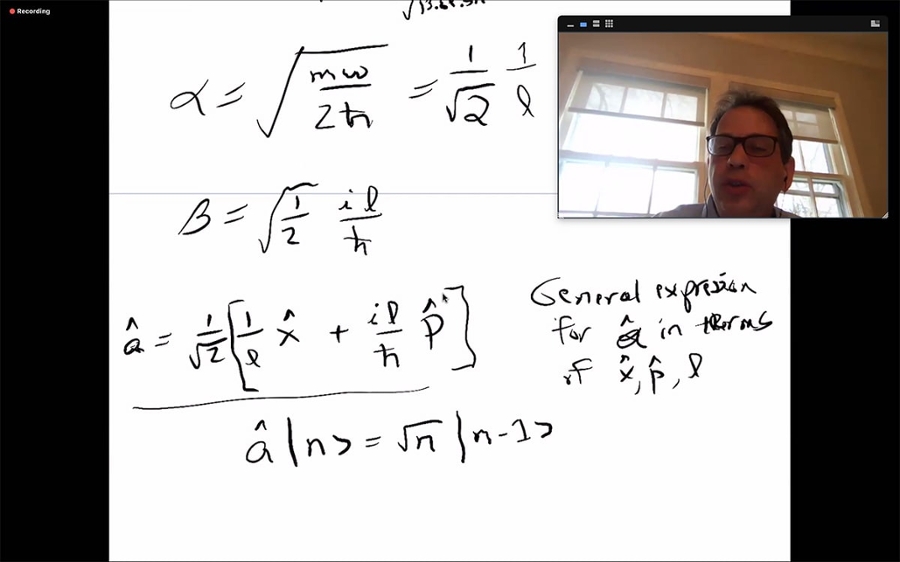 Scott Dodelson shares equations with a class in his first full online session.
Remote Research
Back in Pittsburgh, sophomore Christina Ma has been practicing social distancing while living in an off-campus apartment. Ma is majoring in 
cognitive science
 in the 
Dietrich College of Humanities and Social Sciences
. Along with her regular classes, she is an undergraduate research assistant in 
Anna Fisher's
Cognitive Development Lab
 and has a 
Small Undergraduate Research Grant (SURG)
 under the direction of 
Sharon Carver
, associate dean for Educational Affairs and a teaching professor of 
psychology
.
Ma is among CMU's population of students originally from China, and saw the spread of the coronavirus from her family's perspective in her home country.
"It's not hard to understand CMU moving classes online for me. It's what all the universities in China had to do months ago," Ma said.
Along with attending classes virtually, she and Carver have begun shifting their research meetings to Zoom. Ma is a docent in-training for the 
Carnegie Museum of Art (CMOA)
. For her SURG project, she pitched making the CMOA's website more useful to teachers and parents. She had already completed a comparative analysis of other websites, and a literature review on the topic. The next phase of her research was a user survey and in-person interviews. She and Carver are working together to find alternative ways to continue the project.
"I feel very supported," Ma said. "Dr. Carver has been communicating with me about the situation even before the university officially decided to move online. The faculty was already developing the tools to move quickly in case that happened, and I wasn't totally surprised when I heard the official decision."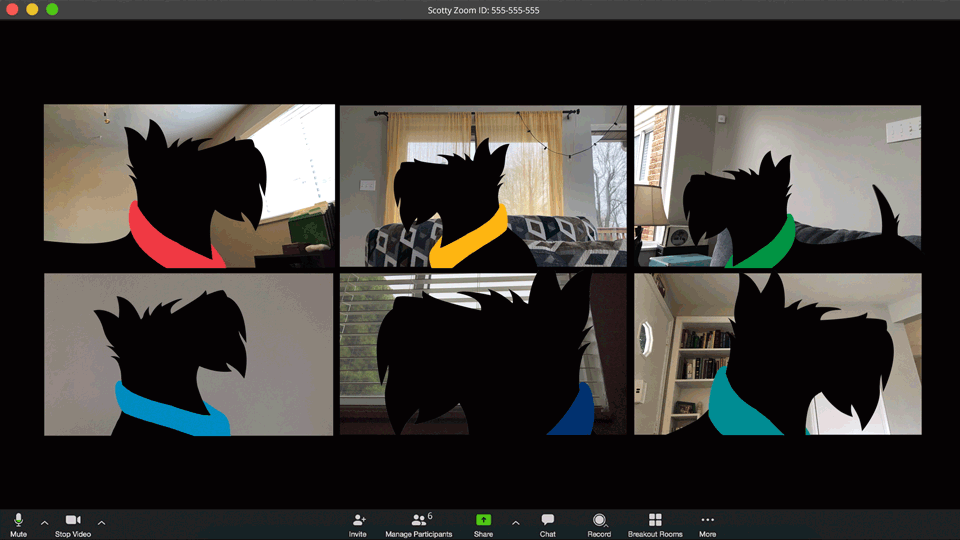 Computing Services has put together an extensive guide on using Zoom

 

here.
Surmounting Challenges

Along with research, lab work can present a challenge when taking courses online. Gizelle Sherwood, an assistant teaching professor of chemistry in the Mellon College of Science, teaches multiple lab courses, including Laboratory I, Introduction to Chemical Analysis.

Not all students have access to the same environments that could sub for a makeshift lab space, like a kitchen, so Sherwood and her colleagues are recycling student data from the past decade for current students to analyze. They're also asking students to outline, in detail, how they would run an experiment.

To satisfy a graduation requirement for one senior, Sherwood and her colleagues are looking at conducting an independent study, in which the student would work to create a hand sanitizer without the availability of its two common, but currently scarce main ingredients - rubbing alcohol and aloe vera.

"At CMU, I think we always have to prepare for these kinds of situations," Sherwood said. "Using the platforms that the Eberly Center has provided through the years has made this transition much smoother than it could have been."

Kyle Haden and several other professors in the School of Drama engaged in sessions at the Eberly Center for Teaching Excellence and Educational Innovation, to get up to speed on the tools they would need to bring their classes online. Haden, an assistant professor of acting, teaches three levels of acting. He works with about 10 students in each class.

While internet lag could affect their ability to do scene work, his students will continue to focus on process and character development.

"I've been trying to figure out how to teach this impossible, experiential thing through a video screen," Haden said. "I've gone through this whole range of emotion. Part of the in-person acting experience can't be replaced, but there are ways to explore the work that we do that will lend itself to this online format."