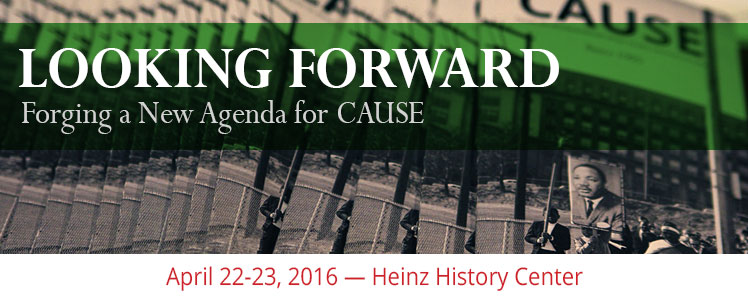 CAUSE Conference
"Looking Forward: Forging a New Agenda for CAUSE"
April 22 - 23, 2016
in collaboration with the Senator John Heinz History Center
Drawing upon the recollections and experiences of past contributors (faculty, students, administrators, philanthropic foundations, and members of the Pittsburgh community) to our mission,  this two-day conference will critically assess the accomplishments as well as challenges facing CAUSE in the years ahead. Specifically, this gathering aims to help chart a new agenda for CAUSE in the major dimensions of our work. Panelists, speakers, and conference attendees will explore fresh ideas for graduate education, postdoctoral research, national and international collaboration, and bridge-building to the larger Pittsburgh metropolitan area.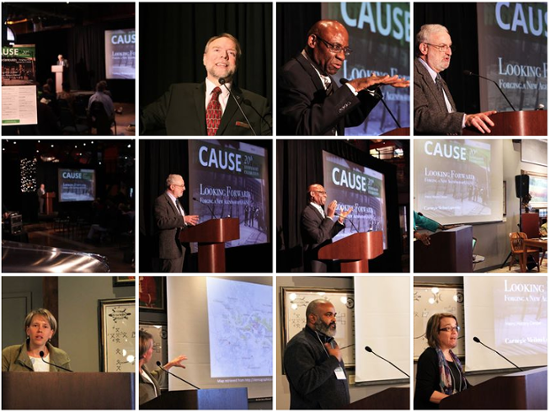 ---
Friday, April 22, 2016
Great Hall, Heinz History Center
5:00-5:30pm - Reception
5:30-6:30pm - Welcome: Andrew Masich, President and CEO, Heinz History Center
Keynote address: James R. Grossman
Historian and Executive Director, American Historical Association
Associate Faculty in History, University of Chicago
"Freedom From and Freedom To: Exploring Some Meanings of the Great Migration"
---



Saturday, April 23, 2016
---
Library, 6th floor, Heinz History Center
Session I
Graduate Education in African American Urban Studies
Chair: Ancella B. Livers, Senior Design Faculty, Center for Creative Leadership, Greensboro, NC
Alexandra K. Murphy, Assistant Professor of Sociology, University of Michigan
"Studying Urban Life Beyond the Metropolis"
Germaine S. Williams, Program Officer for Arts and Culture, The Pittsburgh Foundation
"The Vanguard Generation(s): Finding Self in African American Urban Studies"
Robin D. Muhammad, Chair and Associate Professor of History, Department of History, Ohio University
"CAUSE and the Challenges of Transformative Leadership in the Academy"
Session II
The Postdoctoral Fellowship Program
Chair: Yevette Richards, Associate Professor of History, George Mason University
Karen J. Gibson, Associate Professor, Urban Studies and Planning, Portland State University
"Historical Knowledge and Contemporary Urban Issues: Reflections and New Directions"
Luther Adams, Associate Professor of History, University of Washington Tacoma
"The Critical Year: CAUSE"
Johanna Fernandez, Assistant Professor of History and Black and Latino Studies, Baruch College, CUNY
"Rethinking the Carceral State: Engaging Prisoners at SCI Greene on Root Causes"


Session III
International Collaboration
Chair: Joe W. Trotter, Jr., Giant Eagle Professor of History and Social Justice and Director, CAUSE
Lansiné Kaba, Distinguished Visiting Professor of History, CMU-Qatar Campus
"Reflection on African American and Islam in the USA"
Benjamin Houston, Senior Lecturer in Modern US History, Newcastle University
"The Impact of Oral History: Black Narratives Speaking Across Oceans"
Nico Slate, Associate Professor of History, Carnegie Mellon University
"Beyond Ghandi and King: CAUSE and Afro-Indian Solidarity"