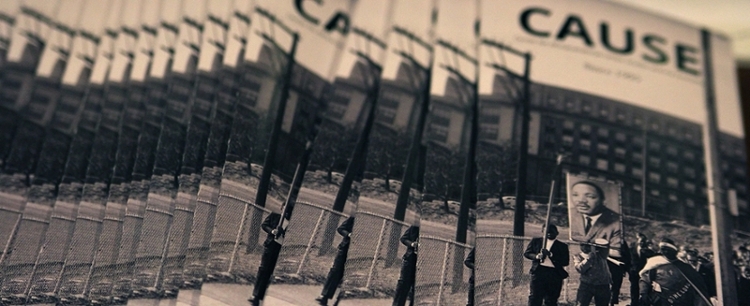 Luther Adams
Associate Professor of History, University of Washington - Tacoma
Contact
Address
5000 Forbes Avenue
Pittsburgh, PA 15213


Bio
Luther Adams is an Associate Professor at the University of Washington – Tacoma. He graduated with B.A. in history from the University of Louisville (1994), and a Ph.D. from history at the University of Pennsylvania (2002). Since 2002, he has taught courses on United States history; urbanization and African American culture and history at UWT. He has published in a variety of forums including the Register of the Kentucky Historical Society, Ohio Valley History Journal, the Journal of Social History and the Journal of Urban History. His book Way Up North in Louisville: African American Migration in the Urban South, 1930-1970 was published by the University of North Carolina Press in 2010.
His current research project, Black and Blue: End Police Brutality argues police brutality, like lynching upheld the white supremacist order while denying black people justice, safety and freedom. Police brutality was and remains at the root of Black protest politics throughout the twentieth century. He is also writing a collection of essays WE FUNK!: From the Bullet to the Ballot, From P-Funk to G-Funk that use funk to explore black economic, political and cultural life in the late twentieth century.
Johanna Fernandez
Assistant Professor of History and Black and Latino Studies, Baruch College, CUNY
Contact
Address
5000 Forbes Avenue
Pittsburgh, PA 15213


Bio
Johanna Fernández is Assistant Professor in the Department of History at Baruch College of the City University of New York. Her book on the Young Lords, the Puerto Rican counterpart to the Black Panther Party, is forthcoming (Princeton University Press). She was previously a Fulbright Scholar in Jordan and a Postdoctoral Fellow at Carnegie Mellon's Center for Africanamerican Urban Studies and the Economy.  Her acclaimed exhibition, ¡Presente! The Young Lords in New York, was cited by the New York Times as one of the Top 10, Best In Art in 2015.  She is the editor of Writing on the Wall, Selected Prison Writings of Mumia Abu Jamal (City Lights, 2015) and co-editor with Mumia Abu-Jamal of a special issue of the journal Socialism and Democracy, titled The Roots of Mass Incarceration in the US: Locking Up Black Dissidents and Punishing the Poor (Routledge, November 2014). Fernández received her B.A. in Literature and American Civilization from Brown and a Ph.D. in U.S. History from Columbia.
Karen J. Gibson
Associate Professor of Urban Studies and Planning, Portland State University
Contact
Address
5000 Forbes Avenue
Pittsburgh, PA 15213


Bio
Dr. Karen J. Gibson joined the Nohad A. Toulan School of Urban Studies and Planning at Portland State University in 1998. She has an M.S. in Public Management and Policy from Carnegie Mellon University and a Ph.D. in City and Regional Planning from the University of California at Berkeley. Her scholarship seeks to answer questions about the political economy of racial economic inequality in the urban setting using various disciplinary lenses. She finds the historical perspective to be most intriguing and illuminating. Her publications have appeared in Cities, Feminist Economics, Transforming Anthropology, the Journal of Planning Education and Research, and Oregon Historical Quarterly. In Portland, research topics include urban redevelopment and housing policies, neighborhood change in the city's historic African American community, the Albina District (1940-present), and police-community relations. She teaches courses related to urban poverty, housing, and community development.
James R. Grossman
Executive Director, American Historical Association
Contact
Address
5000 Forbes Avenue
Pittsburgh, PA 15213


Bio
Jim Grossman is Executive Director of the American Historical Association.  He was previously Vice President for Research and Education at the Newberry Library and taught at the University of Chicago.   The author of Land of Hope: Chicago, Black Southerners, and the Great Migration (1989) and A Chance to Make Good: African-Americans, 1900-1929 (1997), Grossman was project director and coeditor of The Encyclopedia of Chicago (2005; online, 2006) and coeditor of the series "Historical Studies of Urban America" (50 vols, 1992-2015 ). His articles and short essays have focused on American urban history, African American history, ethnicity, higher education, and the place of history in public culture.  


Land of Hope received awards from the Gustavus Myers Center for Human Rights and the Illinois State Historical Society.  A Chance to Make Good won awards from the New York Public Library and the National Council for the Social Studies. Grossman was chosen in 2005 as one of seven "Chicagoans of the Year" by Chicago Magazine.
Grossman's consulting experience includes the BBC, Smithsonian, and various theater companies, film makers, museums, and libraries. He serves on the boards of the Association of American Colleges & Universities, Center for Research Libraries, and National Humanities Alliance.
Benjamin Houston
Senior Lecturer in Modern US History, Newcastle University, UK
Contact
Address
5000 Forbes Avenue
Pittsburgh, PA 15213


Bio
Benjamin Houston is Senior Lecturer of US history at Newcastle University (Newcastle upon Tyne, UK).  He is author of an award-winning monograph on civil rights in Nashville, Tennessee, entitled 
The Nashville Way: Racial Etiquette and the Struggle for Social Justice in a Southern City
.  Previously he directed the Remembering African American Pittsburgh (RAP) oral history project at Carnegie Mellon University.  He teaches post World War II U.S. history, the civil rights movement and the black freedom struggle, and oral history.  
Lansiné Kaba
Distinguished Visiting Professor, Department of History, Carnegie Mellon University Qatar
Contact
Address
5000 Forbes Avenue
Pittsburgh, PA 15213


Bio
Dr. Lansiné Kaba is Distinguished Visiting Professor of History at Carnegie Mellon University at Qatar. He headed the Department of African American Studies from 1986 to 1995, and served as Dean of the Honors College from 1996 to 2001. He was President of the US /International/ African Studies Association from 1998 to 2001. He has received many awards and has lectured in many countries in Africa, Europe and the Middle East on both academic and current issues. His radio interviews and television appearances have made him a "public intellectual" in French-speaking Africa.
For more information, click here.
Ancella B. Livers
Senior Design Faculty, Center for Creative Leadership
Contact
Address
5000 Forbes Avenue
Pittsburgh, PA 15213


Bio
Currently, senior faculty at the Center for Creative Leadership® (CCL) Ancella is a skilled leadership development professional who has worked with thousands of managers and executives over the last 20 years. For 12 years, Ancella worked at the Center for Creative Leadership where she held a number of leadership roles including global director of open enrollment programs.  Ancella left CCL for several years to join The Executive Leadership Council® (ELC) where she served as the Executive Director of the Institute for Leadership Development and Research. Prior to working in the leadership development field, Ancella was an assistant professorship in the School of Journalism at West Virginia University. She also spent a decade as a newspaper journalist and was a Capitol Hill reporter for Gannett News Service. She is the co-author of Leading in Black and White and the HBR article "Dear White Boss."
Robin D. Muhammad
Chair and Associate Professor of History, Ohio University
Contact
Address
5000 Forbes Avenue
Pittsburgh, PA 15213


Bio
Robin Dearmon Muhammad is Associate Professor and Chair of the Department of African American Studies at Ohio University.  She is a contributing author to forthcoming title, Shipbuilding and Ship Repair: Workers around the World: Case Studies 1950-2010  (University of Chicago Press, 2016) www.press.uchicago.edu/ucp/books/book/distributed/S?bo23454408.html
Her book manuscript, Arsenal of Liberation: African American Workers and Shipbuilding in the San Francisco Bay Area, 1898-1948, focuses on the changes in maritime industries and growth of the African American communities in northern California.  Muhammad also serves as the Director of the African American Research Service and Institute at Ohio Univeristy.
Alexandra K. Murphy
Assistant Professor of Sociology, University of Michigan
Contact
Address
5000 Forbes Avenue
Pittsburgh, PA 15213


Bio
Alexandra K. Murphy is an Assistant Professor in Sociology and in the Ford School of Public Policy (by courtesy) and a Faculty Affiliate of the Population Studies Center at the University of Michigan. She received her PhD in Sociology and Social Policy from Princeton University in 2012 and was a postdoctoral fellow at the National Poverty Center, University of Michigan from 2012-2014. Her research uses ethnographic methods to examine how poverty and inequality are experienced, structured, and reproduced across and within multiple domains of social life including neighborhoods, social networks, and the state. One line of research investigates the new suburban poverty. Murphy's work in this area has focused on variations in social service responses to rising poverty across diverse suburbs; urban and suburban comparisons in social service capacity; and the theoretical, conceptual, and methodological issues suburban poverty raises for a sociological understanding of geography and inequality. Murphy is currently working on her book, When the Sidewalks End: Poverty in an American Suburb (under contract with Oxford University Press), an ethnographic study of the social organization of poverty in one suburb. Another line of research examines the causes and consequences of transportation insecurity. Murphy is co-editor, with Mitchell Duneier and Philip Kasinitz, of The Urban Ethnography Reader (Oxford University Press 2014)
Yevette Richards
Associate Professor of History, George Mason University
Contact
Address
5000 Forbes Avenue
Pittsburgh, PA 15213


Bio
Yevette Richards is a specialist in African American history, U.S. women's history, labor studies, and Pan-Africanism.  She has published Maida Springer, Pan-Africanist and International Labor Leader (University of Pittsburgh Press, 2000) and the oral history companion book entitled, Conversations with Maida Springer: A Personal History of Labor, Race, and International Relations (2004, University of Pittsburgh Press).
Her current research explores the operations of the African Labor College in Uganda as a site for Cold War and transnational labor struggles. She received a PhD degree from the Department of American Studies at Yale University. She has an Appointment to the OAH Distinguished Lectureship Program, and has received a Mathy Junior Faculty Award in the Arts and Humanities (2001), a Ford Foundation Postdoctoral Fellowship (1997-1998), and a Center for African American Urban Studies and the Economy Fellowship from Carnegie-Mellon University (1997-1998).
Nico Slate
Associate Professor of History, Department of History, Carnegie Mellon University
Contact
Address
5000 Forbes Avenue
Pittsburgh, PA 15213


Bio
Dr. Slate's research and teaching focus on the history of social movements in the United States and India. His first book, Colored Cosmopolitanism: The Shared Struggle for Freedom in the United States and India (Harvard University Press, 2012), argues that South Asians and African Americans learned from each other in ways that advanced their struggles for freedom. He is the editor of Black Power Beyond Borders(Palgrave MacMillan, 2013), a volume that tracks the global dimensions of the Black Power movement. His most recent book is The Prism of Race: W.E.B. Du Bois, Langston Hughes, Paul Robeson and the Colored World of Cedric Dover (Palgrave Macmillan, 2014). The Prism of Race examines a crucial moment in the history of race through the lens of a self-described "Eurasian half-caste," born in Calcutta in 1904, and his relationships with leading African American artists and intellectuals.
Dr. Slate is currently at work on three books: a study of race in Los Angeles after 1965; a biography of Mahatma Gandhi focused on his diet; and a history of connections between India and the United States from the 18th century to the present. He is the founder and director of the Bajaj Rural Development Lab, the Social Change Semester, and SocialChange101.org, and is a regular contributor to the Arts Greenhouse, a hip hop education program that promotes the artistic and educational development of Pittsburgh teenagers.
Germaine S. Williams
Senior Program Officer, Arts and Culture, The Pittsburgh Foundation
Contact
Address
5000 Forbes Avenue
Pittsburgh, PA 15213


Bio
Germaine Williams, PhD is senior program officer for Arts and Culture at The Pittsburgh Foundation. The Foundation envisions the arts as a key component of healthy communities and strives to make cultural vitality and diversity a defining characteristic of regional growth.  Prior to working at The Pittsburgh Foundation, Germaine served as project director for The Creativity Project at the STUDIO for Creative Inquiry at Carnegie Mellon University, where he worked developing programs of support for individual artists. Before moving to Pittsburgh, Germaine was the program associate for the Rockefeller Foundation's Media Arts Fellowship program in New York City. A native of Chicago, he holds a Bachelor of Arts in History from Morehouse College in Atlanta, Georgia  and in 2015 completed the doctorate degree in Social and Cultural History at Carnegie Mellon University in Pittsburgh, Pennsylvania.