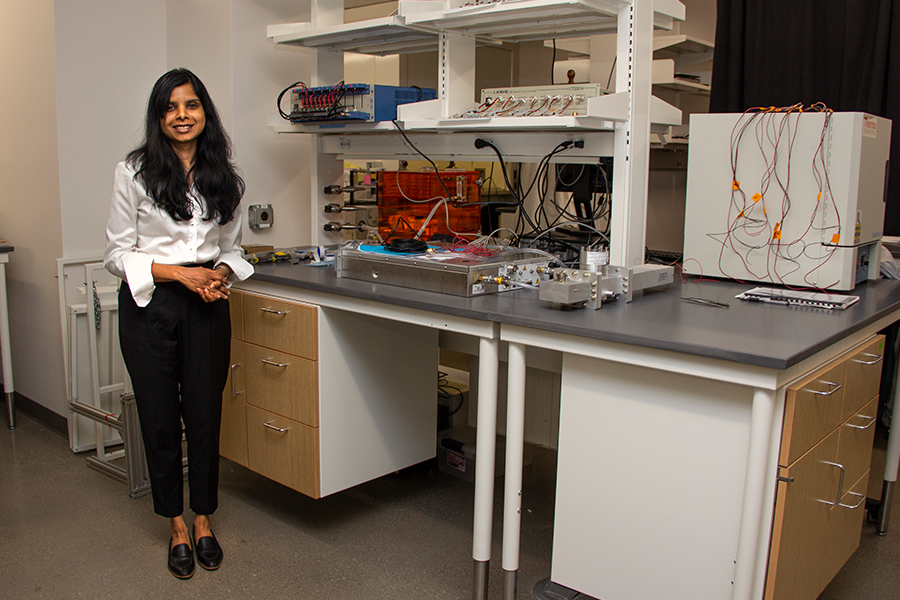 May 18, 2020
CMU's B. Reeja Jayan Battles Battery Fatigue
By Rebecca Enright
Media Inquiries
Amanda King
This is the second article in a series on faculty profiles.
Carnegie Mellon University Mechanical Engineering (MechE) Associate Professor and Scott Institute for Energy Innovation Fellow B. Reeja Jayan has been awarded a Seed Grant for Energy Research from the Scott Institute for her research on the effect of polymer coatings on the mechanical fatigue of battery electrodes. Working alongside MechE Professor Shawn Litster, they will utilize nano-computed tomography and a synchrotron small-angle x-ray scattering technique to study the battery's degradation during its operation.
This fatigue in lithium-ion batteries is one of the main reasons for their capacity fading, resulting from the volume expansion and shrinkage of electrode particles during cycling. 
"Our hope is that we can show how these new tools can be used to study the mechanisms that go on continuously in a battery and design better materials," said Jayan who holds courtesy appointments in the Departments of Materials Science and Engineering, Chemical Engineering and Electrical and Computer Engineering. "Instead of using trial and error, we can better understand what makes the battery fail and work around the challenges."
Jayan also leads JLAB at CMU. Her multidisciplinary laboratory explores ways by which electromagnetic fields can synthesize materials that were, until now, unavailable to conventional synthesis routes. These low-temperature processed materials directly grow on flexible, lightweight substrates, enabling structurally integrated energy and sensing. The research they conduct on low-temperature, field-assisted processing, 3D printed ceramics and large-scale coatings also translates directly to her work on battery fatigue.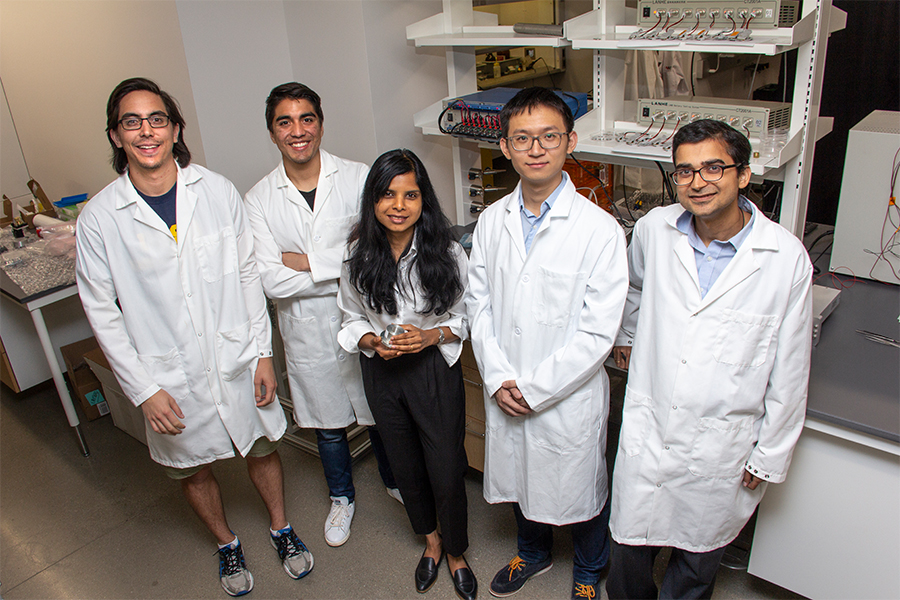 B. Reeja Jayan with her students in her multidisciplinary laboratory, JLAB.
"The battery is the ideal test case to investigate not just ceramics and polymers, but also hybrid interfaces, which are the most challenging since they are difficult to create and study," said Jayan.
Hybrid materials also play a large role in Jayan's other research areas, such as the functionality of energy storage. Recently, she helped to develop a stretchable battery made from a liquid metal that is commonly used for robots. Its structure allows for the integration of devices such as sensors, saves on cost and weight, plus—provides passive protection.
An experimentalist at heart, Jayan also finds innovative ways of working with her students. When she began teaching, she ran "Frivolous Fridays" with her colleague at the MIT Media Lab, which allowed students to conduct research of their choice and provided outreach opportunities. 
Jayan is a strong believer in game-based learning methodologies that she uses extensively in her undergraduate and graduate engineering courses. She leverages the popular video game Minecraft as a method of teaching materials science, since it is not always feasible to bring people into her lab.
"I used Minecraft in class and then in outreach, though it's easier with middle school students than with college students because you have to teach them the game," said Jayan. "I wanted to make their learning more engaging."
As a fairly new Energy Fellow, her student's travel and data collection for their research is being supported by the Scott Institute. Through the fellowship, Jayan also hopes to expand the reach of her work.
"I'd like to create collaborations where I can apply the work that my group does with materials for batteries, and work with faculty in areas like data analytics, machine learning, manufacturing and energy systems modeling," she said.
Before joining CMU, Jayan was a postdoctoral associate at the Massachusetts Institute of Technology. She received her master of science degree in Electrical Engineering and doctoral degree in Materials Science and Engineering from The University of Texas at Austin.
Jayan is a recipient of the 2018 National Science Foundation CAREER Award, 2017 Army Research Office Young Investigator Award, 2016 Air Force Office of Scientific Research Young Investigator Award, the George Tallman Ladd Research Award, the Donald L. and Rhonda Struminger Faculty Fellowship, the Berkman Faculty Development Fund and Pittsburgh Magazine's 40 Under 40 Award. Her research is also funded by the Department of Energy, Defense Advanced Research Project Agency and by private sponsors.
In 2019, Jayan and her husband Aji welcomed their son Neil. He joins their family of three that includes their dog named Tiberius Greenball, also known as "Tubby."