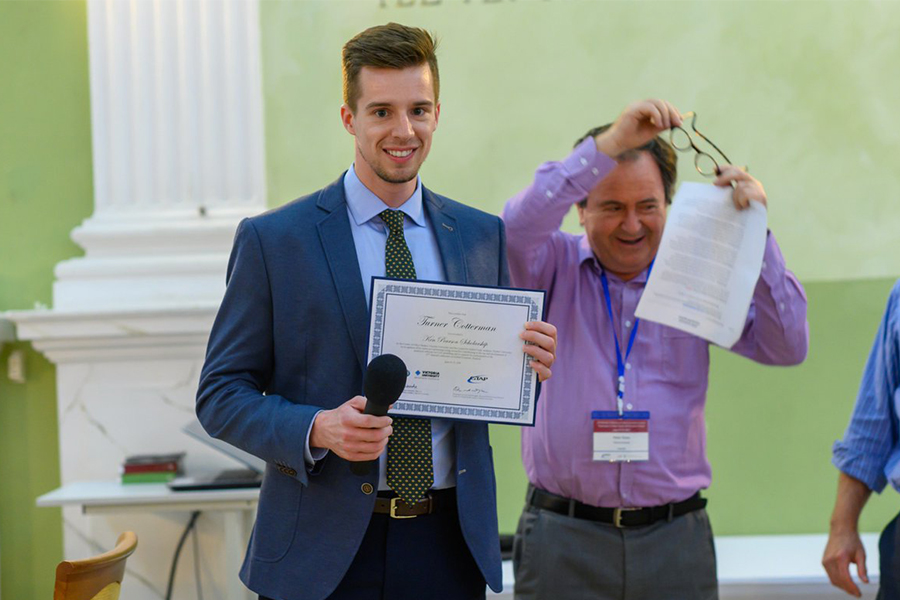 July 29, 2019
Scott Institute Funds Summer Student Experiences Abroad
By Jessica Keast jkeast(through)andrew.cmu.edu
Media Inquiries
While some students utilize the summer months to relax and recuperate from their rigorous coursework, many Carnegie Mellon University students use those months to participate in once-in-a-lifetime research opportunities abroad to share their expertise and engage with others in their field.
Read below about two unique student experiences made possible by Carnegie Mellon's Wilton E. Scott Institute for Energy Innovation.
Turner Cotterman (EPP)
From June 19-21, Engineering and Public Policy PhD student Turner Cotterman presented his energy research at the 22nd Annual Conference on Global Economic Analysis, which aims to promote the exchange of ideas among economists conducting quantitative analysis of global economic issues.
Hosted by the Center for Global Trade Analysis at Purdue University in Warsaw, Poland, the conference's theme this year was "Challenges to Global, Social, and Economic Growth" and attracted attendees from international companies, universities and research organizations. 
"I had an incredible experience connecting with researchers from around the world focused on improving methods to address the global and common climate change challenge," said Cotterman. "The most effective approach to tackling these issues is through international collaboration."
Cotterman presented his paper titled "Why Rapid and Deep Decarbonization isn't Simple: Linking Bottom-up Socio-technical Decision-making Insights with Top-down Macroeconomic Analyses."
"Despite continued cost and efficiency improvements in state-of-the-art, technological solutions, the combined commitments embodied in the Paris Agreement fall short of the levels required to prevent global temperature rises of more than 2ºC, even while international progress towards the goals presented at the Paris Agreement remains slow," explained Cotterman. "There exists a discrepancy between what is technically possible for global decarbonization and the constraints imposed by political, social and economic factors that slow transition processes."
Turner's work proposes a framework to evaluate quantitative projections produced by a computable general equilibrium model—one of a number of modeling approaches commonly used for assessing the impacts of decarbonization—by accounting for behavioral, social, political and institutional bottlenecks and dynamics.
Cotterman's work was recognized at the event where he received the Ken Pearson Scholarship, which supports the participation of promising young researchers at the Global Trade Analysis Project (GTAP) Conference and encourages their contribution to the use and further development of analytical software for computable general equilibrium modeling. Cotterman's paper was also accepted into the GTAP Conference Scholars Program that supports first-time presenters at the conference. 
He said he plans to continue pursuing research methods that would improve the sensitivity of energy and climate predictions.
Elizabeth Yoder (EST&P)
From July 1-5, Energy Science, Technology & Policy (EST&P) master's student Elizabeth Yoder represented Carnegie Mellon at the Interdisciplinary Sustainable Architecture LAB Workshop in Valencia, Spain. Yoder had the opportunity to meet and collaborate with 11 students from four international universities on a variety of sustainability projects.
On the first day of the workshop, the students were introduced to two assignments. Yoder and her team focused on developing Valencia's port, La Marina. Yoder says she chose this project because "it focused more on renewable energy and microgrid planning."
The port, originally built for the 32nd America's Cup sailing event, was previously used to house ships and provide maintenance services. As La Marina no longer hosts the event, the existing structure does not serve a sustainable purpose. The team successfully developed a sustainable architecture plan and a design for a carbon-free electricity system for two structures, La Base and Tinglado.
The students then pitched their multidisciplinary solution.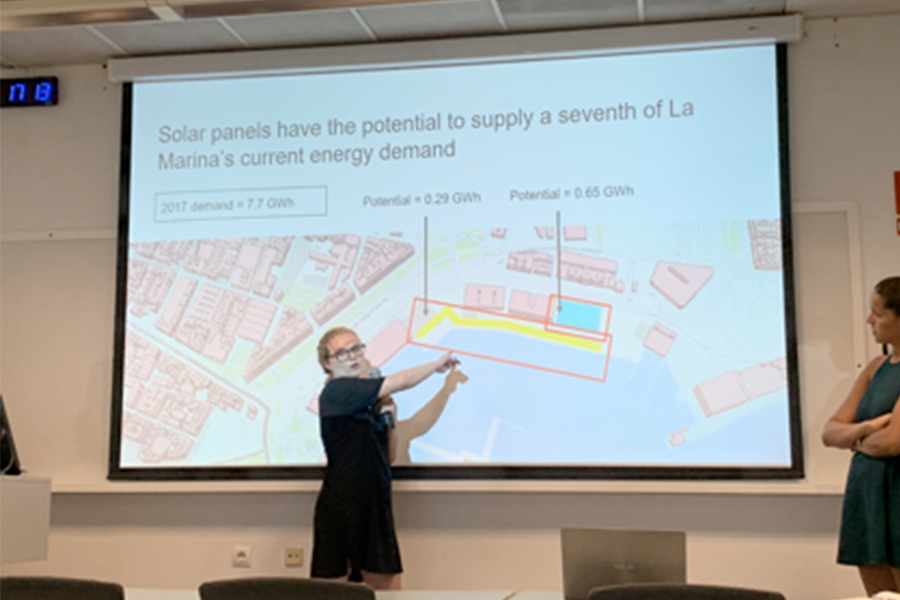 "The diversity of the group was a significant advantage for our team," said Yoder. "We drew on the experience of each individual. The architects, one from Austria and one from Italy, developed the designs and uses for the two spaces. My Serbian teammate, who studied chemistry, developed a plan for cleaning the sea water and using it to supply the two buildings. The chemical engineer from Canada discussed thermal heating." 
Meanwhile, Yoder and a construction engineer from Spain designed a microgrid using data they had collected from the area.
"I learned about many methods, ways of thinking and resources I did not know existed just within the first day," said Yoder. "What was also amazing was how intricately we could solve the problem presented to us due to the varied and expansive experience on our team." 
The workshop culminated in a round of presentations to the faculty who provided feedback to the students. In light of positive feedback, Yoder said her team may continue to develop their solution for potential future implementation. 
"There is a lot to learn from experiences outside of the classroom," said Yoder. "I was so excited about this opportunity because it was abroad. After I complete the EST&P M.S. program, I hope to research how to achieve the UN Sustainable Development Goal 7 (electricity access for all) in a global context."
If you're a CMU student interested in participating in a conference or case competition, you can apply for funding here.