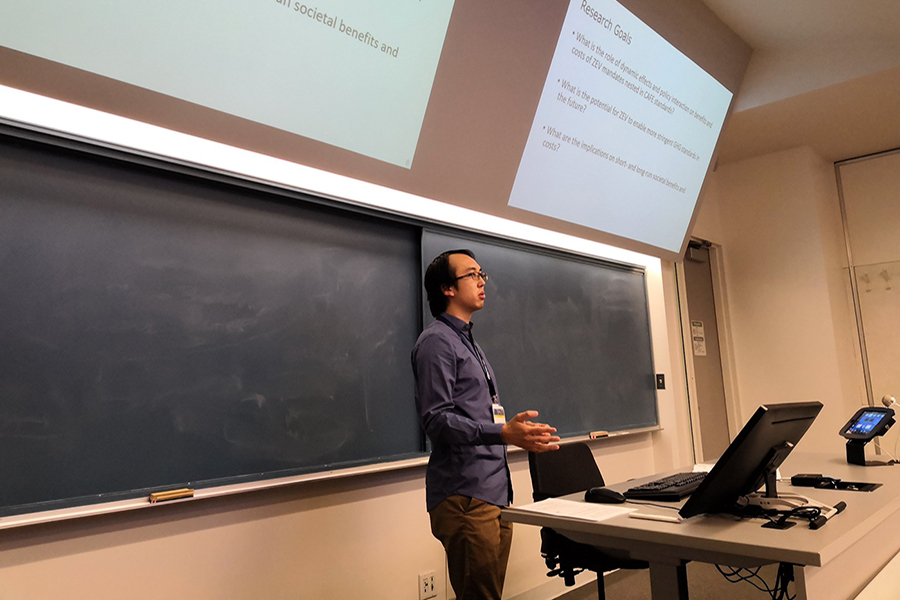 July 12, 2019
PhD Candidate Presents EV Research at International Conference
By Jessica Keast
Media Inquiries
From May 29-June 1, Arthur Yip, a PhD candidate in the Engineering and Public Policy (EPP) Department, participated in the 2019 International Association for Energy Economics (IAEE) Conference in Quebec. Supported by Carnegie Mellon University's Wilton E. Scott Institute for Energy Innovation, Yip had the opportunity to present his research at the conference, which addresses topics like energy business, markets and policy.
The 42nd annual conference drew nearly 450 participants and is an opportunity for academics, policy makers, consultants and professionals from the energy sector to collaborate and discuss energy from an economic perspective. This year's event focused on the development of local energy sources, ability to reach global markets and how local energy sources can be developed to better meet societies' energy needs.
During the electric vehicle concurrent session, Yip presented his ongoing project "The Dynamic Costs & Benefits of Technology-Forcing Policy Nested in a Broader Performance Standard: The Case of ZEV & CAFE." Yip's collaborators include Scott Institute Faculty Affiliates, EPP and Mechanical Engineering Professors Jeremy Michalek and Kate Whitefoot.
"The study demonstrates a new way of assessing the costs and benefits of emerging zero-emissions vehicle (ZEV) mandates in light of Corporate Average Fuel Economy (CAFE) regulations," said Yip.
In their analysis, the team considers how technology-specific policies, such as ZEV, could be justified over more technology-neutral policies, such as CAFE or carbon taxes. 
During the event, Yip also sparked discussion on Twitter with the IAEE plenary speakers who discussed highly-topical issues in current energy and environmental research, particularly the tension between economically-efficient carbon pricing and less economically-efficient policies and regulations.
Highlights from the conference included a keynote speech by MIT economist Chris Knittel who recommended a continued push for economic efficiency rather than specific policies and emphasized how researchers should not be in favor of "hiding the costs" of regulations.
"I agree that economic efficiency is important because choosing a more economic efficient path means getting the same amount of pollution mitigation for less cost, or alternatively, getting more pollution mitigation for the same cost. But, by emphasizing costs and economic efficiency, I worry about the risk of inadvertently hiding false precision and other factors," said Yip.
He adds that potential complications include unaccounted benefits, dynamic costs and benefits (for example, from technological innovation) and policy interaction effects that cause benefits to "leak." Yip's research project attempts to address some of these complications.
Another highlight included speaker Mark Jaccard, a professor in the School of Resource and Environmental Management at Simon Fraser University, who discussed the need for improved research and consideration of carbon tax alternatives. Jaccard said voters, politicians and policy makers may still choose less economically-efficient options, for example, if they are more politically palatable, more likely to withstand political cycles or not significantly less cost-effective.
Yip commended Jaccard's strong argument for policy alternatives. 
"Innovation is needed not just in energy and environmental technology and business models, but also in economic and policy solutions as well," he said.
If you're a CMU student interested in participating in a conference or case competition, you can apply for funding here.