The CMU Pantry
In response to the COVID-19 situation, the CMU Pantry is modifying its operations to serve the needs of our community while protecting the health and safety of our shoppers, staff and volunteers.
The Pantry will now be taking orders through an online form and preparing your food in bags for you to pick up when you arrive at the Pantry. For the time being, this will completely replace the in-person shopping experience.
All orders from the Pantry will include a standardized package of staple foods (fresh produce, protein, canned fruits/vegetables, quick meals, soups, pasta/rice, potatoes, cereal, snacks, miscellaneous items if available, and a cleaning/hygiene item). Additionally, you will be able to choose from a limited number of other items in the Pantry to customize your order. We understand that this means you will have less choice in the items you receive from the Pantry, and we thank you for your patience and understanding as we continue to adapt to unprecedented circumstances in order to best serve our community.
Please take note of the following key changes, which will vary from your typical Pantry experience:
Open Shopping Hours will be replaced by Pick Up Hours. During Pick Up Hours, you may visit the Pantry to pick up your pre-packaged order that you placed online.
To provide additional food resources to students, shoppers can now order from the Pantry up to one time per week, rather than twice per month. As always, we ask that shoppers utilize the Pantry as needed, keeping in mind that our resource provides for many students in the CMU community, so shoppers should not use the Pantry to "stock up" supplies of food at home.
When you arrive at the Pantry, your food will be pre-packaged in plastic bags. We encourage you to bring a reusable bag or backpack to help you transport the food home, so that you don't have to worry about the plastic bags tearing.
Another shopper may pick up your order if you are unable to make it to the Pantry yourself. The online order form includes an option for you to authorize someone else to pick up your order.
Your order must be completed by no later than 10 am on the day you select for pick up.
If you are experiencing a food emergency, are under self-quarantine/isolation, are ill, or are otherwise unable to make it to the Pantry and you need immediate food assistance, please email cmu-pantry@andrew.cmu.edu.
The CMU Pantry Comic Book
Not having enough nutritious food to eat is a problem many university students face on a regular basis. CMU is no exception.
In 2020, Gabi Maier, faculty member in CMU's modern languages department, and Cora Hickoff, School of Fine Arts alumna, created a CMU Pantry comic book as a fun way to educate students about the pantry.
The comic is based on 37 student interviews, conducted in the fall of 2019 by Gabi, that revealed a number of questions and concerns students had about CMU's food pantry: What is the pantry What does it offer? Who is allowed to use it? Will I take away food from students who need it more than I do? 
The comic script is based on the interviews that Cora turned into a fully illustrated comic book.
Questions or comments about the comic? Contact Gabi Maier at eichgabi@andrew.cmu.edu or Cora Hickoff at corahickoff@gmail.com.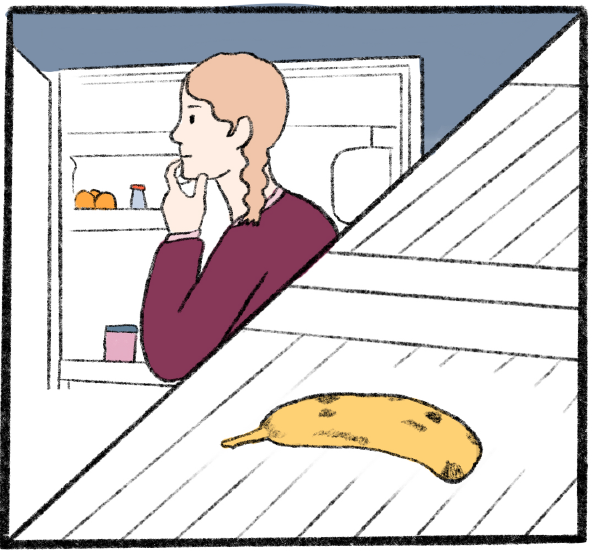 Directions to the Pantry
Pedestrian Directions
From the Cohon Center, travel down Morewood Avenue and turn left on Fifth Avenue. At the intersection of Neville Street and Fifth Avenue, The Residence on Fifth will be on your left. Alternately, a cut through at the back of the Tepper parking lot, which passes next to the WQED building, gets you to Fifth Avenue. Then, turn left toward the intersection of Fifth and Neville.
Bus Route Directions
Use PAT bus stops (#1175 and #1169, outbound and inbound respectively) where the 71B and 71D routes stop at the corner of Neville Street and Fifth Avenue, where the Residence on Fifth is located.
USDA Nondiscrimination Statement 2020
In accordance with Federal civil rights law and U.S. Department of Agriculture (USDA) civil rights regulations and policies, the USDA, its Agencies, offices, and employees, and institutions participating in or administering USDA programs are prohibited from discriminating based on race, color, national origin, sex, disability, age, or reprisal or retaliation for prior civil rights activity in any program or activity conducted or funded by USDA.
Persons with disabilities who require alternative means of communication for program information (e.g. Braille, large print, audiotape, American Sign Language, etc.), should contact the Agency (State or local) where they applied for benefits. Individuals who are deaf, hard of hearing or have speech disabilities may contact USDA through the Federal Relay Service at (800) 877-8339. Additionally, program information may be made available in languages other than English.
To file a program complaint of discrimination, complete the USDA Program Discrimination Complaint Form, (AD-3027) found online at: https://www.usda.gov/oascr/how-to-file-a-program-discrimination-complaint, and at any USDA office, or write a letter addressed to USDA and provide in the letter all of the information requested in the form. To request a copy of the complaint form, call (866) 632-9992.
Submit your completed form or letter to USDA by:
mail: U.S. Department of Agriculture Office of the Assistant Secretary for Civil Rights
1400 Independence Avenue, SW Washington, D.C. 20250-9410;
fax: (202) 690-7442; or
email: program.intake@usda.gov.
This institution is an equal opportunity provider.