May 19, 2021
News Briefs
Tartans Place 2nd, 4th in NCAA Golf Championships
Carnegie Mellon's golf teams nearly brought home the Tartans' first national team championship last week.
The women's team placed second in the NCAA Division III Women's Golf Championship at Forest Akers West Golf Course in East Lansing, Michigan, just five strokes behind Methodist University. The men's team finished fourth at the NCAA Division III tournament at the Oglebay Resort & Conference Center in Wheeling, West Virginia.
Leading the way for the women's team was sophomore Alexis Sudjianto, who placed second individually in the field of 131 golfers with a 72-hole score of 305. Her second-place national standing marks the Tartans' highest individual finish in program history and is a school record for the best 72-hole score. Sophomore Michelle Cao placed 11th with a 311, and junior Nadia Susanto and freshman Denise Pan tied for 12th individually with a four-round total of 312. 
Pictured above is the women's team (l-r): Nadia Susanto, Alexis Sudjianto, Densie Pan, Coach Dan Rodgers, Charlotte Simpson and Michelle Cao.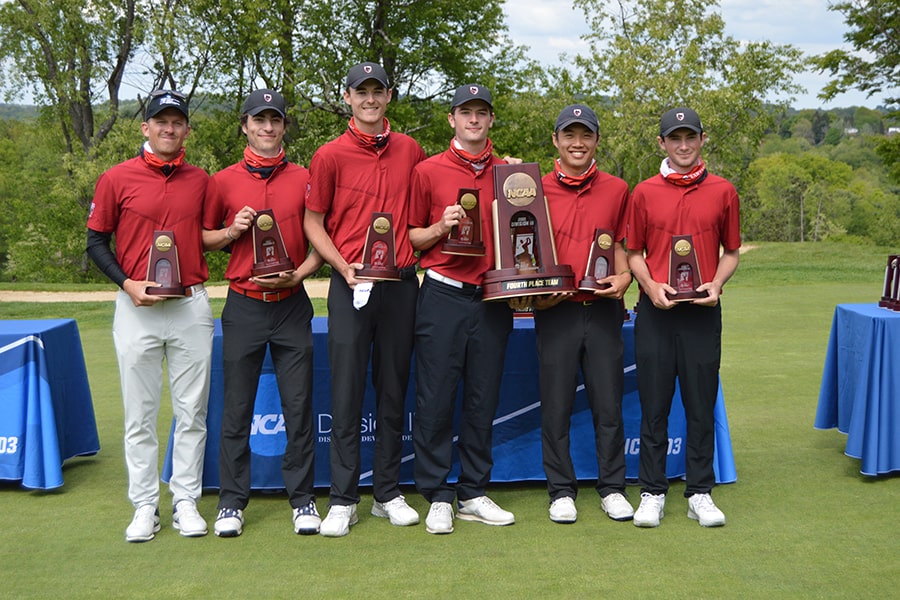 CMU's men's golf team (l-r): Nick Dunn, Henry Scavone, Jason Folker, Ben Huber, Jason Li and Will Knauth
The men's team turned in its best national performance with a 72-hole score of 1,179. The Tartans carded their best round of the championships on the final day with a seven-over par 291.
Senior Jason Folker led the Tartans with a 72-hole total of seven-over par (290) and placed seventh individually in a field of 191 golfers. Folker's seventh-place standing in the national championship marks the highest individual finish in program history and is a school record for the best four-round score. Senior Jason Li shot a one-over par 72 in the final round and ended with a score of 291 to tie for eighth in the individual standings.
Learn more about the men's and women's golf teams.
Four Engineering Faculty Earn NSF CAREER Awards

Four College of Engineering faculty members have received CAREER awards from the National Science Foundation (NSF). The awards, which are part of the Faculty Early Career Development Program, are given to people early in their careers who are believed to play a part in furthering their area of science. The awards support their research and educational goals.
Maysam Chamanzar, an assistant professor in electrical and computer engineering, was awarded an NSF CAREER grant for his work on recording neural signals. Chamanzar's research will present a new kind of neural probe that uses graphene to convert brain signals to electromagnetic waves, or light. Chamanzar says this research could reveal treatments for brain disorders like epilepsy, Parkinson's and Alzheimer's.
Gauri Joshi, an assistant professor in electrical and computer engineering, was awarded a CAREER grant for her work on machine learning algorithms. Her project seeks to improve machine learning from all angles, including computation, communication and data constraints. Joshi hopes this will allow algorithms to respond and adapt to limitations within themselves or the data.
Victoria Webster-Wood, an assistant professor of mechanical engineering, received a CAREER award for her work on robotic design. Her research will focus on creating actuators for biohybrid robots using living muscle and controlling these actuators with neurons. Webster-Wood's project uses animal-inspired designs to improve robotic mobility. She hopes that muscle-based robots will be more adaptable and self-healing.
Ding Zhao, an assistant professor of mechanical engineering, was awarded a CAREER grant for his work on safety-critical applications of AI. Safety critical applications include autonomous vehicles and health care, so it creates a difficult design challenge where failure is unacceptable. Zhao plans to create evaluation methods that will be used for deep learning systems, reinforcement learning systems and sophisticated systems comprising sub-modules. These evaluation methods will ensure AI use in the physical world is safe.
Learn more about the NSF award recipients.
Gelfand Center Selects Student Service Award Winners
Runbo Guo, C.J. Argue and Saul Schaffer are the recipients of this year's Gelfand Student Service awards. Presented by the Gelfand Center for Service Learning and Outreach, the award recognizes students who have made a commitment to sharing their knowledge, talents and skills to make a difference in the lives of children in the community, with a priority for STEM educational outreach activities.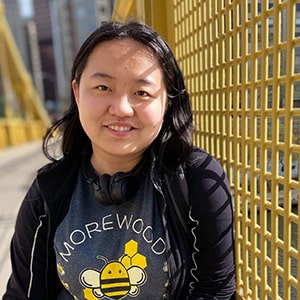 Runbo, a computer science senior, is a mentor for the Girls of Steel robotics team, and was an RA with the Robotics Feiyue summer camp for high school students. She often hosted Girls of Steel team members at Saturday Zoom nights. "I know that some girls are feeling more disconnected with the team [during the pandemic], so this was just a time where we did group games … and chatted," Guo said. "The Zoom room was definitely a highlight of my week! She always had great stories to tell and gave out a lot of great advice regarding robotics, college and being a female in STEM," said one of the Girls of Steel team members.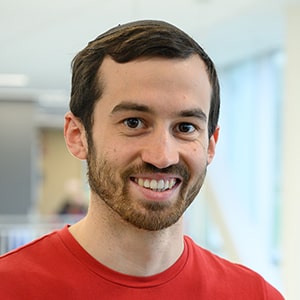 Argue, a Ph.D. student in mathematics, is the head coach of the Western PA ARML Team, a Pittsburgh area math team for students in grades 6-12. The team has tripled in size under Argue's leadership and he has re-established corporate sponsorship for the team. "He organized a team of graduate and undergraduate students to lead free math enrichment classes for two separate levels of local middle and high school students" said ARML Faculty Adviser Po-Shen Lo. "I think that he is a terrific example for the students who are working with him, because they can see a sharp mathematical mind dedicated to the task of trying to create good in the world."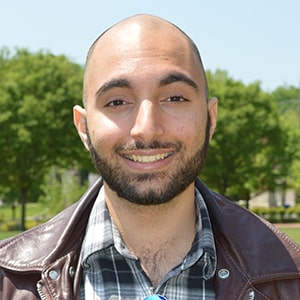 Schaffer, a Ph.D. student in Vickie Webster-Wood's mechanical engineering lab, has served as a Gelfand STEM ambassador. He designed "It's Alive! The Science Behind Making Living Robots," a workshop for middle school students, and was on the coordinating committee for the Road to Research Meet the Researcher series for middle school students. He motivates his lab mates to participate in educational outreach as the Community Service and Outreach Chair of the Mechanical Engineering Graduate Student Organization. "Saul has been the major driving organizer in helping launch our outreach program as a new lab … and I continue to be impressed by his research and academic performance, as well as his heartfelt dedication to outreach and broadening participation in robotics, computing and 3D printing," Webster-Wood said. 
Delphi Research Group, Collaborators Honored for COVIDcast
Roni Rosenfeld and Ryan Tibshirani with Carnegie Mellon's Delphi Research Group and their COVIDcast partners have received the 2021 Statistical Partnerships Among Academe, Industry, and Government (SPAIG) Award from the American Statistical Association (ASA). The team was recognized for its "commitment to the theory and practice of epidemic tracking and forecasting through building and modeling unique public health data streams."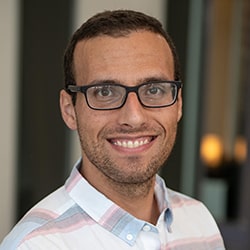 "We grew from a pre-pandemic team of seven or eight to more than 50 members, who are mostly volunteers," said Tibshirani, associate professor in the Statistics & Data Science and Machine Learning departments at CMU. "They are giving us time from their normal 'day jobs' throughout the pandemic, so it is extremely rewarding to receive recognition for everyone's contribution to these efforts."
The Delphi Research Group was assembled to make epidemiological tools to improve forecasting efforts to help health care organizations. While originally focused on seasonal influenza, the team shifted its approach to focus on tracking COVID-19 in the early months of 2020. The group worked with industry partners to evaluate large databases to track illness, monitor mask wearing and explore vaccine hesitancy across the country.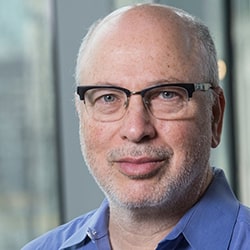 "There are very few good things about a pandemic, but the one thing that was uplifting was the large number of people and organizations that were moved by it to operate in a way that you don't often see," said Rosenfeld, professor and head of the Machine Learning Department. "In a sense, it was like we are fighting a war together and in a war you discover your shared humanity. That made me feel good."
FInd out more about the Delphi Group.
Six CMU Researchers Receive Seed Funding to Spur Energy Projects
The Wilton E. Scott Institute for Energy Innovation has announced the recipients of its 9th round of Seed Grants for Energy Research, which will provide over $400,000 in support to six CMU faculty projects. These projects explore critical energy research including energy efficiency, electrocatalysis, energy operations models optimization, and air quality management in low and middle-income countries.
The six projects and faculty members selected for seed grant funding are:
Destenie Nock

, assistant professor of

civil & environmental engineering

(CEE) and engineering and public policy (EPP) and Scott Institute Energy Fellow, with 

Costa Samaras

, 

associate professor of CEE, courtesy appointment in EPP and Scott Institute Energy Fellow

, for "Energy Equity in the United States Under Climate Change." This work will uncover hidden energy poverty by creating a more comprehensive assessment of the energy burden in the U.S.

Tzahi Cohen-Karni, associate professor in the departments of Materials Science and Engineering (MSE) and Biomedical Engineering (BME), for "ML Accelerated Inverse Design of High-Performance Low-Cost Electrocatalysts." This work proposes a methodology for coupling electrocatalyst synthesis and performance through machine learning (ML) guided material discovery.
Daniel Armanios

, assistant professor in EPP, for "Alleviating Organizational and Communication Barriers to Energy Efficiency Programs for More Equitable Access." This project proposes a novel mixed-methods approach that integrates organizational and behavioral approaches to improve the efficacy of programs designed to enhance energy equity.

Nicola Secomandi

, professor of operations management in the

Tepper School of Business

, for "Data-Driven Distributionally-Robust Optimization for Contemporary Merchant Energy Operations Models." This proposal focuses on merchant energy operations, a strategy that models as real options the operational flexibility embedded in the energy (and commodity) conversion assets that form the backbone of energy infrastructure and markets.

Albert Presto

, associate research professor in the Department of Mechanical Engineering and a member of CMU's Center for Atmospheric Particle Studies (CAPS), for "Development of a rapid, high volume, and low-cost method for particle source apportionment in low- and middle-income countries." This project will enable the development of low-cost particulate matter composition analysis methods that will enable source apportionment and, therefore, more informed policymaking.

Marc DeGraef

, professor and co-director of the J. Earle and Mary Roberts Materials Characterization Laboratory, for equipment repair replacing a PIXcel1D X-Ray Detector on a Panalytical X'Pert PRO MPD powder diffractometer. The Panalytical X'Pert PRO MPD powder diffractometer used for powder and bulk x-ray diffraction measurements is primarily for phase identification and phase quantification.
Learn more about the seed grants for energy research program.
Doctoral Students Selected for Facebook Fellowships
Two Ph.D. candidates in the School of Computer Science received Facebook Fellowships to support their ongoing research. Now in its 10th year, the fellowship program supports research on important computer science and engineering topics, such as computer vision, programming languages, computational social science and more.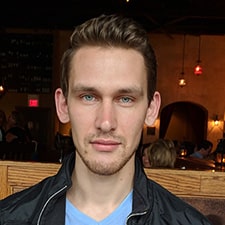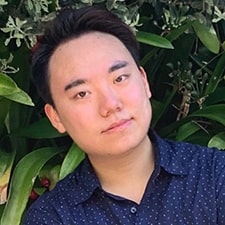 Paul Pu Liang, a doctoral student in the Machine Learning Department, and Misha Khodak, a doctoral student in the Computer Science Department, will receive two years of paid tuition and fees and a $42,000 annual stipend to cover living and conference travel costs.
Liang earned a fellowship for spoken language processing and audio classification. His research seeks to create socially intelligent agents that can comprehend social cues, intents and affective states; engage in conversation; and understand social commonsense to better interact with humans.
Khodak's fellowship will support his research on modern metalearning and automation methods. He aims to democratize machine learning with a new, principled set of tools that enable the consistent, predictable and robust application of diverse data domains, expertise levels and computational resources.
About 2,100 people applied for the fellowship from more than 100 universities worldwide. Facebook selected 26 fellows this year from 19 universities. Find out more.
Alumni Rally to Endow Jennifer Hightower Rising Star Award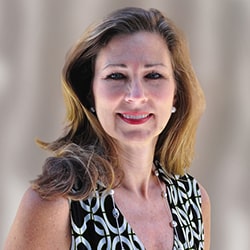 Jennifer Church Hightower, a former Carnegie Mellon dean of Student Affairs, touched many student lives during her tenure on campus with her kindness, empathy and influence. She died in January 2020 of cancer.
Over the past year, a group of CMU alumni, staff and faculty worked together to honor her legacy, raising funds through grassroots efforts to endow a CMU award for student leadership in her name.
"Her influence on me was truly transformational," said Linda Yang, a 2005 graduate of the Tepper School of Business who spearheaded the fundraising drive for the award. "She saw in me potential for leadership that I didn't see in myself, and gave me confidence to take on new challenges. She really changed my life as a student, and I know many other alumni feel the same."
The Rising Star Award is given each year by the SLICE (Student Leadership, Involvement and Civic Engagement) Office to an undergraduate who shows potential for leadership in CMU life and a commitment to the university community. Once the endowment is fully funded, the award will be renamed as the Jennifer Hightower Rising Star Award, and recipients will receive a monetary award.
Learn more about the award and how to contribute.
HR Launches Strategic Plan Projects
The Office of Human Resources (OHR) has begun a series of projects to transform the delivery of HR services to better support the human capital priorities and needs of Carnegie Mellon leadership, administration, faculty, staff and students. 
In summary, the projects include:
OHR will sponsor ongoing communications and presentations to impacted audiences and training in a variety of formats including instructor-led training (offered via Zoom), recorded and/or on demand training options, self-study materials (guidance documents, quick guides, etc.), and question and answer sessions. To learn more, please visit the Strategic Plan Projects website.
If you have questions about any of the projects or need support, reach out to a member of your HR team or HR Service.
Who's New at CMU?
Carnegie Mellon welcomes the following new staff members this week.
Kayla Molzer, Temporary Employment Service;
Caroline McMahon, Early Childhood Educator, Cyert Center; and
John Gray, Senior Technician, Robotics Institute.