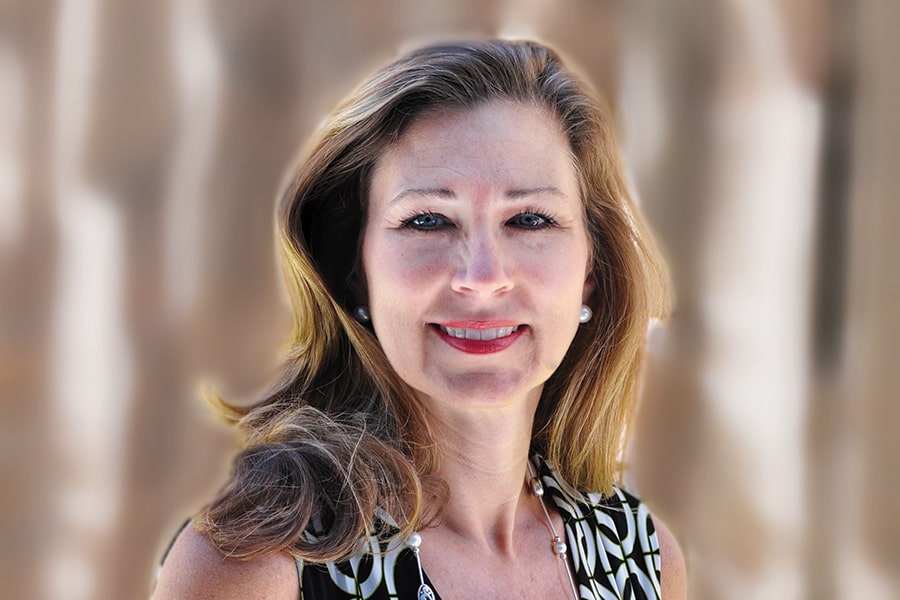 January 22, 2020
Obituary: Jennifer Church was a Caring, Compassionate Champion for Students
CMU's former dean of Student Affairs was a role model for many
By Bruce Gerson bgerson(through)cmu.edu
Jennifer (Church) Hightower, a beloved former dean of Student Affairs at Carnegie Mellon University, died Jan. 16 in Phoenix due to complications from cancer. She was 50.
At CMU, Hightower was known for her strong student advocacy, her accessibility, her proactive approach to improving the student experience, and her endearing sense of humor.
She joined CMU's Division of Student Affairs in 1995 as coordinator of community standards and quickly rose through the ranks to assistant dean, associate dean, interim dean and dean of Student Affairs in 2006.  In 2008, she and her young family moved to Indianapolis, but she remained a part-time director of special projects in the division for several years. She has served as vice president for Student Services at Arizona State University since 2011.
Hightower worked hard for the student community, and students noticed.  She initiated new programs for students, such as the Late Night student activities program and the Greek Task Force. Her personality, charm and compassion were contagious.
In a 2006 editorial in the Tartan, CMU's student-run newspaper, the editorial board praised her for her visibility on campus and for establishing a good rapport with students. When she left the university, a 2008 editorial headline read "New dean should emulate former Dean Church."
Michael Murphy, whom Hightower succeeded as dean of Student Affairs, said she was respected and beloved by students, staff and faculty. He said her caring and commitment were exceptional.
"She was so bright, and she was able to develop sophisticated programs and services in part because of her creativity and innovative thinking," said Murphy, a distinguished service professor in the College of Engineering. "She was a powerful role model for me and others of what it means to lead with your values and heart. That memory will endure." 
Gina Casalegno, vice president for Student Affairs and dean of students, was a member of the Student Affairs team during Hightower's time at CMU. She remembers her as "a fierce champion of our students and was deeply committed to justice, equity and inclusion. Jennifer went above and beyond to help those who needed us most. She was compassionate and tough when she needed to be. She made decisions in difficult times that were true to our values with clarity of purpose. She was whip-smart yet approachable and endeared herself to all. Many of us launched our careers under Jennifer's leadership and are doing work that matters here at CMU thanks to her mentorship."
University Professor G. Richard Tucker was struck by Hightower's deep kindness and devotion to students.
"Jennifer was possibly the kindest person with whom I have ever had the privilege and the pleasure of working with. Her commitment to our students set the highest possible standard for those of us to follow her," Tucker said. "She really helped to move us in the direction of defining and strengthening our understanding of, and commitment to, the meta-curricular experiences of our students."
Holly Hippensteel and Anne Witchner were colleagues and friends.
"We became fast friends because of our love for the role that student activities can play on a college campus," said Witchner, a CMU alumna who was director of Student Activities at the time. "She ended up working with me on Buggy and was their advisor for several years."
Witchner said she worked with HIghtower on a variety of programs and initiatives, including the International Festival, Martin Luther King, Jr. Day programming and first-year orientation.
"The Division of Student Affairs grew under her leadership and vision," Witchner said. "She was so capable and bright with a wicked sense of humor!  She could be tough when necessary and not afraid to speak her mind. For many, she was a role model."
Hippensteel said she is grateful for Hightower's leadership and mentorship.
"Jennifer saw potential in me as a young professional and gave me opportunities to grow and build new skills," said Hippensteel, CMU's associate vice president for Community Standards and Diversity Initiatives. "She challenged me, coached me and believed in me.
"She taught me how to engage in difficult conversations with compassion; how to lead with humility; and the importance of surrounding oneself with trusted confidants who would provide honest feedback. She will be dearly missed by me and many others," she said.
Chris Stengel, president-elect of the Alumni Association Board, remembers working with Hightower on Buggy-related activities. He said she was "consistently thoughtful toward making the best student experience possible."
"Her kind and cheerful demeanor was on display at all times, even when there were difficult decisions to be made," said Stengel, a 1993 graduate of the School of Computer Science and 2000 alumnus of the Tepper School of Business. "In her years at CMU, I saw her gracefully move Buggy upward in reputation, safety, and most of all, positive impact on the students who participated in the program."
Hightower is survived by her husband, Jon Buot; three daughters, Grace, Annie and Caroline; her mother, Leslie; and sister, Kristin.