February 25, 2016
News Briefs
CMU PokerBot Extends Hot Streak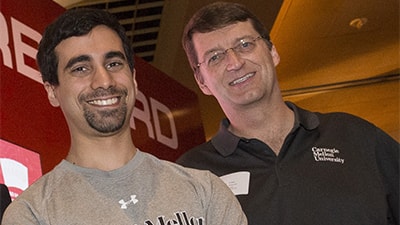 Noam Brown and Tuomas Sandholm
A computer poker program called Baby Tartanian8 continued Carnegie Mellon's hot streak at the Annual Computer Poker Competition, taking first place in the total bankroll category and third place in the bankroll instant run-off category in the Heads-Up, No-Limit Texas Hold'em game.
Tuomas Sandholm, professor of computer science, and Noam Brown, a Ph.D. student in the Computer Science Department, created the pokerbot for the competition. The results were announced Feb. 13 at the Association for the Advancement of Artificial Intelligence meeting in Phoenix. Ten teams competed this year.
In the total bankroll category, the winner is determined by total winnings. In bankroll instant run-off, the pokerbot with the lowest total bankroll is eliminated in each round.
Celebrate the PSO's 120th Anniversary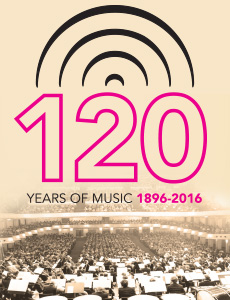 Carnegie Mellon faculty, staff and students can help celebrate the Pittsburgh Symphony Orchestra's 120th anniversary at 6 p.m., Saturday, Feb. 27 at Carnegie Music Hall in Oakland at a special discount price. Students can purchase tickets to the commemorative concert for $15, and faculty and staff tickets are available at a 20 percent discount.
The PSO will perform significant pieces from its history, including works performed at its first concert on Feb. 27, 1896. Guest artist Jennifer Koh, violin, Principal Horn William D. Caballero, Principal Trumpet George Vosburgh and Principal Tuba Craig Knox will be featured in the program, which includes music from Andre Previn, Beethoven and Leonard Bernstein, among others.
The evening also will feature a pre-concert dinner celebration. Arrive early and join special guests to celebrate the PSO with dinner and a champagne toast. A limited number of tickets are available for $140 each.
Students Are Finalists in Architecture Competition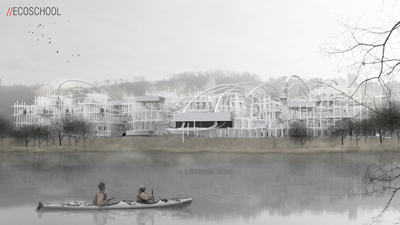 Junior architecture students Sinan Goral and Sophie Nahrmann have been named finalists in the international FLUX Sustainable Architecture @ Scale Emerging Architects Design Competition. The competition includes a People's Choice component, for which voting is open through today (Feb. 25).
Their project, "Ecoschool," proposes sustainable and affordable student and faculty housing units in the hearty, commercial and industrial Strip District of Pittsburgh. Their project description states, "The ecoschool reverse-engineers how waste water and energy are processed within a building by exposing such systems to create beautiful, austere, and honest pipe networks that are enclosed by a reductive and cloud-like cage. Critiquing architecture's tendency to veil such systems, this approach stresses the technological advancement of on-site bio-machinic processing systems, heightens the awareness of climate change, and hints at a futurist, technology-empowered housing strategy."
Find out more about their project. 
Electric Vehicles Need Elmination of Coal Plants To Reduce Pollution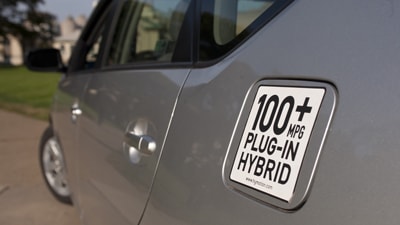 A new study by CMU researchers finds that electric vehicles charged in coal-heavy regions can create more damage to human health and the environment than gasoline vehicles in those regions. But many coal-fired plants are set to be retired soon, which could flip the scales in favor of electric vehicles.
Assistant Professor of Engineering and Public Policy Paulina Jaramillo; Professor of Engineering and Public Policy and Mechanical Engineering Jeremy Michalek; and former Engineering and Public Policy Ph.D. student Allison Weis studied the electricity grid in a region that included Washington, D.C., Philadelphia, Pittsburgh and Chicago.
The study, published in the journal Environmental Research Letters, examined vehicles that use electricity, gasoline or a combination of the two energy sources.
"The most recent year for which all of the necessary data are available to make this assessment is 2010," Michalek said. "We find that in 2010 a battery electric vehicle like the Tesla Model S could cause two to three times as much damage to human health and the environment as an ordinary gasoline vehicle."
The largest source of damage stems from sulfur dioxide emissions from coal-fired power plants, which form airborne particles that people breathe, according to the study.
Forbes Avenue Restrictions, Feb. 29 – April 1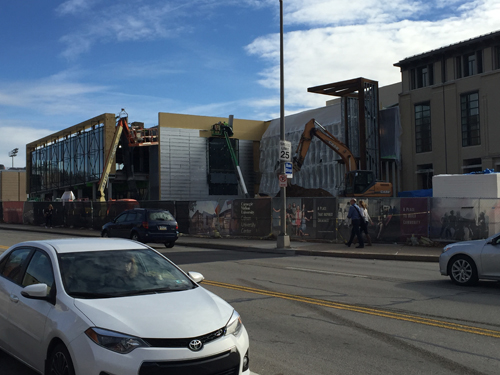 Modifications will be made to the sidewalk in front of the Cohon University Center Addition beginning Monday, Feb. 29, and continuing through Friday, April 1, weather permitting.
The project work will include a new sidewalk, planting beds and a vehicle pull off in front of the Cohon Center. The work will be done in collaboration with the City of Pittsburgh and all necessary permits and clearances have been obtained.
To complete the work, the sidewalk along the Cohon Center construction site, between the bus stop and the East Campus Garage, will be closed 24/7 throughout this period. Pedestrian traffic along Forbes will be directed to the crosswalks at the Morewood Avenue and Beeler Street intersections and to the northern sidewalk along Forbes. Pedestrians also can follow the detour through campus.
In addition, work activities will cause eastbound traffic on Forbes in front of the construction site to be reduced to one lane from 7 a.m. to 3 p.m., Monday through Friday. The restriction will be in effect from Morewood to just past the access drive to the Cohon Center loading dock. Westbound traffic on Forbes will not be affected.
Access to Loading Dock and East Campus Garage
Access to the Cohon Center loading dock will be restricted to a single lane from Feb. 29 to March 25 to allow for construction of a new concrete apron and lane divider. Due to this restriction, the access drive will be limited to delivery vehicles only.
Access to and from the East Campus Garage will be from the Beeler Street Entrance/Exit during this time (Feb. 29-March 25).
Find out more about the Cohon Center addition.
Henry Armero Memorial Award Announces 2015-16 Recipients
The Henry Armero Memorial Award for Inclusive Creativity is funding eight undergraduate student projects for 2015-16. The annual $2,500 award is open to juniors and seniors enrolled in the BXA Intercollege Degree Programs, the School of Art and the School of Computer Science.
The grant rewards student projects with a focus on creativity, eclecticism, individuality and inclusiveness that finds innovative ways of fostering on- and off-line communities. The projects will be presented to the public during Ceilidh Weekend in October 2016.
This year the projects cover a variety of media including interactive public art installations, robotics, clothing garments, animations, graphic novels and virtual reality. Learn more about the recipients and projects.
Simon Initiative Launches New Website
The Simon Initiative has launched a new website that prominently features the initiative's new look and feel as well as its projects, partners and funders. Additional upgrades are planned throughout the spring, including an expanded affiliated faculty section and a more comprehensive history of learning science research at CMU. Visit the new Simon Initiative site.
DHTI Seeks Fourth Round of Health Care Proposals
The Disruptive Health Technology Institute (DHTI) has announced its 2016 Request for Proposals, kicking off its fourth round of funding opportunities. DHTI is seeking proposals from CMU faculty directed at addressing pressing issues in health care and improving community health and wellness. Awards are intended to support research that identifies disruptive health care innovations that can be clinically tested and rapidly delivered to a clinical setting or practice in the field.
The 2016 RFP submission system is now live and ready to accept proposals at www.engineering.cmu.edu/dhti. The deadline for receipt of submissions is Wednesday, March 16. All information, required templates and submission instructions can be accessed on the website.
Two information sessions will be offered to answer any questions regarding technical focus areas, pre-award and post-award activities, and requirements and/or preparation of proposals. These will be held in 6002 Scott Hall on the following dates:
Feb. 29, 2 - 3 p.m.; and
March 7, 1 – 2 p.m.
The novel DHTI projects led by CMU researchers continue to be supported by generous ongoing funding (renewed for 2016) from Highmark Health (HH). Both CMU and HH are dedicated to working collaboratively to create solutions that will impact large populations, have the ability to provide substantial health care savings, and lead to improvements in patient safety and quality of life.
Reminder: Although there is a preference for funded projects to work in collaboration with Allegheny Health Network clinicians, DHTI funding has no restricted covenants and no exclusivity clauses to prevent you from working with other organizations on additional projects. DHTI was created to be an agile and inclusive health care ecosystem at CMU. All IP developed in DHTI sponsored projects is owned by CMU and the funder is given a first right of refusal to license the IP for commercial purposes.
To date, DHTI has funded $4.5 million for 34 projects led by CMU researchers who are striving to create disruptive health care solutions. Grants are for one to two years and generally range from $100,000 to $300,000.
Over the course of three funding cycles, 119 proposals have been received for consideration from the College of Engineering (40), School of Computer Science (50), Mellon College of Science (17) and the Dietrich College of Humanities & Social Sciences and Heinz College (12).
ProSEED/Crosswalk Grant Proposals Due March 31
Students, faculty and staff are invited to submit proposals for the next round of ProSEED/Crosswalk seed funds; proposals are due March 31. This program aims to foster and promote new ideas that cross boundaries within and outside of CMU. Funds ranging from $500 - $2,500 may be requested to support the development of new initiatives in areas such as quality of campus life, service learning, student competitions, new course development, entrepreneurial activities and pilot projects.
Learn more about ProSEED. Email questions to proseed@andrew.cmu.edu.
Get Food Fast with GET

GET Food is a new dining online and mobile application that allows students and the entire CMU community to pre-order food for pick-up at participating dining locations. With GET, customers can view menus of participating locations, place customized food orders, schedule food pick-up times, and pay with DineXtra, Flex or a credit card. When you pick up your order, you can bypass any lines or waits!
At this time, The Underground in Morewood Gardens and Tartans Pizza in the Tartans Pavilion in Resnik are accepting GET orders. (Rothberg's Roaster II, the new café that will open this spring as part of the Scott Hall building project, will be the third dining location to accept pre-orders through GET.)
Click here for more info about GET Food.
Swimming Lessons Offered
Carnegie Mellon's swimming and diving team is offering private swimming lessons for children (ages 3 and up) and adults. Each one-on-one, 30-minute lesson is designed to benefit swimmers of all levels: beginner, intermediate and advanced.
Lesson dates are March 28, 29, 30 and 31, and April 4, 5, 6 and 7. Lesson times are 4:30 – 5 p.m., 5 – 5:30 p.m., 5:30 – 6 p.m. and 6 – 6:30 p.m.
The cost is $25 for one lesson, $80 for four, and $150 for eight lessons.
For more information and to register, contact James Sica at 412-268-6082 or jsica@andrew.cmu.edu.
Registration Open for Architecture Outreach Programs
Registration for the School of Architecture's winter/spring Saturday Sequence and EQUIP Backpacks outreach programs for K-12 students is now open.
Saturday Sequence provides students with a mini-studio experience in which participants tackle authentic, age-appropriate design projects to explore the field of architecture. Teachers are top undergraduate and graduate students in architecture and engineering. Past themes have included computational design, urban design and sustainable design.
The EQUIP Backpacks program is an in-school experience that brings architecture professionals into third-, fourth- and fifth-grade classrooms, where they work with students on active, architecture-themed STEAM (science, technology, engineering, arts and math) challenges.
For more program and registration information, visit http://soa.cmu.edu/architecture-explorations.
Questions? Contact Outreach Coordinator Samantha Carter at 412-268-5551 or scarter@andrew.cmu.edu.
CMU Hosts iD Tech Summer Camps for Kids
This summer, encourage the awesome in your child! At iD Tech summer programs, students between the ages of 6 and 18 can learn to code, design video games, mod Minecraft, model 3-D characters, engineer robots, create websites, discover photography, print 3-D models and much more.
Campers are taught in small groups of eight for personalized instruction. iD Tech offers a variety of summer programs for kids and teens, including an online learning platform for ages 10-18 (Tech Rocket), early-education STEM programs for ages 6-9 (iD Tech Mini), all-girls camps for ages 10-15 (Alexa Cafe), and two-week, overnight programs (iD Game Design & Development and Programming Academies) for teens wanting the most immersive, in-depth instruction.


Save $75 with code CMUTC2016 when you register and pay in full by June 1. (The savings for iD Tech Mini is $50.) Visit www.iDTech.com for more information or call 1-888-709-8324.
Responsible Research Conduct Sessions Offered
CMU's Office of Research Integrity and Compliance (ORIC) is once again sponsoring Responsible Conduct of Research (RCR) Brown Bag Sessions during the spring 2016 semester for faculty, students and staff. All sessions are from 12 – 1 p.m. in the Cohon Center's Connan room, as follows:
Wednesday, March 23: Human Behavior Monitoring;
Wednesday, March 30: Export Control Update: Changes to OFAC Regulations and Sanctions;
Wednesday, April 20: Intellectual Property at CMU; and
Wednesday, April 27: Data Management Planning.
More information is available on the RCR website. Space is limited, so please register early.
Classes Offered in Defensive Driving
Defensive Driving training classes are being offered this semester by Environmental Health & Safety (EH&S). Classes will run from 8:30 to 10:30 a.m. in the EH&S conference room.
Use your Andrew ID and password to register online.
The class dates are March 8, April 12 and May 10.
Questions? Contact Workplace Safety Manager Rebecca Cicco at rcicco@andrew.cmu.edu.
SURG and SURF Application Deadline is March 21
The application deadline for 2016 Summer Undergraduate Research Grants (SURG) and Summer Undergraduate Research Fellowships (SURF) is 5 p.m., Monday, March 21.
SURFs are open to all undergraduates interested in any form of research. Awards of $3,500 are available for eight to 10 weeks of full-time summer research on campus in any field of study. Students may work alone or in a group, but must apply for the fellowship as an individual — no group awards are available. There are two types of proposals: Type I for students in the creative arts and humanities who will submit a research-based "making" project; and Type II for all other students submitting proposals.

SURGs are open to all undergraduates in any discipline. Grants of up to $500 are available for single entries and grants up to $1,000 are available for group entries to cover costs such as supplies and materials, time on laboratory equipment, or travel to another city for data.
To assist students with their applications, two workshops are being held in the Gates Center 4102. They are:
4 – 5 p.m., Sunday, Feb. 28; and
4:30 – 5:30 p.m., Tuesday, March 15.
Whether or not students attend a workshop, it is recommended that they submit a draft proposal for review at least one week before the deadline. Proposals can be reviewed by Undergraduate Research Office Director Stephanie Wallach (sw4s@andrew.cmu.edu) or Assistant Director Joanna Dickert (joannad@andrew.cmu.edu). Please send them email for an appointment.