May 17, 2023
Anniversary Exhibitions Trace Influence of Shakespeare through Time and Technology
Media Inquiries

Name

Shannon Riffe

Title

University Libraries
This year, the Carnegie Mellon University Libraries presents two exhibitions(opens in new window) to mark the quatercentenary (1623-2023) of Shakespeare's First Folio, a copy of which is held in the Libraries' Special Collections(opens in new window). Organized in collaboration with The Frick Pittsburgh(opens in new window), these exhibitions are offered in two venues:
"Inventing Shakespeare: Text, Technology, and the Four Folios," opened in CMU's Hunt Library on March 6 and runs through Dec. 1, 2023. 
"From Stage to Page: 400 Years of Shakespeare in Print," is mounted in the Frick's Jacobean Room from April 1 through Oct. 1, 2023.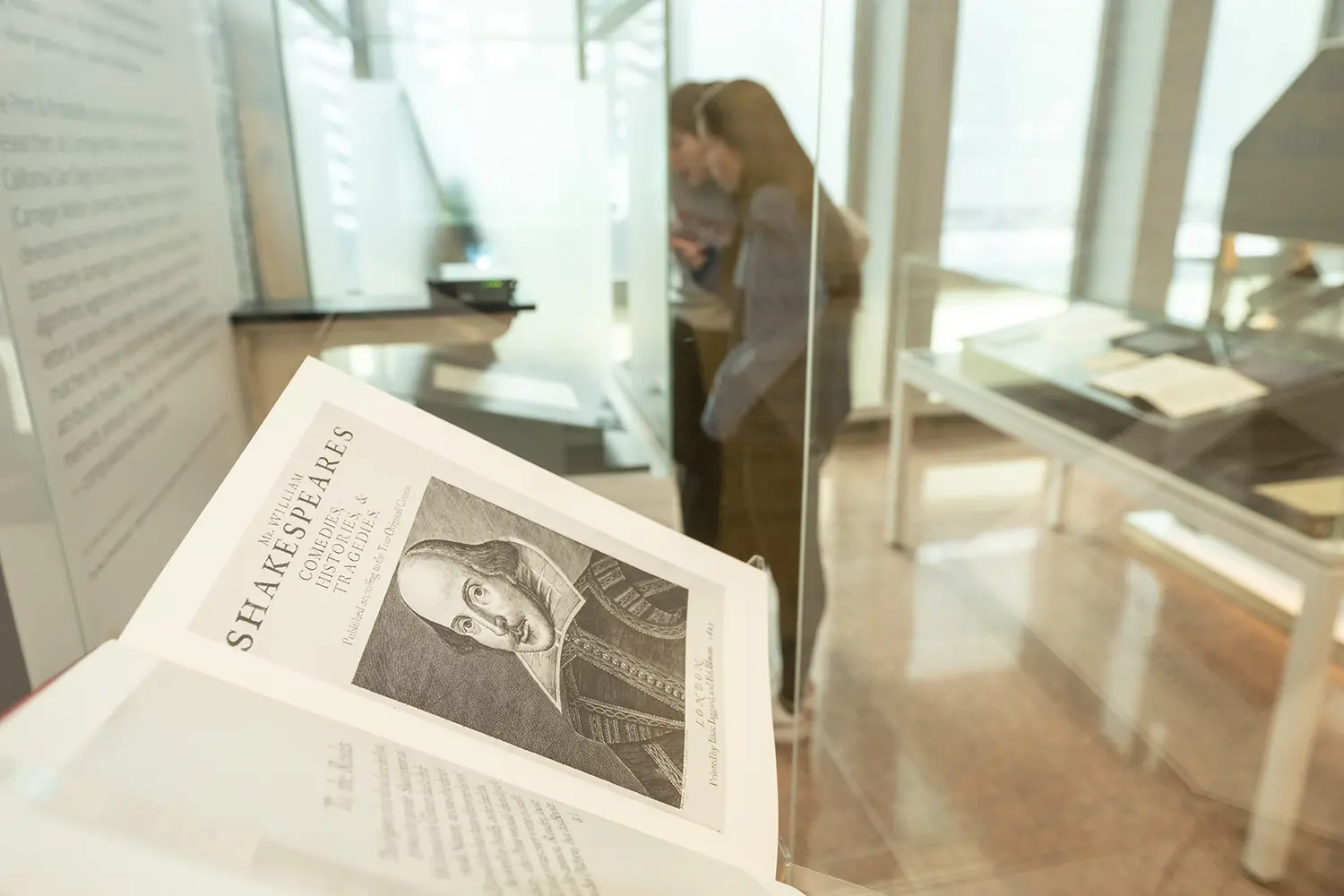 "Inventing Shakespeare: Text, Technology, and the Four Folios" exhibit at Carnegie Mellon University.
Printed in 1623, seven years after Shakespeare's death, "Mr William Shakespeares Comedies, Histories, & Tragedies" was the earliest comprehensive gathering of Shakespeare's plays in print. The collection preserved 36 of Shakespeare's plays, half of which had never been printed before and might otherwise have been lost, including "Macbeth," "The Tempest," and "As You Like It." It established the version of Shakespeare that is read and performed today and remains an important cultural artifact. The Libraries' copy is one of only 228 that survive.
Special Collections also has two copies each of the second, third and fourth Shakespeare folios. These editions are subsequent printings of the plays collected in the First Folio, made due to popular demand, and have an equally fascinating history to explore.
(opens in new window)
The exhibitions are curated by Sam Lemley(opens in new window), curator of Special Collections, and art directed and designed by Heidi Wiren Bartlett(opens in new window), associate director of marketing. Together, they trace the history and influence of the Shakespeare folios from the 17th century to the present.
"Carnegie Mellon is incredibly lucky to steward these rare copies of such an influential text, thanks to the trust and generosity of Charles J. Rosenbloom and the Posner family," said Helen and Henry Posner, Jr. Dean of Libraries Keith Webster. "These exhibits offer a once-in-a-lifetime chance to engage with the content and context of the folios, and are relevant to any discipline — in true Carnegie Mellon fashion, they explore connections to history, literature, drama, computer science, technology and more."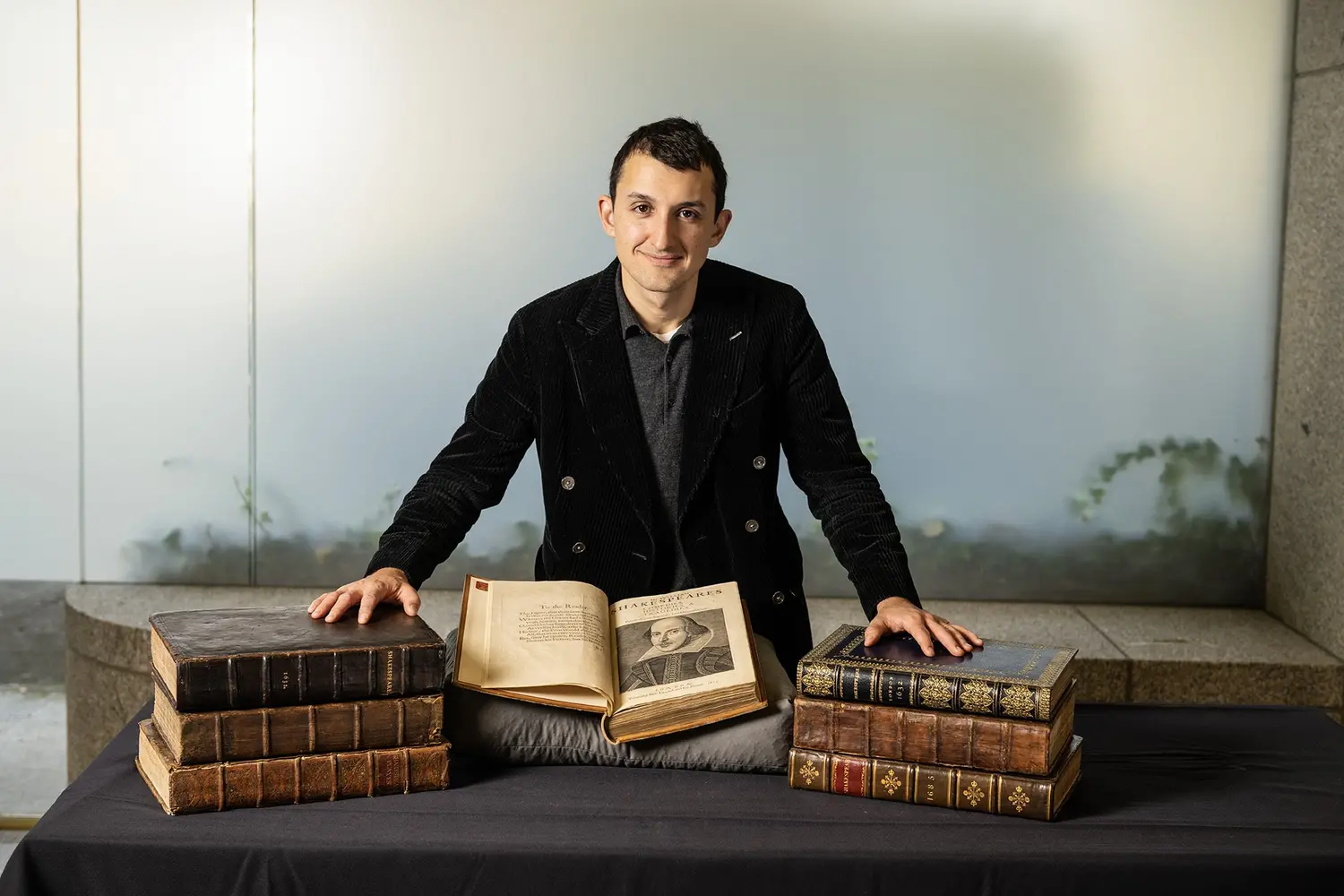 Sam Lemley, curator of Special Collections.
"From Stage to Page" tells the story of the First Folio's origins in the bookstalls of 17th century London and considers the histories of three later, lesser-known folios published in 1632, 1663 and 1685. The exhibition presents a rare opportunity to see all four folios in one room — the CMU folios have never been displayed to the public — offering an extraordinary look at Shakespeare's enduring legacy.
Through their partnership, the exhibition team was able to benefit from the Frick's historic facilities — including an exhibition room with period-appropriate 17th century wood paneling — and their expertise in showcasing important and rare cultural artifacts for the public.
"In a way, the Libraries provided the intellectual content and the books, while the Frick team has worked wonders to frame it all for display and promote it to the community," Lemley explained. "The partnership has given the Libraries more reach and clout in Pittsburgh and beyond."
The collaboration with the Frick, especially Chief Curator and Director of Collections Dawn Reid Brean, also expanded the content of the exhibit — including Shakespeare adaptations for children and an illustrated copy of "A Midsummer Night's Dream" from 1908, both from the Frick's collection.
"'From Stage to Page' would not have been possible without our valued partnership with Carnegie Mellon University Libraries," said Brean. "Both of our collections have a 'hidden gem' reputation, but this exhibition offers an opportunity to celebrate treasures from both institutions. We hope this exhibition inspires visitors to explore the rich and diverse ways in which Shakespeare's works continue to be celebrated and adapted."
At Hunt Library, "Inventing Shakespeare" explores the technologies and computational tools used to study the four folios since 1950. It speaks to CMU's culture of innovation, collaboration and technological inventiveness, as well as the continued relevance of Shakespeare in a variety of fields today.
The centerpiece of the exhibition is the Hinman Collator, which the Libraries acquired in 2020. Invented by Shakespeare scholar Charlton Hinman in the 1960s, the machine is an optical-mechanical device used to compare two copies of the same book through stereoptics. Blinking lights reveal first one copy and then another, which blur into one image. Any differences between the pages — like damaged type, alternate spellings or even completely new text — stand out.
A video playing at the exhibition shows this phenomenon in action. Hinman's work analyzing 55 separate copies of the First Folio revealed that no two copies of the book are completely identical. 
In the years since this development, engaging with Shakespeare's work has continued to inspire innovative projects and discoveries. Two such projects(opens in new window) at CMU — the Print & Probability project led by Associate Professor of English Christopher Warren(opens in new window), and Shakespeare-VR, led by Assistant Professor of English Stephen Wittek(opens in new window) — are also featured in "Inventing Shakespeare."
The goal of the Print & Probability project is to use computational tools and methods to detect new evidence in early printed books. Warren collaborated with Lemley on the project, along with Max G'Sell, an associate professor of statistics and data science, and Matthew Lincoln, senior software engineer for text and data mining at JSTOR Labs. In 2022, the team received a grant from the National Endowment for the Humanities (NEH) for their work.
"The team has already solved some long-standing mysteries in bibliographical scholarship and literary history," Lemley said. "We've aimed for a kind of computational substitute for what Hinman was doing mechanically: computer vision and machine learning allow us to detect patterns of evidence in early printed books that are incredibly difficult to see with the naked eye alone."
Many historical texts from the 17th and 18th centuries don't include the name of a publisher. In fact, the Fourth Folio is unattributed. But by looking closely at the texts, factors like typographical details, recurring pieces of damaged type, and similar or divergent paper stocks can be used to link books by the same publisher.
The team was able to determine that Robert Roberts printed the first section of the Fourth Folio, and to identify the printers of remaining sections as well. The exhibition also includes another text printed by Roberts, "Annotations upon the Holy Bible." Visitors can compare the similarities between the texts.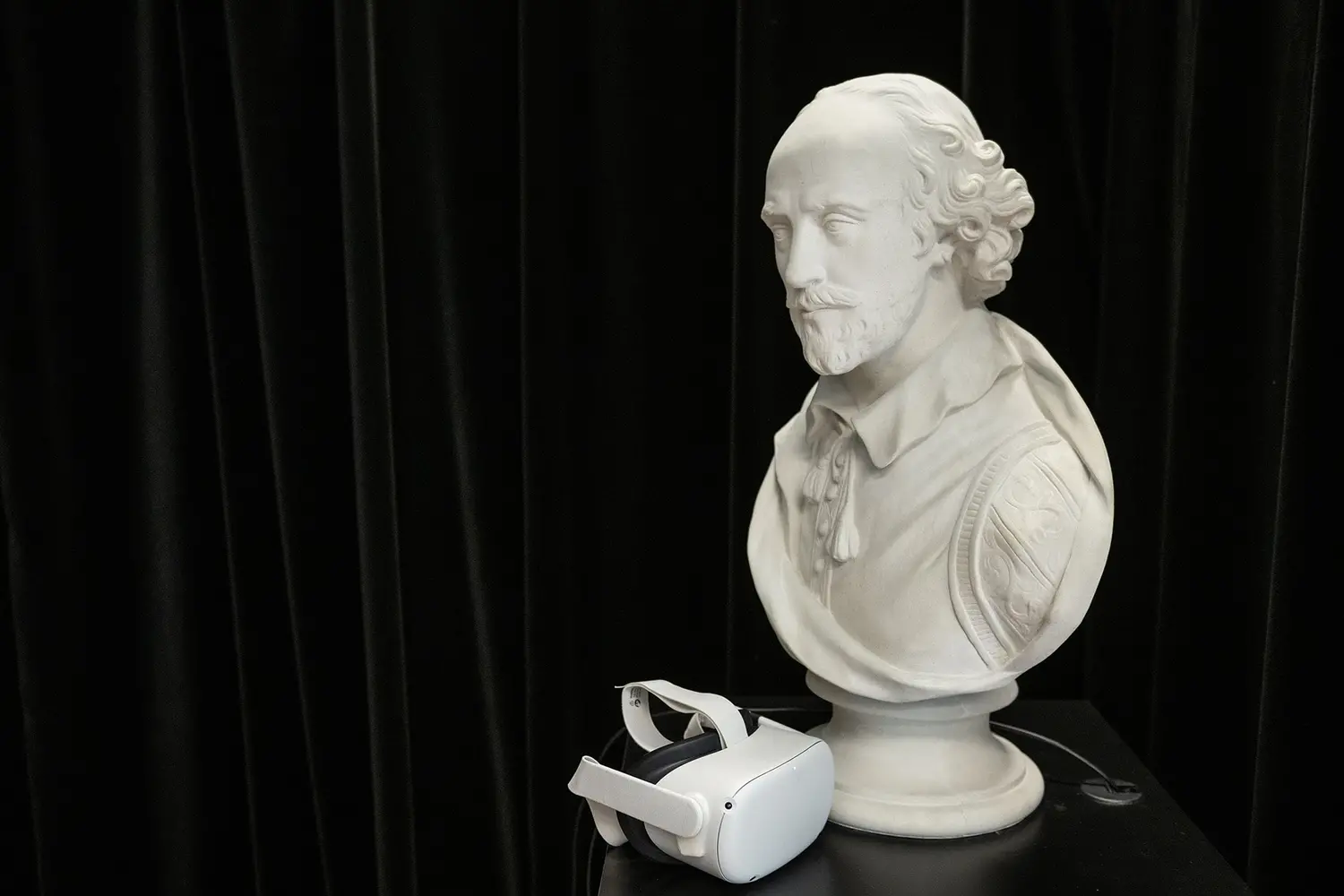 Shakespeare-VR uses virtual reality technologies to bring students face-to-face with professional actors performing Shakespeare.
With Shakespeare-VR, Wittek uses virtual reality technologies to bring students face-to-face with professional actors performing Shakespeare in venues like the Globe and Blackfriars theatres. Real Shakespeare performances filmed at the American Shakespeare Center in Staunton, Virginia form the basis for a 3D reconstruction. Wittek's work, which was also supported by an NEH grant, addresses the lack of material evidence depicting exactly what a 17th century playhouse was like.
The exhibition includes a VR headset which situates the viewer in a full-scale, speculative reconstruction of Blackfriars Playhouse, the indoor theater that Shakespeare's acting troupe, The King's Men, used as a winter venue after 1608.
"Inventing Shakespeare" also includes fragments from several imperfect folio copies, including a fragment of "Hamlet" from a copy of the Second Folio.
While the Shakespeare folios are a jewel in CMU's Special Collections, other areas of strength include the history of computing, cryptography and robotics(opens in new window). Lemley's goal is to reflect Carnegie Mellon's unique history and individual strengths through a highly specialized collection as he works to build the preeminent academic resource in these areas.
"It's surprising to realize how centuries-old books have inspired inventive scholarly tools. The First Folio has rightly been called 'the most thoroughly studied early modern book,' and the intensity of that study has led to groundbreaking methods and technologies," Lemley explained. "But the best part is that this story of innovation is still unfolding at CMU. While the folios don't offer a direct connection to, say, the history of computing, they are part of a culture at CMU that links disciplines and proposes radical new solutions to established problems."
For more information about CMU's folios, visit the exhibition page(opens in new window) or download a digital copy of the exhibition guide(opens in new window).