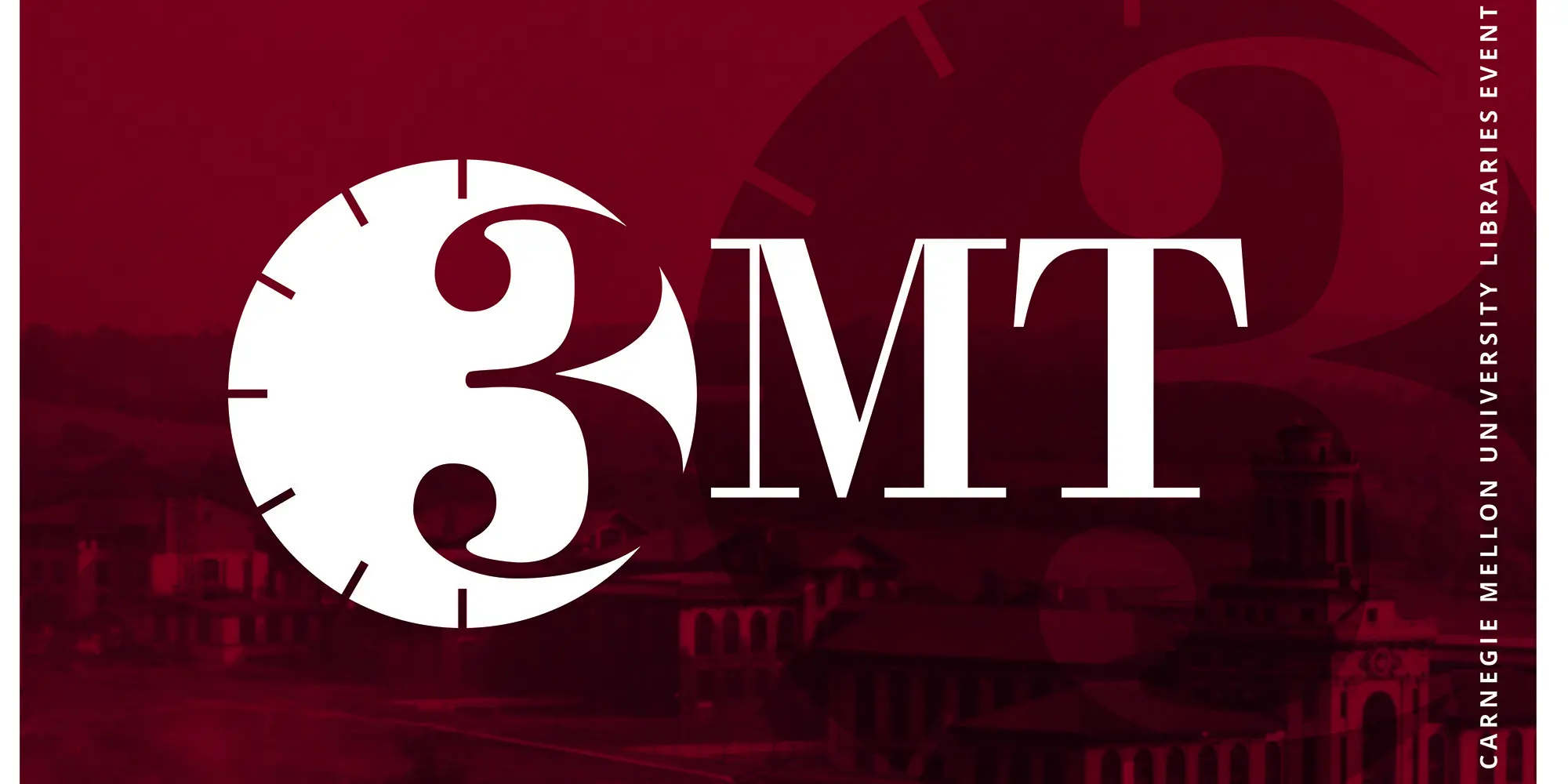 February 20, 2023
Doctoral Students Rise to 3MT Challenge
Media Inquiries

Name

Shannon Riffe

Title

University Libraries
Carnegie Mellon University's Three Minute Thesis (3MT) pits doctoral students against the clock and each other to explain complex research and captivate their audience in just three minutes. Eight finalists will compete in the 3MT Championship(opens in new window) on Tuesday, Feb. 28, at 6 p.m., in the College of Fine Arts Building's Kresge Theatre. A livestream will also be available.
3MT is a celebration of research that challenges Ph.D. students to present a compelling oration on their thesis and its significance in language that anyone can understand. Developed by The University of Queensland in Australia, the competition was brought to Pittsburgh by Helen and Henry Posner, Jr. Dean of Libraries Keith Webster in 2013. Since then, CMU doctoral candidates have joined students at over 900 universities across more than 85 countries worldwide in sharing their work with broad audiences through the competition.
Finalist Kushagra Varma was inspired to participate in 3MT by last year's second place winner(opens in new window), fellow School of Architecture(opens in new window) student Suzy Li. In his presentation, he'll share his work developing a 4D urban building performance data benchmarking and visualization tool.
This innovative tool would enable cities to identify and address greenhouse gas concerns at the city-wide level, rather than looking at individual buildings or campuses. Varma's research would share emissions and water-use data with building stakeholders, and provide energy reduction and decarbonization pathways for buildings participating in Pittsburgh's energy benchmarking ordinance.
"It's more critical now than ever to understand the environmental performance of our existing buildings — most of them can become very efficient with minimal design and engineering efforts," Varma said. "As the saying goes, 'What gets measured gets managed.' To meet the global warming limiting goal of 1.5 degrees Celsius, we want to start measuring, benchmarking and actively improving the performance of buildings at an urban scale."
This year, students from each of CMU's seven schools and colleges participated in the preliminary rounds, showcasing the depth and breadth of the research being conducted in a myriad of fields across Carnegie Mellon.
One finalist working in neural computation and machine learning(opens in new window) is studying the brain's equilibrium of stable states, and the volatile, chaotic transitions between them.
Instead of watching a brain perform artificial tasks inside an MRI machine, Maxwell Wang's research looks at a range of activity over a continuous weeklong period. Most of his data comes from UPMC's neurosurgery department.
"Over the past 60 years, we have learned a tremendous amount about the brain by studying how it reacts very quickly to well-controlled experiments," he explained. "We can build on this knowledge by studying how the brain changes very slowly in the chaotic real world."
This insight could lead to new discoveries about health and everyday life, including diseases like dementia or depression.
For Maxwell Wang, being able to communicate this work to a general audience is incredibly important, and 3MT provides a valuable opportunity to practice distilling complex ideas into their simplest forms. "As a medical student, one of the first things we learn is that our entire field relies on close trust between our patients, the medicine and the science," he said. "This trust can only be built through transparency and accountability."
Another finalist, Yingqiao Wang, is in the final year of her Ph.D. in the College of Engineering(opens in new window). She is researching the use of light and nanomaterial to control the brain, in place of bulky bioelectronic implants.
She attended last year's 3MT Championship as part of the audience, and has been waiting for the chance to compete ever since. To prepare for the preliminaries, the materials science and engineering student studied videos of past finalists, taking note of their strategies. "Almost all participants spent nearly half their time explaining the problem they wanted to solve," she said. "This is a key point to help the audience understand the research and connect it to real life."
For her own presentation, Yingqiao Wang emphasizes real-world applications. "Seven percent of total global diseases are neurological disorders," she said. "I hope my research can help us treat diseases like Alzehimer's with minimal damage and a high success rate."
At the championship, CMU leadership and alumni judges will choose the first-, second- and third-place winners to receive $3000, $2000 and $1000, respectively. Two audience-selected winners will receive $500 each for the People's Choice Award and the Alumni Award.
Alumni can watch the competition via the livestream, where they can vote to select the Alumni Award winner.
The Three Minute Thesis Championship is free of charge and open to the public. Registration is required(opens in new window) to attend the in-person event or to view the livestream.