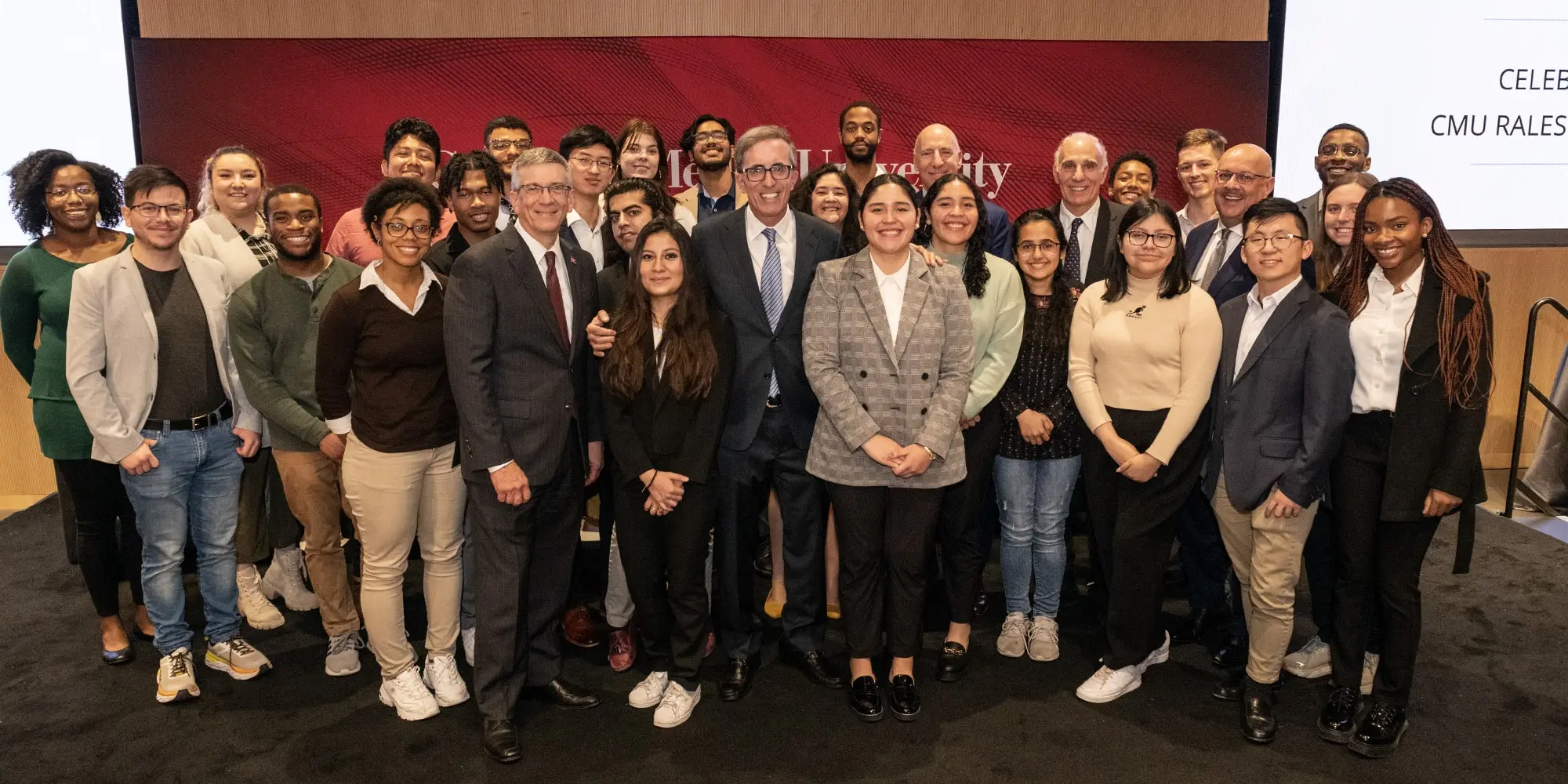 February 27, 2023
CMU Rales Fellows Program Launches at Campus-Wide Celebration
The $150 million initiative will increase access to STEM graduate education and empower the next generation of STEM leaders
Media Inquiries

Name

Peter Kerwin

Title

University Communications & Marketing
The statistics paint a picture of startling disparities: Just 16% of college-educated engineers are women. While 36% of the college-aged population identify as Black or Hispanic, they are just 18.4% of domestic STEM graduate students. First-generation students are 20% less likely to pursue graduate degrees.
And with science and engineering jobs predicted to grow nearly twice as fast as the overall workforce by 2026, addressing the shortfall of students pursuing advanced degrees in STEM fields, particularly among underrepresented and under-resourced individuals, is critical.
At a campus-wide event on Thursday, Feb. 23, Carnegie Mellon University launched its $150-million partnership (opens in new window)with the Norman and Ruth Rales Foundation(opens in new window) to contribute to the national effort to do just that, officially launching the CMU Rales Fellows Program, which will broaden access to STEM graduate education through fully-funded fellowships and generous stipends, wraparound support and professional development resources. The university eventually will host 85 to 90 CMU Rales Fellows each year.
Carnegie Mellon and the Rales Foundation welcomed national thought leaders, innovators, educators and public officials to campus today to discuss how the #CMURalesFellows program will expand access to STEM graduate education. pic.twitter.com/kzMR7EcMw3

— Carnegie Mellon University (@CarnegieMellon) February 23, 2023
"This program is rooted in the profound recognition of the forces currently reshaping our society, including rapid digital transformation and the proliferation of new technologies, which is being accentuated by global competition," said CMU President Farnam Jahanian(opens in new window). "As we confront this rapid pace of change, attracting and equipping a diverse group of future leaders in STEM has never been more important to our nation's economic prosperity, global competitiveness and security."
Along with Jahanian, speakers at the event included Pennsylvania Gov. Josh Shapiro and U.S. Rep. Summer Lee (PA-12); James L. Moore III, assistant director of the Directorate for STEM Education at the U.S. National Science Foundation, and Mary Schmidt Campbell, president emerita of Spelman College; and Joshua B. Rales, president and trustee of the Rales Foundation. Each emphasized the importance of making STEM graduate education more accessible to those currently underrepresented in those fields and hailed the CMU Rales Fellows Program as an important step toward increasing opportunities for both individual students and a country in critical need of STEM leaders.
"This program will help bring talented students to Pittsburgh, and help CMU maintain its position as a leading hub of innovation in the region," said Shapiro during his remarks. "When it comes to Pennsylvania's students and preparing them for the jobs of the 21st century, we need to open up the doors of opportunity for everyone."
The CMU Rales Fellows Program(opens in new window) is a distinctive program that provides graduate school candidates from low socioeconomic backgrounds, first-generation college students, graduates of minority-serving institutions and other groups who remain underrepresented in STEM with full tuition awards as well as a stipend to cover living expenses, housing and health insurance and a suite of resources and services to support their success as they become national leaders for the innovation economy.
"This initiative lines up beautifully with the creative vision of our beloved parents, Norman and Ruth, who deeply believed in extending a helping hand to others, and keeping alive the American spirit of generosity and possibility. My brothers and I can't think of a better way to honor our parents than to keep their values alive," said Joshua Rales, one of the Rales Foundation trustees. "My heart is bursting with happiness today."
"In order for America to maintain its global edge, it is important that we cultivate this talent in those places that are most difficult. This is the kind of groundswell that we want to see, not only in Pittsburgh but in other states, other cities, and all across the country." — James L. Moore III
Both Lee
(seated second from left)
 and Moore 
(seated at far right)
emphasized that a world can be built where everyone could share in the same bright future, including access to education and economic prosperity, provided that investments are made in programs like the CMU Rales Fellows, which democratizes STEM education and puts success in these fields within reach of anyone with the talent and drive to pursue it.
"A better future is absolutely possible, and we are charged to build it," Lee said. "While our fight for equity and justice continues, this is something to celebrate."
Moore also emphasized that the challenge of the Missing Millions — individuals whose personal circumstances have presented a significant obstacle to careers in STEM — could not be solved by any one institution but would require a concerted, collaborative effort across academia, government and industry. His belief was echoed by the day's final speaker, Mary Schmidt Campbell of Spelman College, who called the program "bold, ambitious and, most importantly, designed to succeed."
"What makes today's announcement so thrilling is that the Rales Fellow initiative comes at a moment when we are marshaling our resources and exercising our will to forge a national effort to accomplish equity in STEM," Campbell 
(pictured at podium)
said. "The Rales Fellows Program — with its major level of investment, its carefully researched and constructed design, the dedicated commitment from CMU and everyone involved — undoubtedly, will make the Rales Fellows a cornerstone of the national effort."
Following the speakers, a panel composed of John L. Anderson, president of the National Academy of Engineering; Shirley M. Malcolm, senior adviser to the CEO and director of SEA Change at the American Association for the Advancement of Science; Dr. Carmelle Norice-Tra, clinical director, infectious diseases, at Merck and a former Ron Brown Scholar(opens in new window); and Mitchell Rales, co-founder and chairman of the executive committee at the Danaher Corporation, discussed with Jahanian the topic of "Developing the Next Generation of STEM Leaders."
The lively discussion touched on how a diverse workforce can spur innovation and discovery; why it is such a challenge for universities to graduate more students from underrepresented and under-resourced backgrounds; and how the panelists' own lives and careers were influenced by finding the right mentor at the right time.
In concluding the panel discussion, Jahanian summarized the excitement of those gathered. "This has been a joyful day."
As Governor, I'm working to open the doors of opportunity to all Pennsylvania students — and give them the freedom to chart their own course.

Carnegie Mellon University's new Rales Fellowship will help break down barriers and ensure Pittsburgh remains a leader in innovation. pic.twitter.com/gE1G7Nxw5R

— Governor Josh Shapiro (@GovernorShapiro) February 23, 2023