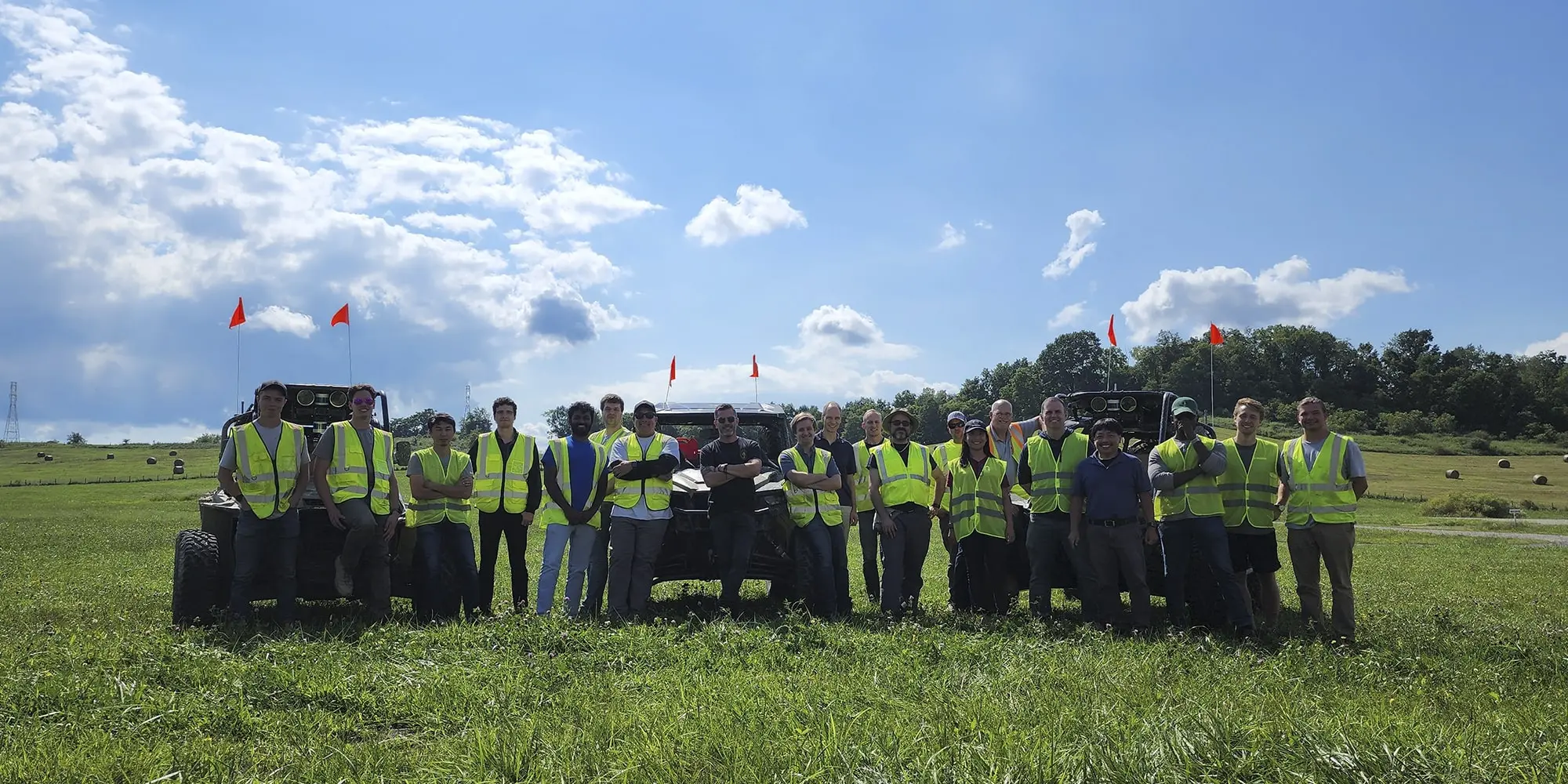 September 30, 2022
Carnegie Mellon and Rochester Push Limits of Off-Road Autonomy in DARPA's RACER Program
Media Inquiries

Name

Aaron Aupperlee

Title

School of Computer Science
Without hands guiding its steering wheel or feet depressing its pedals, an autonomous all-terrain vehicle (ATV) ripped through the high grass across a field, bouncing over rocks and ruts, skirting trees and ditches, and avoiding lakes and steep hillsides.
The side-by-side ATV moved at speeds and over terrain that pushed the limits of off-road autonomy, forcing systems to make fast decisions with limited information. The ATV operated on the edge of what is currently possible — but that's right where the Defense Advanced Research Projects Agency (DARPA) wants it.
A team from Carnegie Mellon University and the University of Rochester is among three participating in the first phase of DARPA's Robotic Autonomy in Complex Environments with Resiliency (RACER) program. RACER challenges teams to build and design autonomous off-road systems that can keep up with traditional military vehicles in difficult terrain. The agency hopes these vehicles may eventually navigate challenging environments better and faster than those with a person behind the wheel. The program intends to accelerate the use of autonomous vehicles in the U.S. Army, Marine Corps and special operations forces.
"The RACER program is pushing us to develop an autonomy system that can not only handle tough terrain but also do so while moving fast," said Matt Travers(opens in new window), a systems scientist in the Robotics Institute(opens in new window) (RI) at CMU's School of Computer Science(opens in new window) and the principal investigator on the DARPA project. "Each one of those is difficult on its own. Combined, it's a real challenge."
Teams were given a high-performance, all-terrain vehicle equipped with world-class sensing and computational ability. The RACER Fleet Vehicles, which look like dune buggies, were delivered in late 2021, and teams have spent the last several months developing autonomy systems for them and testing them in the field.
The entry from CMU and Rochester, Team D.E.A.D. Fast — which stands for Differential Everything for Adaptive Driving Fast — has tested its vehicle in the National Robotics Engineering Center(opens in new window)'s (NREC) parking lot in Pittsburgh's Lawrenceville neighborhood. It's also taken the vehicle out in the rugged terrain around Western Pennsylvania and at the Renegade ATV Park about an hour east of Pittsburgh in Ohio.
The team went to the Mojave Desert in March for its first tests with DARPA and recently completed the second round of demonstrations at Camp Roberts in Central California.
Previous DARPA programs that laid the foundation for RACER include Perception for Off-Road (PerceptOR) and Unmanned Ground Combat Vehicle PerceptOR Integrated (UPI). These innovative perception and navigation programs pioneered off-road autonomous navigation and improved the ability of unmanned ground vehicles to plan paths and navigate obstacles autonomously.
Building upon this legacy, CMU's participation in RACER is poised to push the boundaries of conventional methods. RACER will not only be faster, but it will also continuously integrate both perception and simulation to reach reaction times equivalent to that of an experienced off-road human driver. In fact, the CMU team is working with Baja racing team Arciero Racing(opens in new window) to train its system.
NREC and RI have long tested mobile robotics capabilities in extreme terrains. By focusing on robust engineering and aggressive testing, robotic applications like the Crusher(opens in new window) vehicle perform with more mobility, reliability and flexibility in unstructured, complex environments.
The two organizations also have a strong history with DARPA and continually rank among the top teams in its challenges. CMU's Tartan Racing team won DARPA's Urban Grand Challenge in 2007 with Boss, an autonomous SUV that successfully navigated traffic circles, busy intersections, parking, merging and other urban obstacles. CHIMP(opens in new window), a big red robot with human-like capabilities built by the Tartan Rescue Team, took third in DARPA's Robotics Challenge. And most recently, Team Explorer(opens in new window)'s fleet of robots placed fourth in the Subterranean Challenge, where they earned the distinction of autonomously mapping more of the underground course than any other team.
Phase 2 of the RACER program seeks to add more processing power to the vehicle and to increase its speed, scale and mobility. More information on the RACER program is available on DARPA's website(opens in new window).