March 24, 2022
Jahanian Emphasizes Importance of Universities to U.S. Innovation Ecosystem
Media Inquiries

Name

Ryan Scarpino

Title

University Communications & Marketing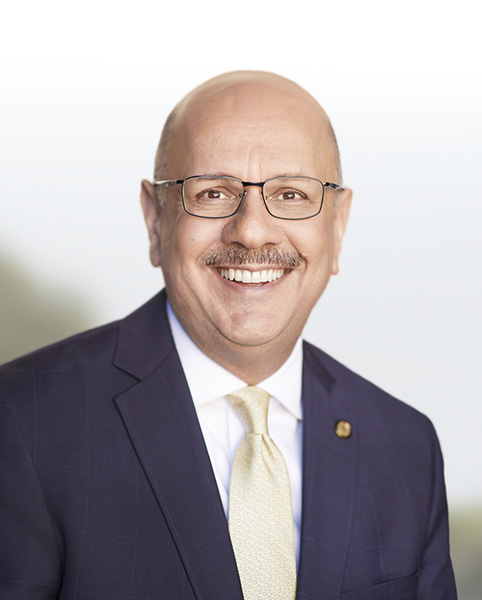 Earlier this month, Carnegie Mellon University President Farnam Jahanian(opens in new window) joined a Duke Law School conference with leaders from top U.S. research universities to examine higher education's future as an engine of American innovation and competitiveness.
During the two-day virtual conference, titled "The Evolving Role of Universities in the American Innovation Ecosystem(opens in new window)," Jahanian appeared on a panel to discuss what steps can be taken to strengthen and support the dynamic role of the research university at a time when our national research and development (R&D) ecosystem is at a crossroads.
"Throughout our nation's history, a thriving innovation ecosystem has served as the foundation for broad economic prosperity for national security and individual and collective well-being," said Jahanian during his opening remarks. "U.S. research universities play a critical role as engines of economic growth, and are the lynchpin for a coordinated, all-of-nation response to today's accelerated pace of discovery and innovation as well as the intense global competition and widening opportunity gap we are seeing."
"U.S. research universities play a critical role as engines of economic growth." — Farnam Jahanian
As Jahanian pointed out, U.S. public investment in R&D has remained flat in recent years, affecting the research university's ability to advance both foundational discovery and mission-inspired research. Jahanian urged increased investment in both.
"It's important to understand that science, innovation and tech transfer happen along a dynamic continuum," he said. "While some believe the current moment creates an imperative to choose between curiosity-driven research and use-inspired research, we must remember that innovations occur along this continuum. The historical strength of the U.S. innovation ecosystem is that the federal government has strategically derisked investments at both ends."
Jahanian's comments regarding public investment in research were echoed by the panel, which included Rebecca Blank, chancellor of the University of Wisconsin-Madison; Shirley Ann Jackson, president of Rensselaer Polytechnic Institute; and Vincent Price, president of Duke University.
The conversation, which was moderated by Kerry Abrams, dean of the Duke Law School, also covered how universities can prioritize the transfer of research to society through commercialization, catalyze interdisciplinary collaboration, and foster productive public-private partnerships.
The panelists also discussed the impact of universities on their surrounding communities. Jahanian highlighted that greater investment — especially in emerging technologies such as artificial intelligence, autonomy and robotics, advanced manufacturing and next-generation wireless — coupled with intentional public-private partnerships can help close a widening opportunity gap that is leaving too many Americans behind.
"Universities, government agencies, community organizations, industry and public-private partners have to work together on complicated societal challenges," said Jahanian. "While universities often serve as the foundation for innovation and discovery, we have to be intentional and collaborative in bringing innovations to bear to broadly impact society. By enhancing engagement in science and research by a broader cross-section of our country, we can expand the geography of innovation in the United States."
Jahanian's remarks during the panel drew from his Congressional testimony(opens in new window) before the House Science, Space and Technology Committee last April. Since then, he has continued to shape the national dialogue on the need to invest in R&D at the pace and scale of innovation today. There is growing bipartisan support for such investment and bills like COMPETES, the U.S. Innovation and Competition Act (USICA) and the developing Make It In America Act present an opportunity to invest in all aspects of the innovation ecosystem.
During the Q&A, Jahanian also emphasized the importance of cross-disciplinary collaboration within academia. He highlighted the need to bring social science, humanities and the arts together with science, business and technology to prepare the next generation to be impactful innovators.
The conference was organized by Duke Law's Center for Innovation Policy, a forum for independent analysis and balanced discussion of policies for promoting technological innovation that enhances long-term social welfare.
Takeaways from President Jahanian's Congressional Testimony