April 16, 2021
Three Key Takeaways from President Jahanian's Congressional Testimony
Media Inquiries
Jason Maderer
Marketing and Communications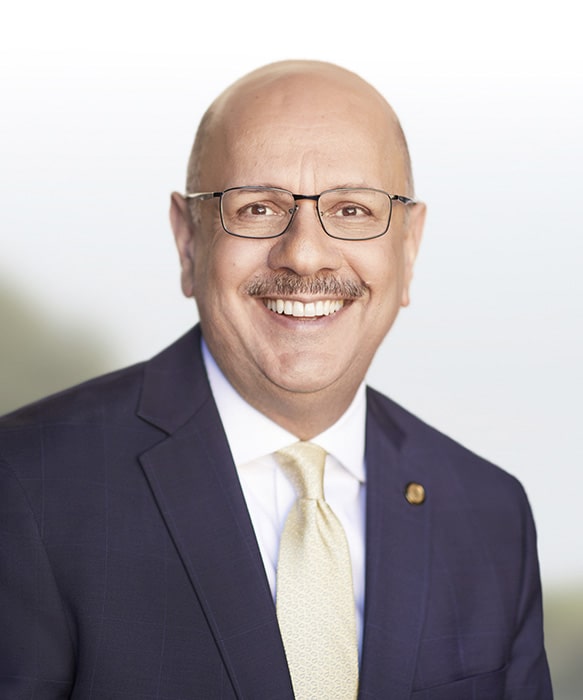 As part of Carnegie Mellon University's leadership in shaping national policy in research and innovation, President Farnam Jahanian testified on April 15th before the House Science, Space and Technology Committee. The virtual hearing, titled "Reimagining Our Innovation Future," focused on increasing federal support for research.
This hearing took place as the nation approaches a watershed moment for U.S. science and innovation. Bipartisan support is growing for investments in our national research and development (R&D) enterprise on a scale not seen since the early days of the U.S. space program.
President Jahanian spoke on a number of topics, ranging from increasing research funding to investing in domestic and international talent, to elevating the role of universities in expanding the footprint of innovation.


Watch CMU President Farnam Jahanian's testimony before the U.S. House of Representatives. 
Here are three takeaways from the hearing.
To Compete Globally, the U.S. Must Invest and Out-Innovate
The United States became a world power due to our fervent belief in the power of American ingenuity, which was enabled by investments in R&D. But the nation's federal spending as a percent of GDP dropped from more than 2 percent at the end of the 1960s to just slightly less than 0.7 percent currently.
"While we need the power of large, intentional and sustained investments in emerging technologies such as artificial intelligence (AI), advanced manufacturing, biotechnology, and quantum computing, we also require investment across the continuum of innovation — from curiosity-driven discovery to use-inspired research," said Jahanian.
His recommendation is to double federal investment in research over the next several years. 
"This increase is needed to invest in the 'big bets' that will drive our global leadership and enable the breakthroughs needed to address urgent societal challenges in healthcare, sustainability, transportation, clean energy, public health, cybersecurity and more."
Strengthening America's innovation economy is also dependent on a robust ecosystem for technology transfer. Jahanian testified that the U.S. has the opportunity to scale its existing programs to foster a research environment conducive to commercialization.
We Need to Win the Race for Talent
The nation must win the global race for talent and build a broad-based science and technology workforce that leaves no one behind.
President Jahanian called for doubling the number of fellowships for graduate students and post-doctoral researchers in science and engineering, as well as increased support for initiatives in STEM education across preK-12, education and workforce training and re-skilling. He also emphasized continued support for international students, echoing previous statements on the importance of secure global engagement.
"I have witnessed firsthand the contributions that international students make to our research community. Many of these scholars go on to become remarkable innovators. Considering that 80 percent of international students who come to the U.S. to study in critical fields wish to stay in America, I believe facilitating the ability of foreign students who earn advanced degrees to remain in the United States would be a powerful contribution to America's talent development and innovation capacity," he said.
We Can Broaden Economic Opportunity by Expanding the Geography of Innovation
For the U.S. to regain its place as a global leader in R&D and innovation, we must bridge the opportunity disparities that impede talented scholars and researchers all over the country.
President Jahanian spoke about the role higher education can play to significantly expand the geography of U.S. innovation and broaden participation in an innovation-based economy.
"The nation must commit to expand significantly the U.S. geography of innovation, anchored by our universities and national labs. U.S. academic institutions and research labs have an extraordinary concentration of intellectual capital and capacity to generate ideas, discoveries and innovations that can catalyze economic growth and job creation," he said.
His testimony also highlighted the value of innovation-based economic development partnerships between the public sector, private sector and universities — partnerships that can create thriving regional innovation ecosystems across the country. 
President Jahanian's submitted testimony may be found online. Joining him as witnesses in the hearing were Dr. Frances Arnold, Professor of Chemical Engineering, Bioengineering and Biochemistry at the California Institute of Technology (Caltech), co-chair of the President's Council of Advisors on Science and Technology and Nobel Laureate; Mr. Norm Augustine, former Lockheed Martin CEO and U.S. Under Secretary of the Army and influential voice in science and technology policy; and Dr. Ernest Moniz, former U.S. Secretary of Energy and president and CEO of the Energy Futures Initiative.