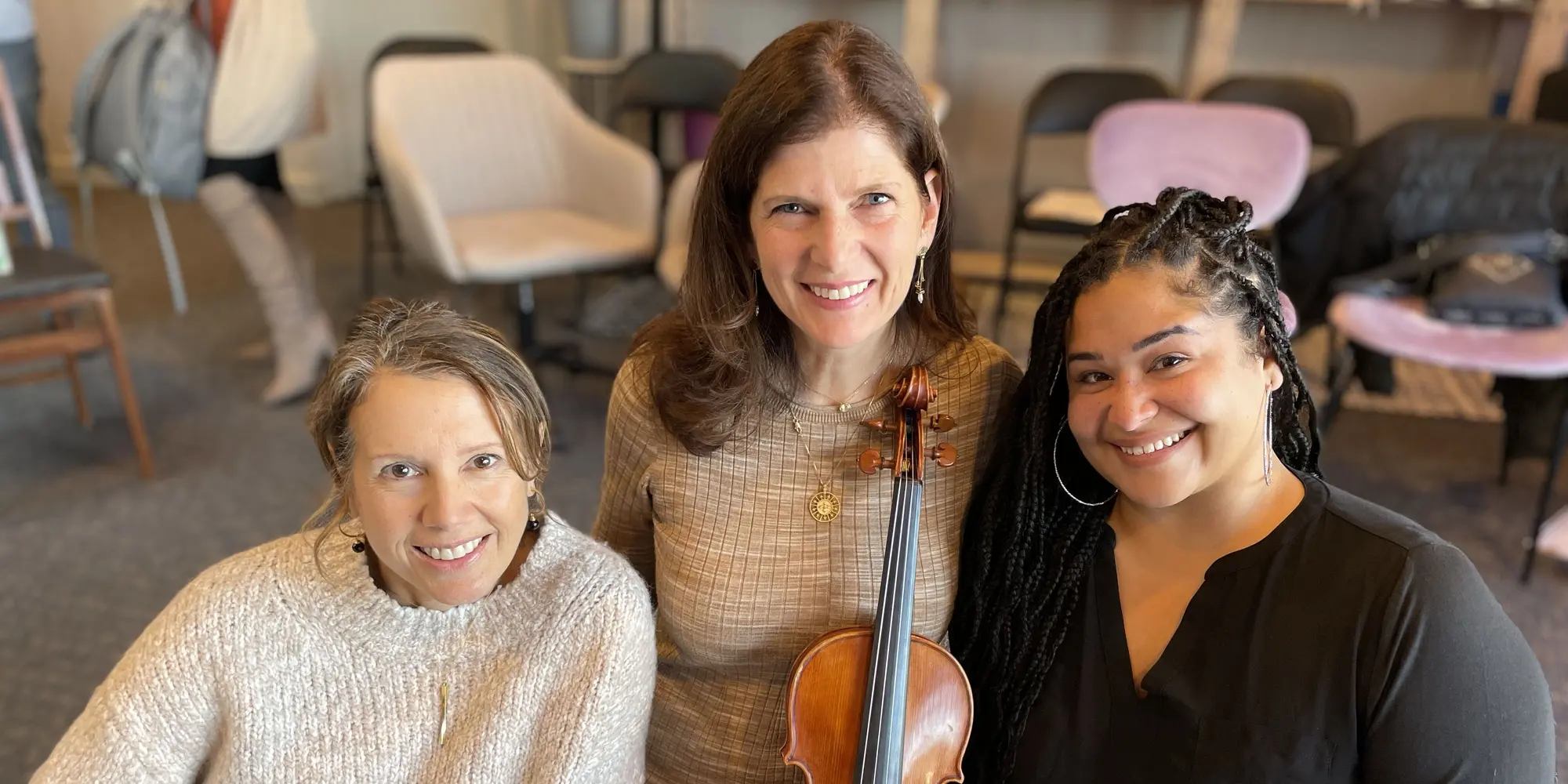 December 9, 2022
The Lullaby Project Comes to Pittsburgh
Media Inquiries

Name

Peter Kerwin

Title

University Communications & Marketing
The Lullaby Project(opens in new window), which pairs new and expecting parents with musicians to write a lullaby for their babies, came to Pittsburgh this fall thanks to a partnership between Carnegie Mellon University's School of Music(opens in new window) and Allegheny Health Network (AHN). The project began at the Weill Music Institute at Carnegie Hall, New York, and has been shown to enhance maternal health, aid childhood development and strengthen the bond between parent and child. This semester, CMU students and AHN partners have incorporated trauma-informed care and cultural responsive pedagogy into the songwriting process.
The songwriting teams included 12 student musicians enrolled in Collaborative Project in Music Entrepreneurship, a course led by Monique Mead(opens in new window), an associate teaching professor and director of music entrepreneurship and Valeria J. Martinez(opens in new window), assistant dean for diversity, equity and inclusion in the College of Fine Arts. (opens in new window)
Mead said songwriting is a vehicle for connection.
"Since its inception, the Lullaby Project has worked with new parents in challenging circumstances to foster an increased maternal bond. Trauma affects health over a lifetime, and we felt that collaborating with AHN could have a meaningful impact on parents and babies with traumatic birth stories," Mead said. "My hope this semester is to guide our teaching artists to support these new or expecting parents in expressing their love, hope and blessings for their children in an original, personalized way."
Tracey Vogel, Monique Mead and Valeria J. Martinez.
"Connection can come in many forms, and music can and should be taken seriously as a form of healing." —Beleyou Kebede
The project began when Claire Gunsbury, a second-year flute performance major, approached Mead about bringing the project to CMU. Gunsbury had participated in another iteration of the Lullaby Project as an undergraduate at the University of Colorado Boulder.
"It was one of the best musical experiences I'd had. It just seemed like something that every school should be doing; it's so enriching as a musician and for the families. It clearly had an impact on the parents and how well they bonded with their children," Gunsbury said.
Mead knew she wanted the course to include sensitivity training, and initially asked Martinez to provide some resources. Soon, the two realized it would be best if Martinez co-taught the course.
"We were able to supplement what the Lullaby Project required with additional training, teaching and facilitation on culturally responsive pedagogy, cultural competencies, critical race theory and thinking and understanding forms of oppression. This further allowed us to use music as a conduit to healing," Martinez said. "This course proves that incorporating those subjects into a curriculum can create and foster a better human experience and interaction. Our class helps people be better people, and this project is exceptional because it does that around the world."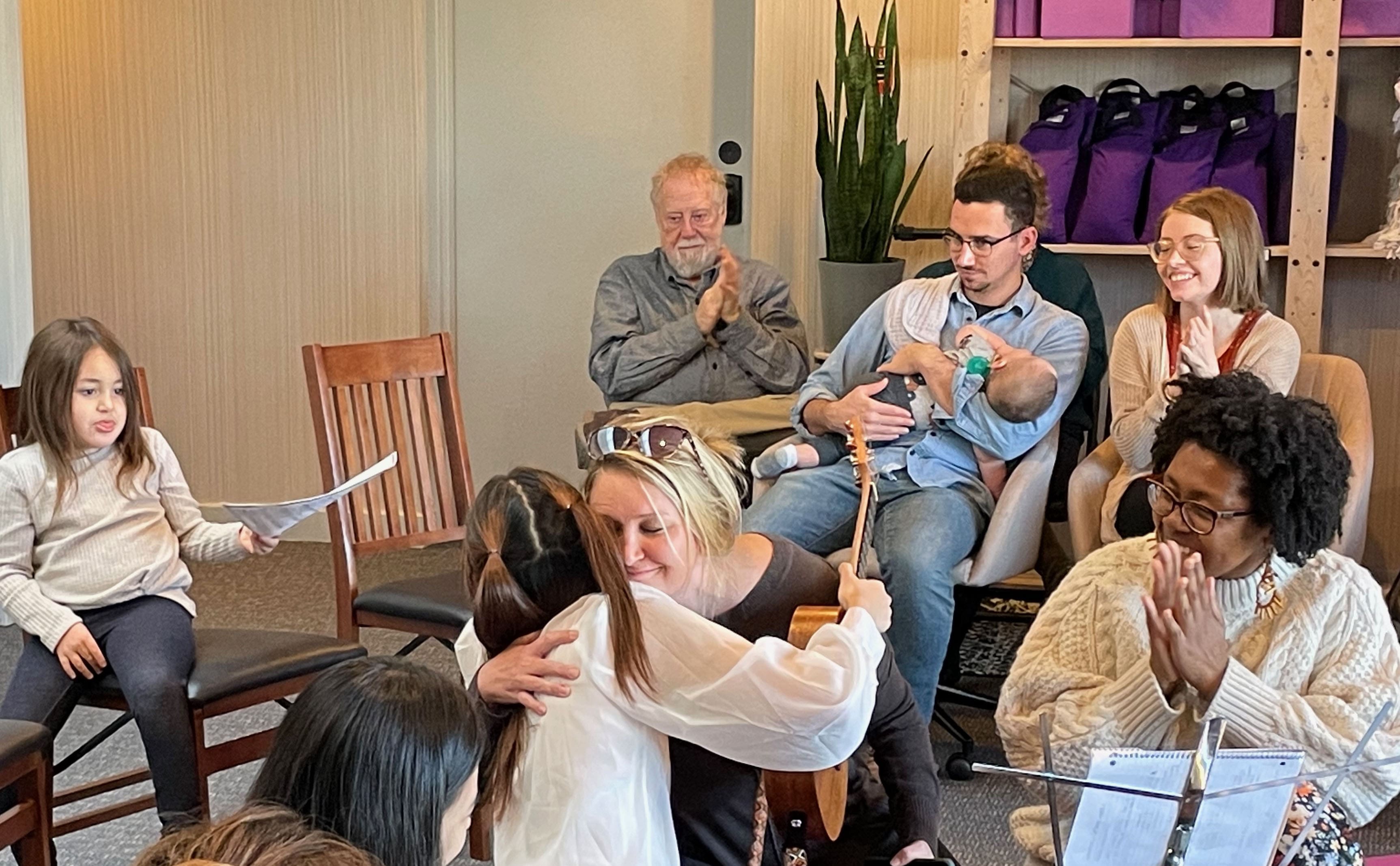 Students, parents and children at a celebratory concert held on Nov. 8, 2022.
CMU collaborated with Dr. Tracey Vogel, anesthesiologist and director of the Perinatal Trauma-informed Care Clinic at AHN's West Penn Hospital, to select obstetric patients to participate in the project. Vogel works closely with this patient population to develop optimal birthing plans that address and help prevent postpartum psychological and/or physical complications from occurring or resurfacing. She also educated the students on this highly specialized and innovative approach to care.
"The AHN Perinatal Trauma-informed Care Clinic serves patients who have diverse experiences with trauma, from preexisting events like domestic violence or sexual abuse to post-birth trauma, emergency cesarean delivery or major loss of blood with a previous delivery," explained Vogel. "As these women prepare for another birth, it's critical that their traumatic history is considered when their care plans are designed. It's also important that we implement care strategies and provide resources that better support women in their fourth trimester (post birth), as research has shown a close correlation between preexisting trauma and bonding impairment between mother and child."
To create the lullabies, student teams met with parents at songwriting sessions to learn about their story and what they wanted to say to their children. 
Beleyou Kebede, a master's student studying public policy and management(opens in new window), said she learned in class that many people who have experienced trauma just want to be able to talk about their stories.
"It's so important that people don't shy away from connecting with those who have gone through something in life," Kebede said. "Connection can come in many forms, and music can and should be taken seriously as a form of healing."
Kebede, who hopes to pursue a career in technology policy, said the Lullaby Project is everything she wants out of music.
"The space that was created in this class was such a safe space, I think we've all grown together and bonded," she said. "It was a great opportunity to talk to people who I wouldn't meet in other ways of life, and an experience I've learned from."
CMU and AHN will collaborate on another iteration of the Lullaby Project in the spring 2023 semester.