June 29, 2021
Podcasts Across CMU
By Michael Henninger mhenninger(through)cmu.edu
Media Inquiries
Shilpa Bakre
Marketing and Communications
The latest offering from the Carnegie Mellon University Libraries won't be found in a book.
"Cut Pathways," a podcast drawing from over 50 hours of oral history interviews with 34 subjects, released its premiere episode on various streaming platforms June 29. It explores the first impressions of the city of Pittsburgh in the 1940s from important figures in CMU's history like Pamela McCorduck, Joe William Trotter Jr. and Vivian Hewitt. Two additional episodes featuring longer interviews will be released weekly, and additional seasons are in development.
Its hosts, Katherine Barbera and David Bernabo, CMU's oral history program director and production assistant, respectively, are using the podcast format to make these stories from former students, faculty and staff available to a broad audience.
"I'm a big fan of an underdog story, and it seems like every interview we have is someone trying to find their way through higher education, eventually finding success," said Bernabo, himself a 2005 graduate from the Tepper School of Business. "Podcasts are very inviting — and universal at this point. They're a really digestible vehicle to listen to these oral histories."
Barbera and Bernabo aren't alone. Across the university, a number of schools, departments, institutes, programs, researchers, professors and students are making podcasts about their areas of expertise.
Kathy M. Newman, an associate professor of English, decided to try an alternative approach to the traditional term paper in her class "Topics in Literature: Watching HBO's Watchmen" in the spring semester of 2021. For their final project, Newman's students produced an eleven episode podcast series, "Tartans Watch the Watchmen."
"The quality of student work is tied to engagement — when students are engaged it doesn't feel like work. With this podcast, engagement was so high. Every student was invested in the process and excited to share what we created," Newman said.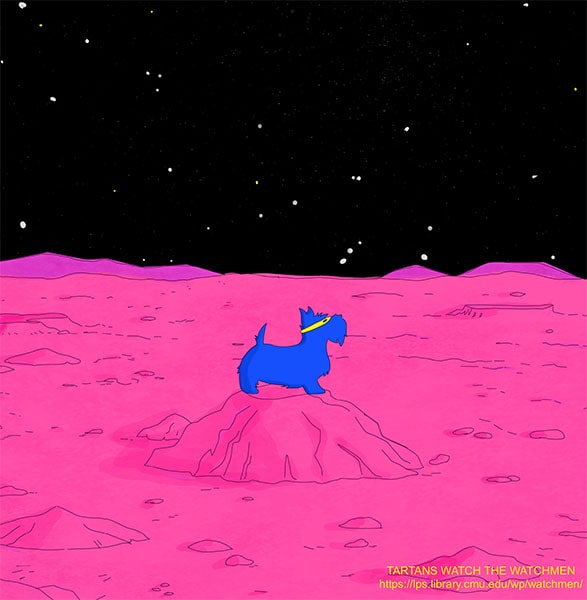 The class deconstructed the 2019 HBO series "Watchmen," a continuation of the 1980s era comic book series. The show's plot evolved from the first episode's depiction of the 1921 Tulsa Race Massacre.
"My students are part of an extraordinary generation. They are very serious about social justice, and so they were able to connect to those themes in 'Watchmen,'" Newman said. "The 100th anniversary of what happened in Tulsa may not have gotten the attention it deserved if it hadn't been for 'Watchmen.' HBO's superhero series raised awareness of a historical event that has mostly been glossed over for the past century. That's the power of the humanities."
The Eberly Center for Teaching Excellence and Educational Innovation aids CMU faculty and graduate students using research-based methods to improve educational outcomes. Marsha Lovett, director of the Eberly Center, associate vice provost for Teaching Innovation and Learning Analytics and a teaching professor in the Department of Psychology, said that Newman's class is indicative of the work being done across the university. 
"I love to see — and support — CMU educators as they develop assignments that transcend the traditional term paper," Lovett said. "Leveraging forms of expression that are present in our daily life can give students the opportunity to practice key concepts and skills in a context they find meaningful and relevant."
In CMU's School of Design, a group of doctoral candidates, graduate and undergraduate students started a bilingual (English and Spanish) podcast called "Design in Transition" in 2020. Transition design is an emerging field aimed at sustainable, interdisciplinary, societal-level change, and as Sofia Bosch Gómez works to earn her doctorate at CMU, she's also a member of the podcast team bridging the research and expertise of the U.S. and Latin America.
"One of the premises of transition design is that you don't actually need to be an expert designer. It's interesting because the people we've interviewed for the podcast are not trained designers, which is nice because it opens up new conversations within the design community," Bosch Gómez said. "The goal is to look at long-term arcs and steer the boat toward more sustainable and equitable futures."
The "Design in Transition" team has been able to create the podcast working collaboratively and remotely with members contributing from Portland, Pittsburgh, Uruguay, Mexico and New Zealand.
"We wanted to engage in both English and Spanish, which has really expanded the reach of who we can talk to and what about. If we do an interview in Spanish, there will be an English commentary after," Bosch Gómez said. "Everyone on the team has a favorite podcast. That's where the idea came from. Let's try to do something different from writing papers."